Restaurants
I used to sing karaoke at Courtside. I'm devastated it closed.
How Courtside, the late Cambridge dive bar, changed my life.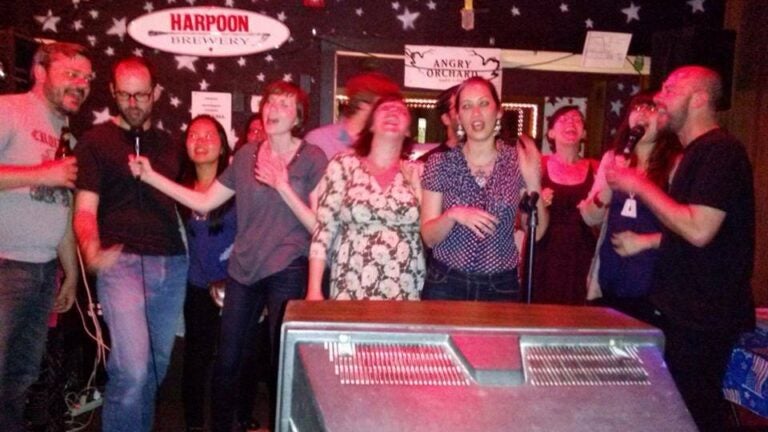 The rumors started on Facebook, as they do. Michelle messaged our aptly named "Spontaneous Karaoke Outing" group last week, saying she had heard "through the grapevine" that Courtside would be closing. Kathleen quickly joined in with further info from a "random guy named Scott" who had heard that it was the last weekend at Courtside. Shockingly, it all seemed true. Fast-forward to last Saturday night, where Michelle reported that Jimmy, the waiter and sometimes DJ, sang Semisonic's "Closing Time" as the bar's last song ever. I followed the thread from outside London, where I now live; my head spinning and my karaoke heart breaking. It was over before I even knew what was happening. "You don't have to go home, but you can't stay here."
When I moved to Cambridge almost a decade ago, I was the frazzled mom of a toddler, new to the city, struggling with my post-partum identity and general loss of self. I was easing back into the workforce — and life in general — but I still hadn't found my people yet. I was happy to be back in the same state as Karen, one of my closest friends from high school. When she invited me out to karaoke on a Thursday night, I didn't realize it was going to change my life.
Assembled far down on Cambridge Street in East Cambridge was a rag-tag group of loving weirdos: actual singers and musicians, theatre geeks, and aging goths masquerading by day as lawyers, librarians, radiology technicians, and various office types. I felt at home immediately. I sat down to a seasonally inappropriate sticky tablecloth, picked up a basket full of old lottery tickets and a golf pencil, and perused the dog-eared pages of Ann Lanphear's Karaoke (also sticky). Who was Ann Lanphear anyway? What was this mysterious backroom of a sports bar? And what sort of evening was going to unfold here?
I don't remember the first song I sang, but as I scribbled the number down, Karen suggested I come up with a fake karaoke name. I hesitated only briefly before deciding on "Mavis," a Judy Blume deep cut. And it stuck. Welcome to Courtside, Mavis.
My new karaoke family tried to impress each other with song choices; the more random, the better. Early on in the evening when we had the place to ourselves, the seemingly clever selection of a 90s one-hit wonder seemed hilarious. Once your name was called at 11:30, you began to regret your Sophie B. Hawkins choice, now sandwiched between a Garth Brooks sing-a-long and four women struggling through a "duet" of "Shallow." But in the end it didn't matter. It was, for the most part, a judgment-free zone, and as Karen and I always reminded each other, no one was paying attention anyway.
Courtside was that rare place where everyone felt welcome. And I mean everyone. Karaoke nights spanned generations. The millennials usually outnumbered us, and their song choices were always baffling. ("Teenage Dirtbag" is some sort of millennial anthem, apparently). John S. (RIP) arrived via shuttle from his retirement home to "charm" his way into unsuspecting hearts with "Unchained Melody" every week. Mark the Shark, erstwhile DJ and entertainer, led a conga line without fail to "Shake Señora." I'd never felt more at home at a bar.
Courtside was also a source of unlikely camaraderie. I remember in particular one night when someone from another table got up to sing The Fugees' "Killing Me Softly." No one was particularly interested. But something happened and suddenly the entire place was swaying and the whole room was singing. "Woah-oah-ah-ah-ah uh, uh. La-la-la, la, la, la." It was perfect. At the end, we grinned ridiculously at the strangers next to us. Some little piece of magic bonded us, superseding all differences; karaoke as church.
We processed a lot of emotions at Courtside. We held special nights to say goodbye to fallen musical heroes, and we lost a lot of good ones: David Bowie, Prince, Whitney Houston, Aretha Franklin, Glenn Frey, and Scott Weiland. We held a rage-filled night after the 2016 elections, and the songs reflected our misery and fear: "The Final Countdown," "America" (Neil Diamond), "We Didn't Start the Fire." We also occasionally found something to celebrate. Remember Richard Marx, Airline Hero? Most nights at Courtside were OK, once in a while they'd be amazing, and every now and then they were so bad that we'd seek refuge elsewhere, only to come crawling back. After DoReMi closed down, there was really nowhere else to go. And the vibe at Courtside was like nothing else — even a rough night there was better than most nights elsewhere.
In 2016, Karen and I published a karaoke manifesto on the now-defunct site The Awl. After so many years of bearing witness to the same tired tunes, we had a few suggestions. Sing This, Not That spun off into a not-very-regular Karaoke Advice blog, read by about seven people. But it was during the writing of this column that I realized how karaoke is not just about the song — it's about the people, the place, and the environment. Courtside had all three in spades. I loved jumping out of a cab beneath the lurid yellow awning, which proclaimed "SPORTS BAR." (And I guess it was a sports bar, too, but that's another story.) I will miss the whoosh of pulling open the front door,and slipping behind the bar into the dark back room. I was usually the first person there, scanning the room for friends. What would the night bring? Did it matter? I had music, weirdly sweet pizza, a cheap cocktail, and anticipation. It really doesn't get better than that. In the words of my karaoke brother, Walker: Pour one out for the songs unsung, the singers not called.
Sarah Howard Parker is a writer and actress living in London. She answers your questions about karaoke (and life) at Karaoke Advice.