Schools
MIT just made Matt Damon a certified pirate
"You—and Mark Watney—have done so much to promote a swashbuckling appreciation for science, engineering, and space exploration," MIT President L. Rafael Reif told the actor.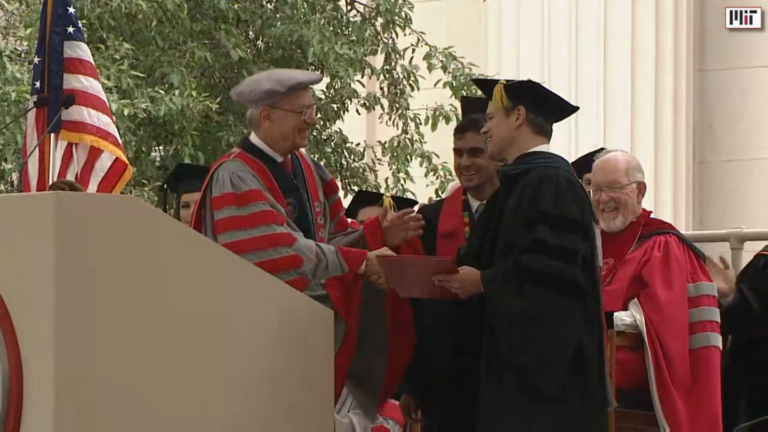 In the 2015 film The Martian, Matt Damon's character, astronaut Mark Watney, refers to himself as a "space pirate."
"I'm about to leave for the Schiaparelli Crater where I'm going to commandeer the Ares IV lander," Watney says. "Nobody explicitly gave me permission to do this, and they can't until I'm on board the Ares IV. So I'm going to be taking a craft over in international waters without permission, which by definition… makes me a pirate. Mark Watney: Space Pirate."
Now, thanks to MIT, Damon really is a pirate, and he's got the certificate to prove it.
After a highly charged commencement speech Friday morning in which he took aim at Donald Trump and Wall Street while also encouraging students to be unafraid of failure and to keep learning, Damon was awarded an official MIT "pirate certificate" by MIT President L. Rafael Reif.
"Since you—and Mark Watney—have done so much to promote a swashbuckling appreciation for science, engineering, and space exploration," Reif said, "we are honored to present to you a special, and authentic MIT pirate certificate."
The unofficial MIT pirate certificate tradition began more than 20 years ago. According to MIT Chancellor for Academic Advancement Eric Grimson, every undergraduate at MIT must complete four half-semester physical education classes in order to graduate. If a student elects to take fencing, sailing, pistol, and archery classes for his or her physical education credits, he or she earns an MIT pirate certificate.
After years as an unofficial campus in-joke, MIT's department of athletics, physical education, and recreation started printing up the certificates on faux parchment and presenting them to students in 2012.
Damon was all smiles when he received the unconventional honor Friday morning, pumping his fist as the crowd cheered.
MIT's pirate certificate is a fun alternative to the honorary degree, something MIT has never conferred in its 155-year history, according to Grimson. MIT's founder, William Barton Rogers, regarded the practice of giving honorary degrees as "literary almsgiving … of spurious merit and noisy popularity," according to MIT News.
For students hoping to follow in Damon's footsteps, the path to piracy is a treacherous one. Grimson said that the four necessary classes are frequently oversubscribed and difficult to get into, and enrollment begins at 8 a.m.—a tall task for even the heartiest college student.