Schools
Ken Burns tore into Donald Trump for 7 straight minutes during his fiery Stanford commencement speech
The longtime New Hampshire resident used his extensive historical knowledge to rip the "infantile, bullying man."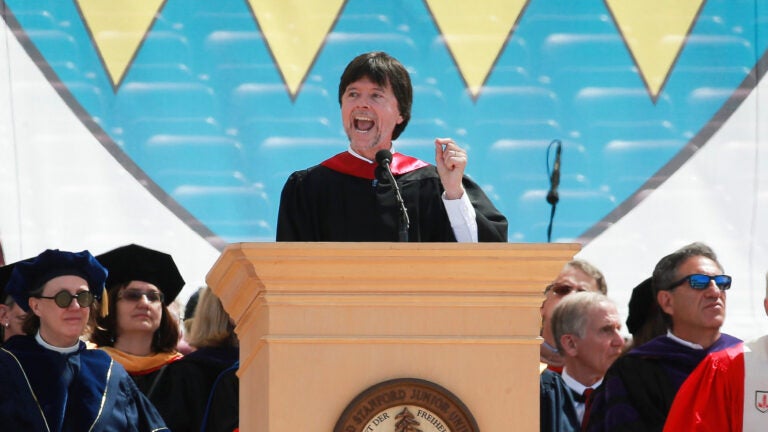 Ken Burns has learned quite a bit about the history of America during his almost four decades creating award-winning documentary films. Since graduating from Hampshire College, the longtime resident of Walpole, New Hampshire has dedicated a substantial portion of his life to offering viewers comprehensive looks at our country's history, most famously for his Emmy-winning nine-part 1990 documentary, The Civil War.
That could be why Burns felt comfortable leaning heavily on the words of Abraham Lincoln to tell the graduates at Stanford University's 2016 commencement that the candidacy of Donald Trump represents a low point in the history of American politics.
"For 216 years, our elections, though bitterly contested, have featured the philosophies and character of candidates who were clearly qualified," Burns said. "That is not the case this year. One is glaringly not qualified."
Burns never actually said Trump's name anywhere in his lengthy speech. But specific descriptors of the candidate as one who "insults veterans, threatens a free press, mocks the handicapped, denigrates women, immigrants and all Muslims" and "took more than a day to remember to disavow a supporter who advocates white supremacy and the Ku Klux Klan" made plain who Burns was referring to.
"Do not think that the tragedy in Orlando underscores his points," Burns said later in the speech. "It does not. We must 'disenthrall ourselves,' as Abraham Lincoln said, from the culture of violence and guns. And then, [as Lincoln said,] 'we shall save our country.'"
The filmmaker also decried members of Lincoln's Republican party for abandoning the party's principles in supporting Trump.
"This is not a liberal or conservative issue, a red state, blue state divide," Burns said. "This is an American issue."
Many honorable people, including the last two Republican presidents, members of the party of Abraham Lincoln, have declined to support him," Burns continued. "And I implore those 'Vichy Republicans' who have endorsed him to please, please reconsider. We must remain committed to the kindness and community that are the hallmarks of civilization and reject the troubling, unfiltered Tourette's of his tribalism."
Burns rarely paused in his criticism of the presumptive Republican presidential nominee, calling Trump "an infantile, bullying man" and "a spoiled, misbehaving child." Asking Trump to assume the office of the President, Burns said, "would be like asking a newly minted car driver to fly a 747."
"As a student of history, I recognize this type," Burns said "He emerges everywhere and in all eras. We see nurtured in his campaign an incipient proto-fascism, a nativist anti-immigrant Know Nothing-ism, a disrespect for the judiciary, the prospect of women losing authority over their own bodies, African Americans again asked to go to the back of the line, voter suppression gleefully promoted, jingoistic saber rattling, a total lack of historical awareness, a political paranoia that, predictably, points fingers, always making the other wrong."
"These are all virulent strains that have at times infected us in the past," Burns continued. "But they now loom in front of us again – all happening at once."
The full text of Burns' speech is available on Stanford's website. The entire commencement ceremony is available on the university's YouTube page, or you can watch the portion concerning Trump below.
https://www.youtube.com/watch?v=7F8zCQ4YnZ8