Schools
These are the greenest colleges in New England, according to Sierra magazine
Find out which Vermont school tied for the No.1 spot.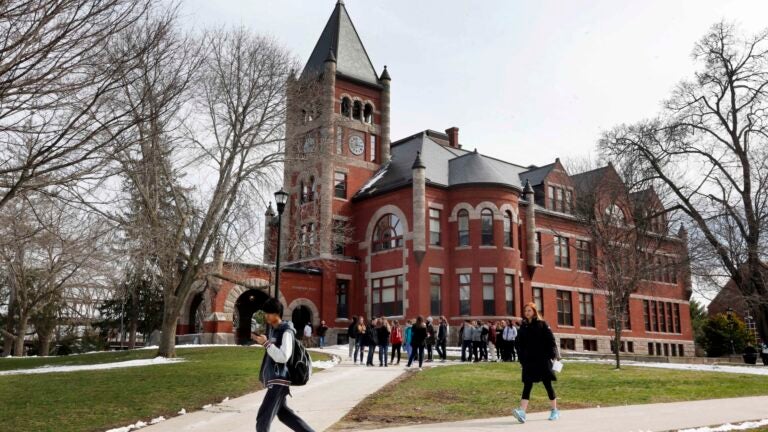 Schools that care about the environment are cool, according to Sierra magazine. The publication recently released its "coolest schools 2018," a list of colleges and universities with the most eco-friendly practices.
Sierra magazine is the national publication of the Sierra Club, the country's oldest grassroots environmental organization, founded by renowned conservationist John Muir in 1892.
Green Mountain College in Poultney, Vermont, tied with the University of California, Irvine as the No.1 greenest college. Green Mountain College was the second college in the country to become climate neutral and is currently working toward a 2020 goal to exclusively power its campus with renewable energy. Both of those things contributed to the school's top ranking, according to Sierra.  
The University of New Hampshire came in second. At the school, used cooking oil helps power farm equipment and heat campus greenhouses, and food waste is turned into compostable pulp. No. 3 went to the University of Connecticut, which is "striving towards a carbon neutral campus by the year 2050." The University of Massachusetts Amherst ranked No. 7, and Middlebury College in Middlebury, Vermont, made No. 10.
In fact, New England schools were well represented on the list overall, scoring 16 of the top 100 spots.
This year marked the first time two-year schools were eligible for the list, along with "all four-year, degree-granting, undergraduate colleges and universities in the United States and Canada."
Sierra used data that each school submitted via the Association for the Advancement of Sustainability in Higher Education (AASHE), according to an explanation of the list's methodology. The AASHE scores the schools with STARS, or the Sustainability Tracking, Assessment and Rating System, which can grant schools bronze, silver, gold, or platinum ratings. Sierra processed and weighed the STARS data across categories including colleges' curriculums and what they serve in their dining halls.
"While many universities are making admirable progress, no school has yet attained complete sustainability," Sierra wrote in its explanation of its methodology. "In 2018, the top-rated universities (we had a tie this year for number one) scored 86.95 points out of 100—or a solid B. In higher education, as in the rest of society, there is room for improvement."
Check out how New England schools stacked up against the 269 complete responses Sierra received:
1. Green Mountain College (Poultney, Vermont) (tie)
2. University of New Hampshire (Durham, New Hampshire)
3. University of Connecticut (Storrs, Connecticut)
7. University of Massachusetts Amherst (Amherst)
10. Middlebury College (Middlebury, Vermont)
11. Sterling College (Craftsbury Common, Vermont)
22. University of Massachusetts Lowell (Lowell)
27. Bentley University (Waltham)
35. College of the Atlantic (Bar Harbor, Maine)
39. Hampshire College (Amherst)
42. University of Vermont (Burlington, Vermont)
52. Bates College (Lewiston, Maine)
70. Unity College (Unity, Maine)
77. Babson College (Wellesley)
78. Smith College (Northampton)
98. Emerson College (Boston)
103. Worcester Polytechnic Institute (Worcester)
111. Endicott College (Beverly)
126. Yale University (New Haven, Connecticut)
132. Boston University (Boston)
134. Bowdoin College (Brunswick, Maine)
138. Wesleyan University (Middletown, Connecticut)
142. Tufts University (Medford)
143. Saint Joseph's College of Maine (Standish, Maine)
153. Keene State College (Keene, New Hampshire)
164. Champlain College (Burlington, Vermont)
171. Wellesley College (Wellesley)
183. Bryant University (Smithfield, Rhode Island)
190. Eastern Connecticut State University (Willimantic, Connecticut)
193. Connecticut College (New London, Connecticut)
214. Williams College (Williamstown)
See the complete list here.