Schools
More than 1,000 readers voted, here's what they think about students returning to school in April
"It's a huge failure of society that schools have been closed so long."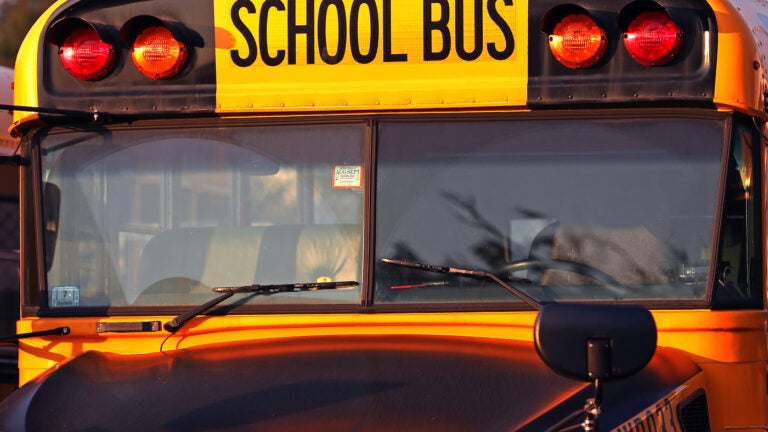 After Gov. Charlie Baker and Education Commissioner Jeff Riley said this week that they want children back in school full time in April, we asked parents if they agree and received an overwhelming response.
More than 1,000 parents chimed in via survey, email, and social media, and more than half of the respondents want kids back in school full time.
While many Massachusetts districts have added some form of in-person learning this school year, about 20 percent of the state's districts — serving about 400,000 students — are still fully remote, according to Baker. During this month's Massachusetts Board of Elementary and Secondary Education meeting, Riley said he'll ask at next month's meeting for the authority to open classrooms full time, five days a week in April for elementary school kids with older students to follow by the end of the school year. However, parents can still choose remote learning, Riley said.
"YES!!!" wrote Elinor from Cambridge, who has two children age 5 and 7. "It's a huge failure of society that schools have been closed so long. We are letting kids down. Enough."
"Absolutely NOT," wrote Kim of Haverhill about sending her 6-year-old daughter back to school in April. "My child will remain fully remote. Not only do I think it's still unsafe, but my daughter is in kindergarten and I believe it would be disruptive to send her in April for 2.5 months. She's excelling in the remote environment."
Some parents want their kids back in school full time, but say certain conditions need to be met first.
Ahead, read what dozens of Massachusetts parents have to say about sending kids back to school in April.
'Abso-friggin-lutely': Send them back full time
"Abso-friggin-lutely get them back in school." — Doug from North Andover, parent of two kids age 6 and 8
"I'm a BPS teacher and say absolutely! I have 2 kids age 14 and 15, and they need the structure and social interaction as do all children." — Chris from Watertown
"Yes! And I am an in-person educator working full time at school since September." — Lynn from Arlington, parent of two kids age 9 and 12
"Yes, we would send our kids back today. There has been no spread in the school but the administration won't budge on 6 ft distance. Kids at all levels are suffering on so many levels." — Heather from Hamilton, parent of two kids age 15 and 13
"Yes, for both kids. It is entirely safe for kids to return back to school as COVID just isn't a big health risk to kids. Given that staff will (hopefully) be vaccinated before April, there just isn't much of a health risk to the community anymore. COVID will never go away, so we need to do the best we can and start moving forward. There will always be some risk and we have prioritized teacher health and safety at every step of the way, to the detriment of every other group. It has been the right decision so far, but at some point, the staff needs to start prioritizing student needs." — Craig from Lexington, parent of two kids age 6 and 9
"Yes, I'm all in for students returning to full-time in-person learning. We have been operating under a hybrid model. Most kids at this point are playing sports, working, going to parties, basically they're together often, they may as well be together in school. I do wish the teachers were in a higher priority for vaccinations, at a minimum the higher risk teachers. Maybe my senior could finish off his school year with some fun senior stuff!" — Susan from Peabody, the parent of two kids age 17 and 13
"Remote learning has been an emotional and educational disaster for my kindergartner. It has been obvious for months that children his age can return to school safely with very basic safety protocols (less stringent than the unions are demanding). The risk of COVID does not justify the damage Zoom school is doing to little learners. Open the schools!" — John from Boston, parent of a 5-year-old
"Absolutely, yes. There has been no evidence of in-school spread of COVID. Children are struggling significantly and need to be with their peers and teachers for their emotional and mental health and to learn effectively." — Heather from Arlington, parent of a third-grader
"Both children are doing the hybrid method and I would love to see them back in school 5 days a week. My concerns are nothing because I have faith the school system will be up to date with cleanings, washing hands, and so forth." — Arbreana, parent of two elementary school-aged kids
"My God, YES, YES, YES. I have a 10-year-old girl in 4th grade and 6-year-old boy who is struggling immensely as a kindergartner. He NEEDS 5 full days a week in school, with NO computer or device." — Paul Reid of Wareham
"The fact that they are not already is a travesty. Black lives matter? Not during this pandemic! Rich kids getting smarter. Poor kids getting screwed. How can anyone side with the teacher's union anymore (and my wife, who agrees with me, is a middle school teacher at a public school)." — Mike from Boston, parent of two kids age 14 and 12
"We desperately need full-time school for our first-grader. She hates everything online. She won't participate in anything that used to be part of her life before COVID: ballet, piano lessons, gymnastics, school…all she feels is loss when she goes online. We get in trouble for not attending enough online school, but keeping her engaged in the non-digital world is the only way she doesn't dip into a deep depression. She needs school: in-person, full-time, full days. Vaccinate teachers and open the elementary schools, stat. We have a moral obligation to provide school for the children." — Kathryn Sievers of Arlington
"Yes! There is so much value in being 'in-class' socially, developmentally, and academically. Trying to educate my children is not beneficial for either of us. They do not identify my role as a teacher..I'm their parent." — Krisi from Burlington, parent of two kids age 6 and 8
"Enough is Enough. The mental stress of being on a computer at home all day is really starting to affect my children in a very negative way. We have the resources and knowledge to safely open our schools. The teachers unions are holding our kids hostage. We need to put the kids first!" — Will from Milford, parent of three kids age 6, 8, and 10
"Kids need to be back in school. Private schools have been open for the most part, as well as schools in Florida, Texas, Georgia and a number of midwestern states. Isn't Massachusetts supposed to have the 'best' schools?" — Angela from Bedford, parent of two kids age 14 and 16
"Yes, send the kids back full time! I think a remote option should still be available to parents that don't feel comfortable. My child has been in daycare since 12 weeks old. This is the longest she has gone without being around other children. The social isolation is not acceptable." — Alison Guillaume from Methuen, parent of a 6-year-old
'Hell no': Don't send them back full time
"Hell no. Schools being safe requires everyone to be following the rules, and when I can't go one minute outside my house without seeing someone improperly masked I wonder if going back in September will be too soon." — Robert from Milford, parent of two kids age 4 and 6
"I think this is putting undue pressure on schools and school staff. They've done a wonderful job with remote and hybrid, and I don't think another shift in April is fair or warranted." — Jennifer from Watertown, parent of a 10-year-old
"My kids will absolutely not be going to schools in person until teachers are fully vaccinated and COVID cases are way below where they are now. Shoving thousands of students and hundreds of teachers/support staff into a building together, are you out of your damn mind??" — Chris from Boston, parent of two kids age 3 and 5
"I don't think students should return to school full time until teachers are fully vaccinated and only when it's safe. I'm a Wellesley Public School parent and also grieving multiple COVID deaths in my family, the loss of my mother (essential worker) in May and grandfather in December, another member of my family is a long hauler. I've seen how deadly and contagious this disease is. None of my family members were in nursing homes. This was not household spread. I don't think teachers should be forced back into school like this." — Elaine
"Although I do believe they will be better off in person, I think opening in April is another rushed plan that will have deleterious results. It is too much to ask teachers to be vaccinated (two weeks between shots, remember), set up the physical space, adjust their lives again with no proper planning and expect my kids to get a quality education. Not thrilled with the virtual but finish the year and use the summer to be thoughtful and plan carefully for next year." — Mike from Billerica, parent of two kids age 9 and 13
"I don't think we're quite there, yet. This COVID situation is still constantly in motion, with a lot of unknowns. Let's keep rolling out the vaccines to as many as possible and plan on all students being back to school full time at the end of the summer. Meanwhile, schools, knowing that will be the case, can do whatever is necessary to prepare the buildings and make any adjustments that may be needed. Let the kids start fresh with a new school year in school systems that are fully prepared." — IronManCC
"This is a terrible idea. There is no way to maintain social distancing in most schools if the entire student body is present. Even if every staff member is vaccinated, the kids are not. COVID will likely spread like wildfire in packed classrooms, and even if the kids are just asymptomatic, they will bring it home and put everyone in the household at risk." — Mark from Tewksbury, parent of two 7-year-olds
"No, my son is thriving on remote learning. They definitely should allow them to finish the year the way it is. The teachers also should have a say on what happens. They are the ones that are on the front lines everyday." — Carol from Dracut, parent of a 13-year-old
"Absolutely not. This isn't safe for children or teachers. Schools are being used for a political game and teachers are being used as babysitters for selfish parents." — Robert from Peabody, parent of a 12-year-old
"We are infuriated that the state is planning on opening schools in April. There is NO WAY it's safe. We are not even remotely considering sending our children back this school year. It's RIDICULOUS it's even being considered at this point. We've quarantined since March 2020 and will continue to do so." — Lynn from Amherst, parent of four kids age 10, 13, 15, and 18
"Our ten-year-old has virally-induced asthma, and has had pneumonia around two dozen times. We've seen, far too often, how seriously someone's cold or flu impacts him. He will be remotely educated until he, and most children, have been vaccinated. If the option for remote learning is taken away before then, we'll quite unfortunately have to withdraw him from the district to homeschool until it is reasonable for him to return. April is out of the question." — Erin from Holden, parent of a 10-year-old
"I would ABSOLUTELY not allow my children to return to full in-person learning! We are so close to getting vaccinated, we will just hold off until September. My two children love remote learning, and have flourished in a remote learning environment!" — Kara from Chelmsford, parent of two kids age 6 and 9
"No, I feel that the hybrid model is working well. Allows less kids in each classroom so there can be actual social distancing in place. The reason kids don't spread COVID is because of all of the measures. I would keep the kids in hybrid through the school year and in the fall (once kids are vaccinated) then bring them back in person full time." — Eric of Lexington
"Absolutely not. COVID cases, while improved from recent highs over the past couple of weeks, are still significantly higher than when students moved to remote learning originally. On top of that, there is still not enough known about the various strains, more of which are being discovered all the time. I'm looking forward to my son being in-person at his school, but it has to be safe." — Matt from Boston, parent of a 6-year-old
"No, I would not, because there is no way our school building has adequate space in the classrooms to fit every child back in. This is an incredibly misguided attempt to apply a blunt instrument to hundreds of unique school districts and buildings. Some are able to and have been bringing kids back in for months now. Others do not have the capacity, and throwing out the safety regulations just to get kids back in, while citing incorrect, outdated, and misinterpreted data, is egregiously irresponsible." — Sam from Watertown, parent of two kids age 7 and 9
"Absolutely not until all teachers, educators and school personnel are vaccinated! Why are teachers not respected like other essential personnel? Why should they be put at risk?" — Carol from Billerica, parent of a 17-year-old
It depends
"Teachers should be vaccinated before significant changes are proposed. They should have been prioritized with the current group in Phase 2. Distancing and masks are still critical while the vaccinations are in process and new strains are emerging. Can schools accommodate those distances? It's been a very hard year and I look forward to the day they can be in-person. I'm grateful we've had hybrid and I would hate to push for this return prematurely." — Kerry from Littleton, parent of a second- and fifth-grader
"We are terrified to be in the classroom without vaccinations. Would you want to be in a confined space with 20-30 kids for six hours? I teach middle school…counting class rotations I see 70 students a day. We are not babysitters, and no one should be inside the classroom until vaccinations are guaranteed." — Talia, a teacher
"Not before vaccinating ALL teachers, staff at school, plus updating schools ventilation system, if they are outdated." — Anonymous
"Massachusetts elementary schools should reopen once all teachers and staff have been fully vaccinated. I am a parent and I teach in a Massachusetts public school that is doing the hybrid model…Teachers and staff need to be vaccinated. Then we will go back to our buildings full-time. Otherwise, your children will be bringing home our teacher germs, which will include those of our teenage children, elderly parents and more, and passing them on to you. Keep in mind that we don't all live in the district where we teach. We come from many towns within an hour radius of your school system. We might accidentally bring those germs too. Incidentally, the current hybrid model means each teacher teaches and juggles two full schedules and it has been a tremendous work load…Some kids are doing well with hybrid, and others not so much. We can not teach as in depth as we normally do. The sooner teachers can be vaccinated, the better for everyone." — A parent and Mass. public elementary school teacher
"Yes, I'd like my daughter to return to school full time in-person starting in April. Her teacher is fantastic, but she is missing out on the relationship building and social/emotional learning that is a huge part of kindergarten. As much as I would like for her to return to school, I think it's unfair that the education commission is demanding a return to in-person when teachers and school personnel aren't yet eligible to be vaccinated. At the pace we are going, I don't see how teachers will have their first and second vaccine doses by April. It's critical that teachers/school personnel be prioritized and vaccinated before full in-person learning can happen." — Kate from Dartmouth, parent of a 6-year-old
"My children have been remote since last March, but will go back hybrid over the next few weeks. I would like to see how hybrid works before rushing back to full time. My biggest concern is the ability of schools to maintain social distancing. 85% of our school has opted to come back hybrid. If that many students come back full time, it is difficult to picture how students will be able to maintain appropriate distancing." — Mary from Boston, parent of two kids age 8 and 11
"I would love for my child to be back to school full time but only if it's safe for all. The fact that we are talking about sending students back to school full time without a plan for vaccinating teachers is absurd." — Dave, parent of a 16-year-old
"Not until all my child's teachers are properly vaccinated." — Anastasia from Boston, parent of a 16-year-old
"Schools are safe because teachers enforce mask compliance and social distancing. They shouldn't add more students until teachers and staff are vaccinated." — Chris from Medfield, parent of a 12th-grader
"I would need to wait and see what the new variants end up doing. The California one sounds awful, as does the South African. They said by the end of March, the UK variant would be the most common one which is highly contagious. And they aren't vaccinating children and we don't really know what the long term effects are. So, I don't know. I've heard stories about elementary schools open in Florida that the kids were simply incapable of social distancing and wearing masks. It makes me nervous." — Allison from Wellesley, parent of two kids age 7 and 8
Responses have been lightly edited for clarity.