Shopping
2021 gift guide: 75 holiday gift ideas for everyone on your list
It's the perfect time to show friends and family just how much they matter.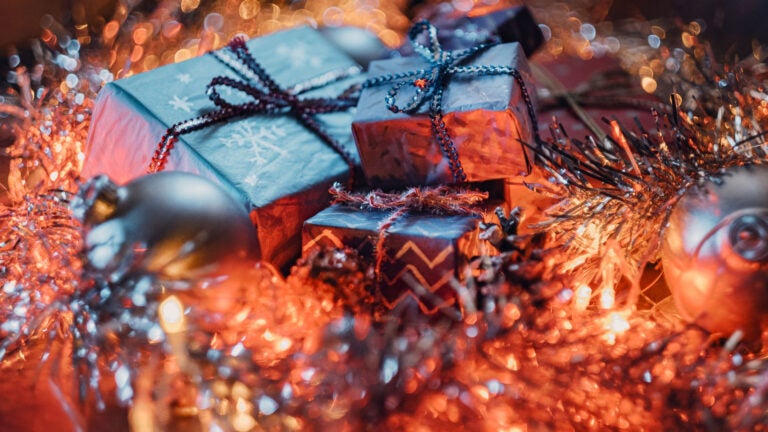 'Tis the season for spreading holiday cheer!
This year feels extra special. We can go out and shop again, we can gather with family and friends, and we can make new memories together.
In the spirit of spending more quality time with loved ones — especially after another year of the pandemic — we've covered the best of gift giving this season. This year we also asked readers share the best businesses to shop this holiday season. They sent in dozens of ideas to shop local, too.
So here's the play: Scroll our guide, share it with a friend, and go shopping. Below you'll find the best local gift ideas for everyone on your list.
For the Friend Who Likes to Eat | For the Friend Who Enjoys a Drink | Gifts That Give Back | Apparel & Accessories | For Boston Sports Fans | For Bookworms | For Kids and Family | For Staying Well | For the Home | For Travelers and Adventurers | For Movie-Lovers
Happy gifting!
For the Friend Who Likes to Eat 🍝 🍪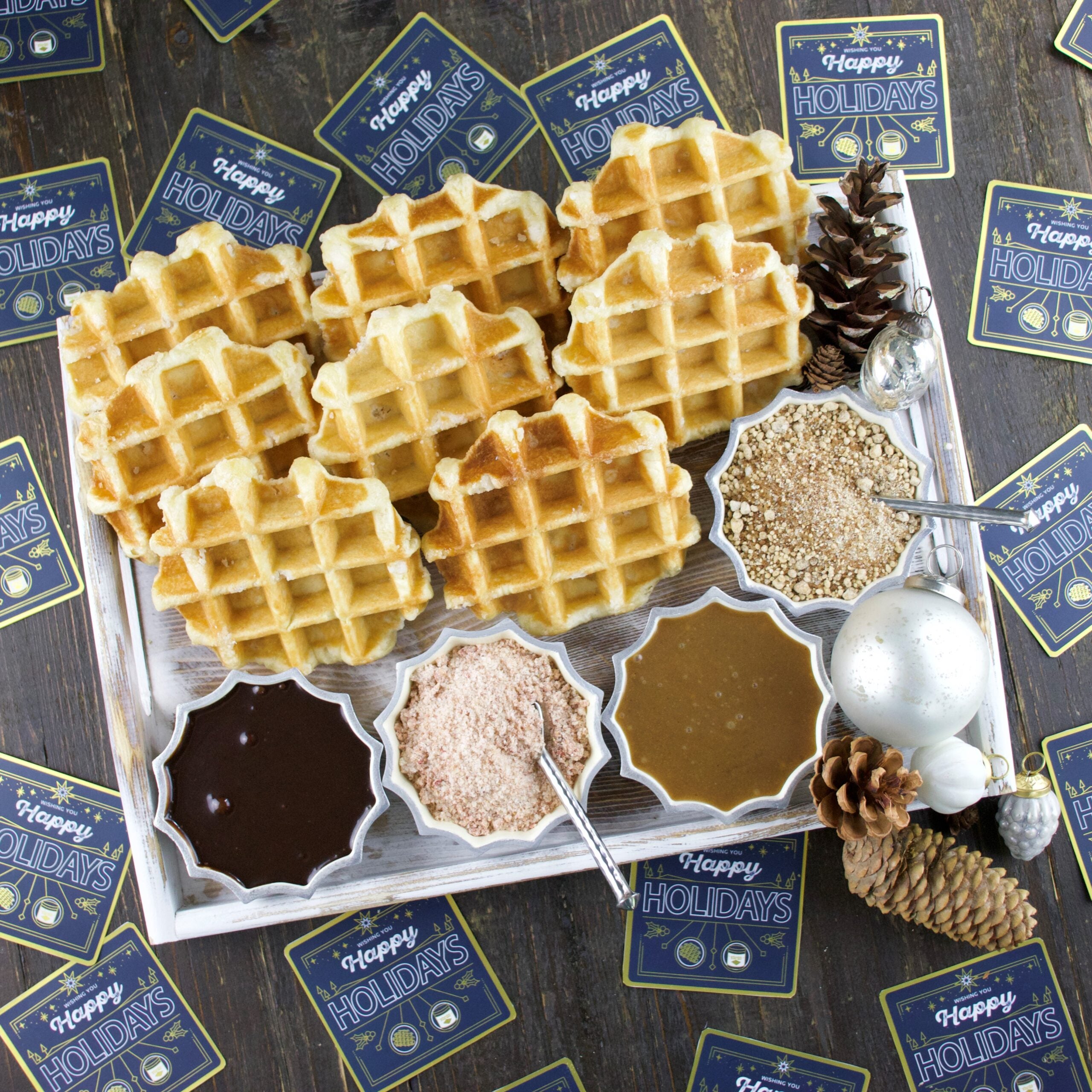 Eastern Standard's Gourmet Liège Belgian Waffle Gift Box
This Belgian waffle gift box was named one of Oprah's "favorite things" this year, and if it's good enough for Oprah, it's good enough for mere mortals. Co-founded by Boston restaurateur Garrett Harker (Branch Line, Eastern Standard, Island Creek Oyster Bar), Eastern Standard Provisions put together a breakfast-ready box featuring eight Liège Belgian waffles, dark chocolate fudge sauce, peanut butter caramel sauce, strawberries and cream topper, and French toast sugar. The waffles are ready to heat and eat upon opening — a perfect Christmas morning present, perhaps? $59.99 (use their Black Friday promo code BFCM50 to get 50 percent off until Nov. 29)
Holiday gift box from CommonWealth Kitchen
Some of Boston's most talented food entrepreneurs have come up through CommonWealth Kitchen, a food business incubator in Dorchester. Get a taste of what's cooking in their kitchen with the Holiday Gift Box, a collection of sweet and savory products from CommonWealth Kitchen members. You'll find chai tea cake from Sweet Teez Bakery, vegan baked goods from Clarke's Cakes and Cookies, and granola from Humble Bones, along with Indian simmer sauces from Meal Mantra, African spice mixes from Hapi African Gourmet, chili garlic sauce from FreshZen, and gourmet chutney from Lyndigo Spice. Each company is BIPOC-owned, and the box, which will arrive in mid-December, comes with a holiday card in case you want to pass along a holiday message. $85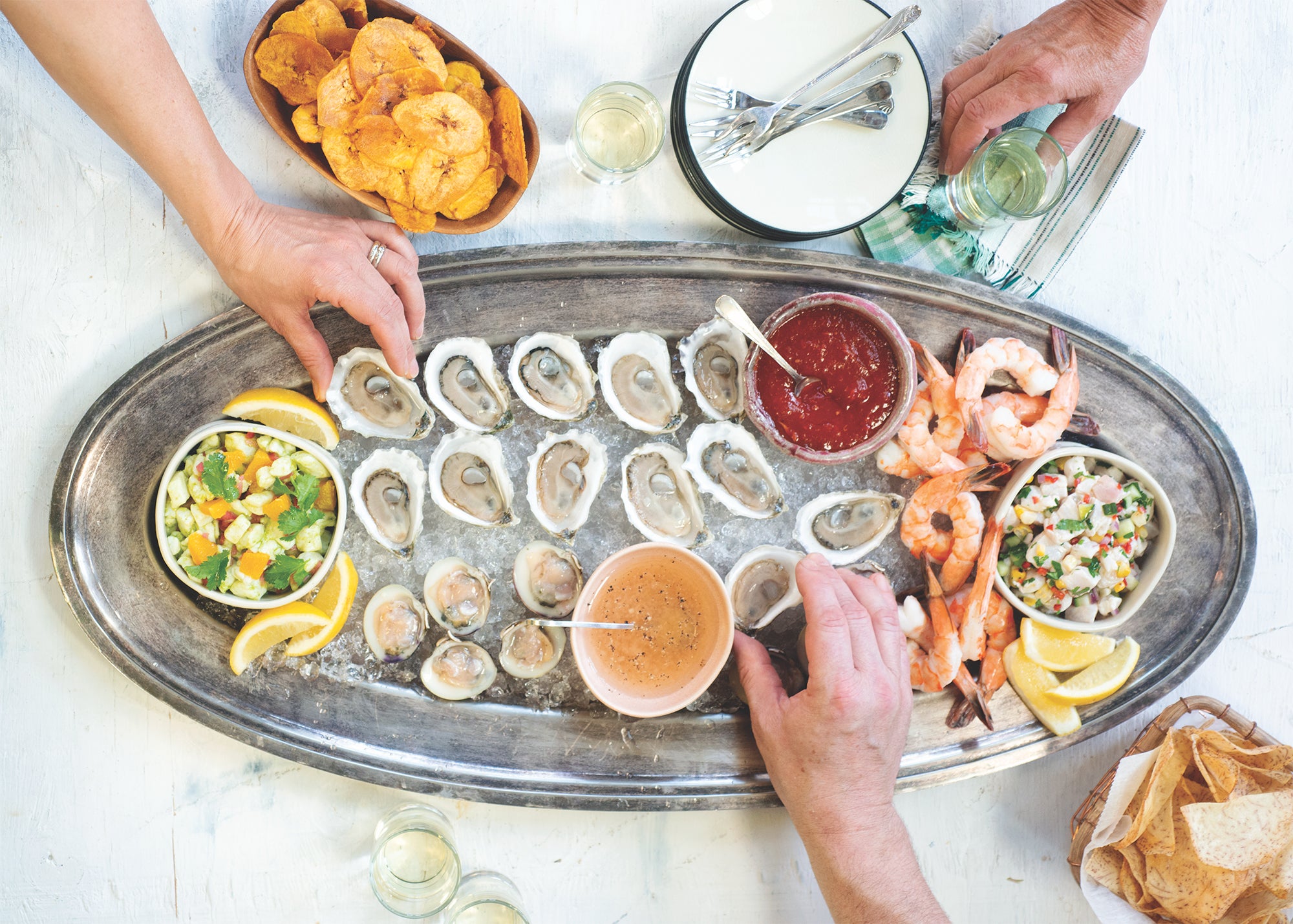 The Row 34 Cookbook: Stories and Recipes from a Neighborhood Oyster Bar
Shopping for the seafood-lover in your life? Row 34 chef Jeremy Sewall released his latest cookbook in October, a beautifully photographed collection of more than 120 recipes that celebrate the neighborhood oyster bar. Delve into chapters about sauces, smoked and cured preparations, and oyster essentials, along with recipes for saison-steamed littlenecks, Acadian redfish ceviche, and corn pancakes with smoked salmon and caviar. The cookbook also pays homage to the people who make it all happen, featuring profiles of fishmongers and fishermen. By the end of the book, readers will be able to build their own raw bar platter (and perfectly shuck an oyster, of course). $36
Gift card to a Mushrooms For My Friends foraging class
For the friend or family member who likes getting their hands dirty — like really, really dirty — consider a trek around the woods with Tyler Akabane, founder of Mushrooms For My Friends. The fungi expert leads attendees on foraging excursions around Boston, where he guides an informational tour about New England's edible landscape, showcases mushroom varieties growing in the wild, and occasionally samples edible finds. Tours are on pause for the winter season, but you can give a gift card that can be used toward future tours. Stay tuned for Akabane's mushroom shop, too, which is set to open in Somerville in 2022. $60
Pasta dinner gift basket from Fox Pasta
There's still plenty of buzz around chef Karen Akunowicz's new Southie restaurant, Bar Volpe — enough that snagging a reservation can be hard work. The next best thing? Order the pasta dinner gift basket from Fox Pasta, Akunowicz's homemade pasta and sauce brand. Now available on Goldbelly, the gift basket comes with three pounds of pasta, including bucatini, rigatoni, and creste de gallo, along with three sauces: tomato basil, amatriciana, and wild boar bolognese. It's the ideal gift for the Italian food enthusiast in your life, and a precursor to when you can actually score a seat at Bar Volpe (or its award-winning sister restaurant, Fox & the Knife). $129
Sun-kissed tomato hot sauce from Hillside Harvest
Inspired by Jamaican roots, Hillside Harvest is a Caribbean American sauce and condiment company crafting delicious sauces with bold and unique flavors. From the classic sauces to the marinades, which are newest addition to the collection, Hillside provides flavors and the right amount of heat that pair with dishes from breakfast to dinner. $8.99
Home Sweet Home Gift Box from Nussli 118
Nussli 118 offers up handcrafted plant-based savory snacks, sweet desserts, and gifts that are plant powered and delicious. This Cambridge-based shop is on a mission to provide healthy foods that taste good, are good for you, and don't compromise the important nutrients derived from raw ingredients. The Home Sweet Home Gift Box is new for the season and includes a collection of some of their classic treats. It also makes a perfect house-warming or host gift. $185
Vegan chocolate chip cookies from Clarke's Cakes & Cookies
Enjoy life's sweeter moments with treats from Clarke's Cakes & Cookies, a vegan baked goods company that doesn't compromise taste or texture. The shop prides itself on being a new generation bakery with good, old-fashioned taste. Sweets range from classic Chocolate Chip Cookies chock full of semi-sweet chocolate chips, dark chocolate, organic sugar, and a touch of molasses to crunchy, chewy Bourbon Pecan Pie, a holiday favorite. $15.50
Coffee from Happy Beans Roaster
Who doesn't love coffee? With their full rich flavors, these freshly roasted organic and free trade Arabica coffee beans from Happy Beans Roaster are the best of the best. The varied blends are sourced from many countries in Africa, Asian and Latin America and are available in light, medium, and dark varietals. $16.50-$20
For the Friend Who Enjoys a Drink 🍹 🍺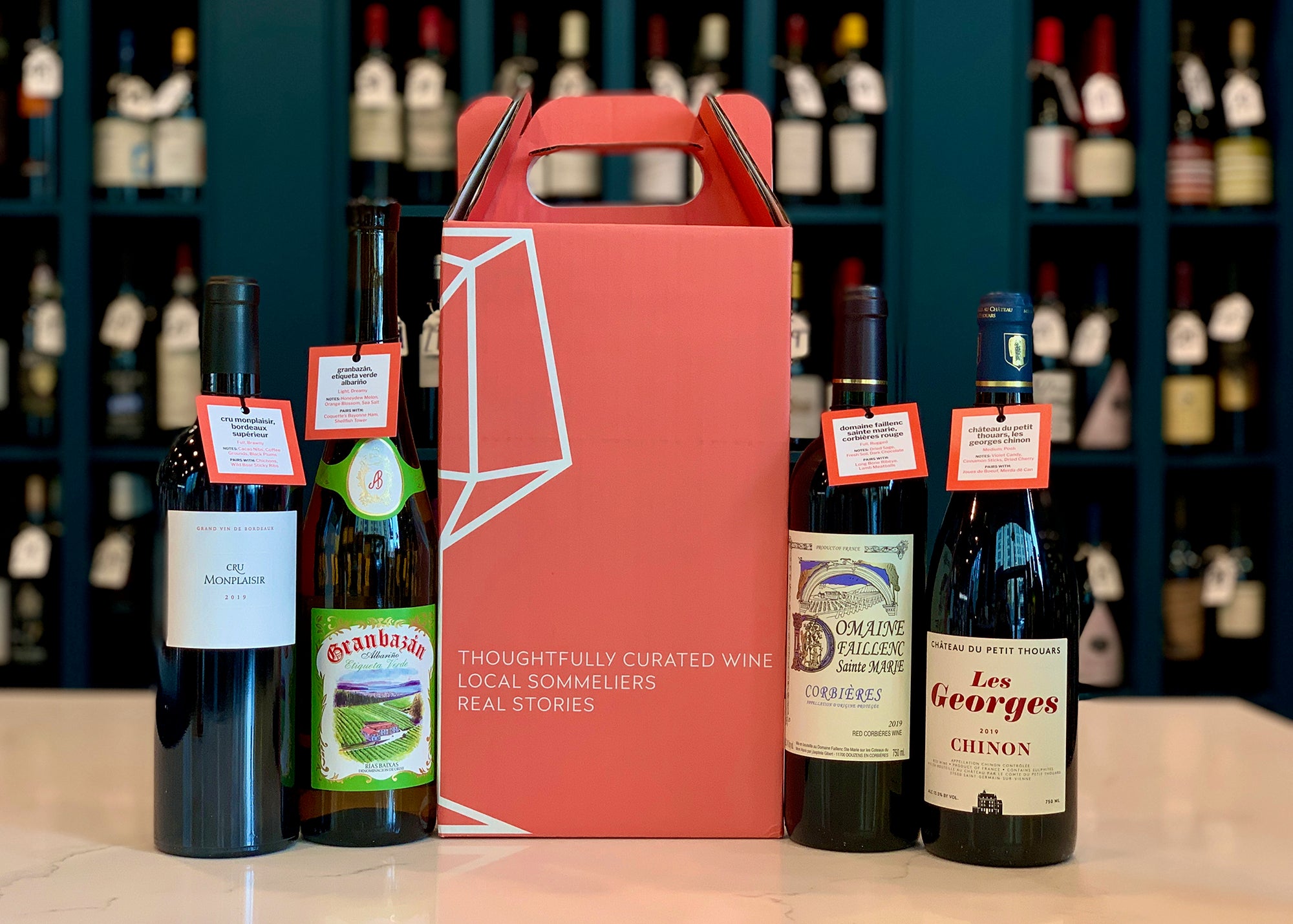 Monthly wine subscription to Upper Glass
Upper Glass taps sommeliers behind some of Boston's top restaurants to curate a monthly wine subscription, featuring four new bottles delivered straight to your door each month. So what's in the box? The company, run by Jyoti Mehta and Chelsie Lincoln, leans toward small, family-run vineyards, with an emphasis on organic or biodynamic farming. In December, Upper Glass will feature picks from Griffin Phelan, wine director at the Nautilus Pier 4. In addition to Phelan's four wine selections, subscribers will also receive tasting notes, pairing suggestions, and stories from Phelan — a collection that anyone curious about wine will be enthralled to receive. $85
The Urban Sampler wine from Urban Grape
Using their original Progressive Scale, The Urban Grape has revolutionized the way people shop for wine by enabling customers to pick the perfect wine for their palate versus by varietal or region. With a focus on creating space in the wine industry, this South End wine and spirits shop is a destination to discover emerging brands and industry favorites in addition to other gifts such as their "Drink Progressively" book or the monthly Urban Sampler that makes a great host gift. $27
Ted Kilpatrick, owner of Chickadee restaurant has created an extremely useful bar tool combining the ease of use of the classic Hawthorne strainer with the refined presentation of a tea strainer. $25-$30
New England Reserve Rum from Privateer
Local distillers from Ipswich continue to wow with a wide array of offerings. Their flagship New England Reserve Rum is versatile and complex — great for sipping or making your favorite rum cocktail. $49
Bully Boy's Old Fashioned Bottled Cocktail
The old fashioned whiskey cocktail's list of ingredients are simple enough but getting that perfect balance each time can be a challenge. Boston based distilleries Bully Boy, have taken their legendary attention to detail with exceptional ingredients to create a cocktail that's a perfect pour every time. $29
Corina's Switchy apple cider vinegar
Dry isn't just for January anymore. This Vermont-based beverage is a modern take on an ancient farm drink known as switchel which used a bit of vinegar as an early preservative to add to water. The drink was well known, from the West Indies to New England farms, for its ability to fortify. Corina's is a delightfully carbonated single serving can of a full flavored and healthy choice when abstaining. It's also a great mixer with rum, vodka, or tequila. $37-$72
This collaboration between Harpoon Brewery and the distillers at Whistlepig is the best of both worlds for beer and whisky lovers. Harpoon brewed a hoppy IPA with Whistlepig's estate-grown rye, then aged the beer in PiggyBack whiskey barrels for a brew that blends tropical fruit and warm spice notes.
Gifts That Give Back ❤️ 🎁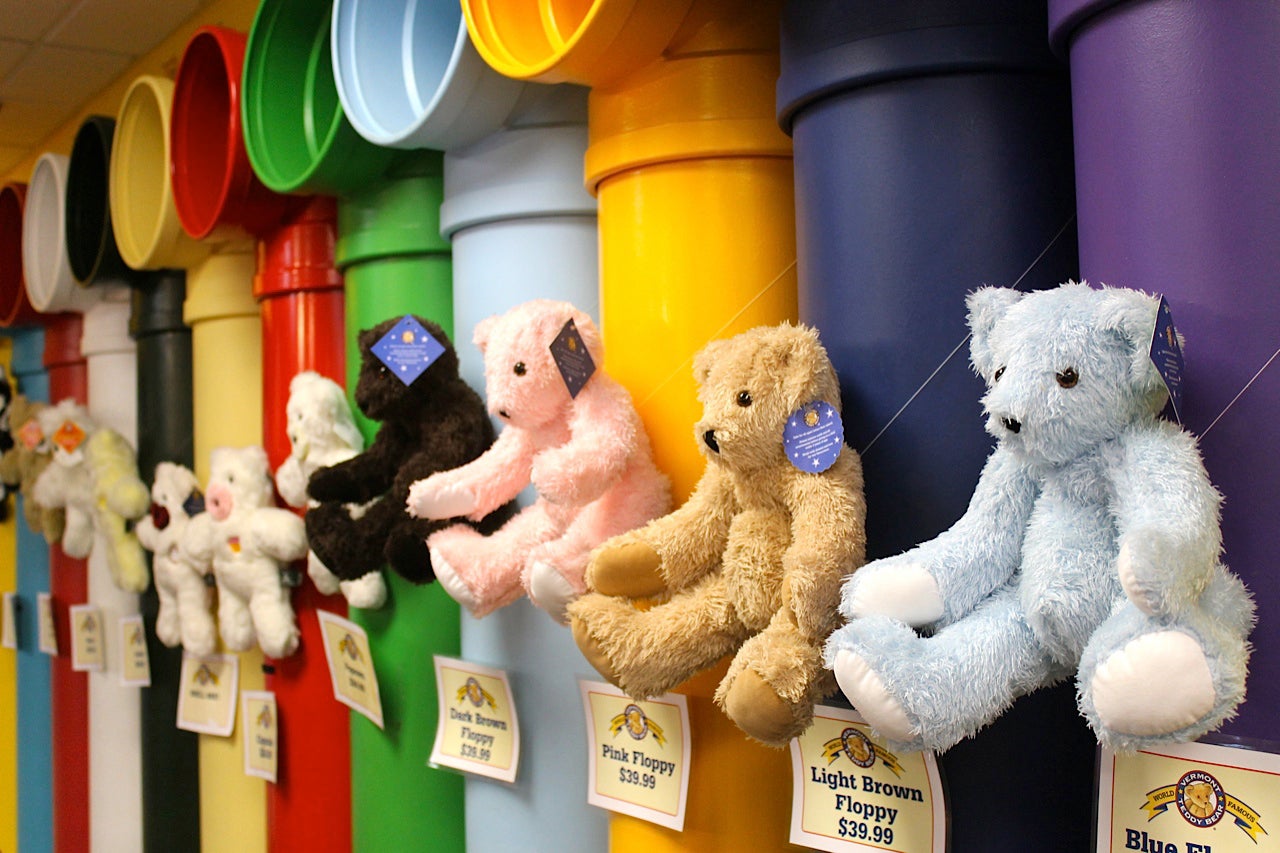 An aromatherapy travel kit from Badger Balm
Badger Balm products are not only a great addition to your beauty routine, but a benefit to their community and the environment. The New Hampshire-based company makes all of its products, including lip balms, muscle rubs, body butter, and more, using 100 percent solar energy and natural ingredients. The company donates 10 percent of its profits to local organizations like The Keene Community Kitchen and the Cedarcrest Center for Children with Disabilities. Proceeds are also used to grow vegetables in the Badger garden which are then donated to local food shelters. This holiday season, give the gift of self-care with their aromatherapy travel kit, which includes portable essential oil-infused balms. $14.99
The Duo blanket from Beantown Blankets
Since its founding, Beantown Blankets has been a company with a mission to give back to those in need. The company sells blankets, beanies, and bags, and every time a customer makes a purchase, Beantown Blankets delivers a blanket to a homeless shelter in the Greater Boston area. The company started as a class project by Babson College student Max Perry and has gone on to donate more than 162,000 blankets to people experiencing homelessness. This holiday season, buy the Beantown Blanket duo which includes both the red and black version of their signature fleece blankets. The blankets are waterproof on the back and come with carrying straps which makes them perfect for fall picnics. Keep one for yourself, gift the other, and two blankets will be sent to a local shelter. $54.99
Coffee subscription from Boston Common Cofffee Co.
If you have someone in your life who can't start the day without a cup of coffee, Boston Common Coffee Co. has you covered with the perfect gift. The coffee wholesalers offer a three-month coffee club membership featuring a new blend each month. Sign up for two to four bags or boxes of single-serve coffee a month and guarantee the coffee lover in your life is never without. For each bag of coffee sold, the company donates $1 to the Windham High School and Pelham High School Athletic Boosters, the G.I. Go Fund, Hidden Battles, and Autism Speaks.
Simon Pearce's engraved "Grateful" ornament
This Vermont-based home decor company is a favorite among those who love handcrafted glassware. Owner Simon Pearce's son, Kevin Pearce suffered a near-fatal traumatic brain injury while training for the 2010 Winter Olympics, and his recovery inspired Pearce to create the Love Your Brain foundation and glassware collection. Proceeds from the line go toward charities supporting patients with traumatic brain injuries. Included in the collection are glass ornaments, tea lights, and decorative stones. This year, gift the engraved "grateful" glass ornament to someone you're thankful to have in your life. $75
Little Hero Bear from Vermont Teddy Bear
A purchase from Vermont Teddy Bear supports a number of charities, too: The beloved teddy bear company has long had its Bears that Care program, which donates a portion of proceeds from specific products to an associated charity like the American Heart Association and the Amputee Coalition. As a response to the ongoing pandemic, Vermont Teddy Bear expanded its most popular charity bear program, Big Hero, Little Hero, to send bears to hospitals and senior living facilities in addition to first responders. This holiday season, use code BEAHERO to buy a Little Hero bear for someone in your life who could use a hug, and Vermont Teddy Bear will donate one as well. $24.99
Essential sweatshirt from 195 Essential
At 195 Essential, every purchase gives back. The brand's mission — and a portion of its proceeds — support communities locally and abroad. The father-daughter duo of Jason Harris and Lena Harris started off with graphic tees and have expanded their product line to include wearable accessories, candles, and more. This holiday season, remind the most essential person in your life of their importance with an Essential statement sweatshirt. $65
Apparel & Accessories 👕 💎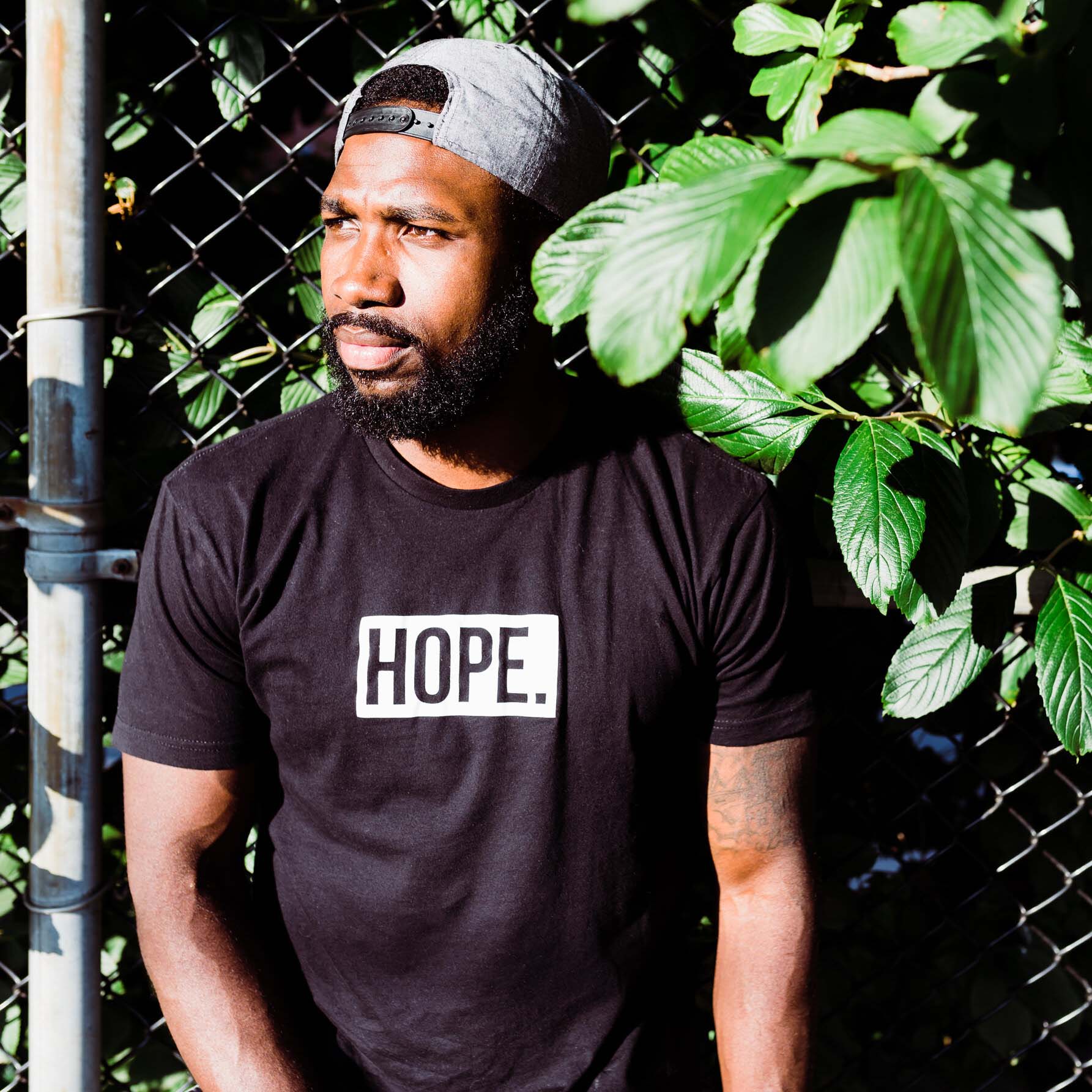 Script Hope Sweatshirt from Hope Design
As a Roxbury-born lifestyle brand anchored on a message of positivity, Hope Design uses the power of style to make a statement through bold designs and affirmations. A collection of athleisure made for the pace of city life centering on style and comfort, the latest drop includes the fast favorite heavyweight fleece Script Hope Sweatshirt with puff print details. Through conversation, collaboration, and clothing, the brand spreads hope as universal common ground. $70
Gold hematite orange quartz infant bracelet
At Z Makes Beads, jewelry is personal, and each piece is originally designed. The jewelry collection includes necklaces and bracelets made from semi-precious stones and other unique, naturally derived beads and adornments. Z, the maker, is constantly drawing inspiration from everyday experiences to create wearable works of art for everyone, including infants. $10
Vintage t-shirts from Local Vyntage

Jamaica Plain resident Chet Winnicki founded Local Vyntage in 2016, an online shop specializing in apparel that pays homage to hyper local — and, sadly, bygone — businesses. This is where you'll find T-shirts with logos from now-closed department stores and amusement parks like Caldor, Spag's, and Paragon Park. In early November, Winicki expanded his online business to a physical one, opening Local Vyntage in the former Sorella's space at 386 Centre St. in Jamaica Plain. Naturally, there's now a Sorella's T-shirt available for purchase, too. Prices vary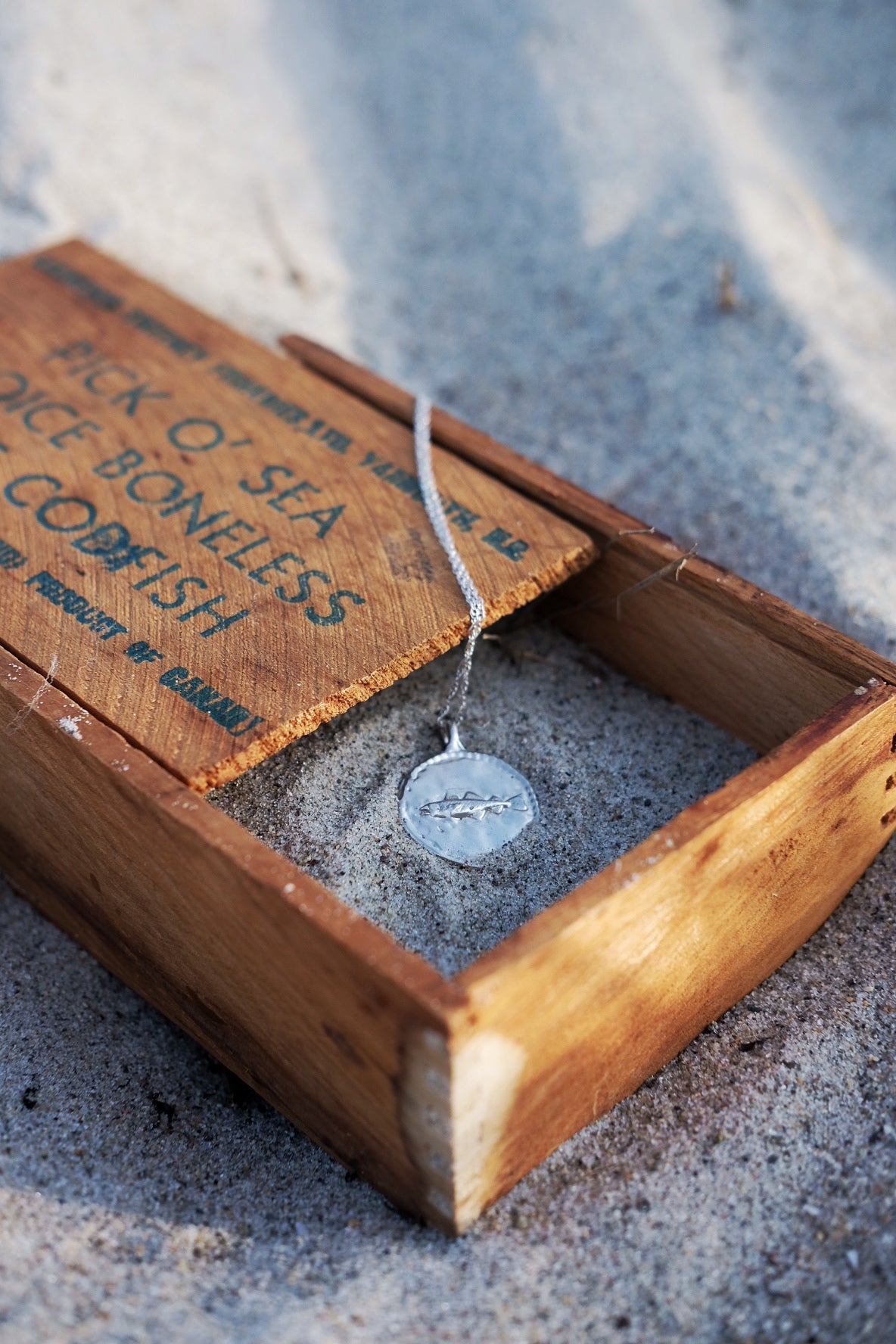 Coin necklace from The Golden Cod
Taking its place among iconic Massachusetts mascots (hello, Black Dog and Vineyard Vines whale), The Golden Cod was launched during the pandemic by Scituate-based wife-and-husband team Robbin and Jeff Mangano. Celebrating New England's fishing heritage and made exclusively by local artists, the two-sided coin necklace comes in 14k gold vermeil and sterling silver. It boasts a cod on one side and "NEWENG" on the back. A portion of proceeds benefits the Gloucester Fishermen's Wives Association. $95-$150
Sand jewelry from Dune Jewelry & Co.
From jewelry to wine stoppers, ornaments to picture frames, Hyde Park-based Dune Jewelry & Co. adds a grain of truth to this season being "the most wonderful time of the year." Choose from a "sandbank" of more than 5,000 beach sands, power stones, hiking trail, ballpark infield soils, and crushed shells from all over the world to adorn your gift or send in your own elements to be incorporated into the piece. Yes, they even offer a Carson Beach design. Prices vary
'I Said What I Said' lapel pin from BGM Apparel
With an empowering message of presence and purpose, BGM Apparel boasts a variety of apparel, headwear, accessories, stationery, and more to bring out that special flare. Spice up your tote bags and jean jackets with their collection of enamel lapel pins, including the crowd favorite "I Said What I Said," and many other original designs. The brand aims to be collection of relevant, comfortable, and fun lifestyle accessories
Jewelry from Heir Azur's Opulence Collection
Heir Azur is a jewelry brand focused on enhancing the natural beauty of its wearers through minimalist adornments. Each piece has a unique design but allows for maximum flexibility to pair effortlessly with any style. The name is derived from the cloud-like, light blue color that represents the endless possibilities we see in the sky. Elevate the limits of your style with the Opulence Collection by Heir Azur.
For Bookworms 📚📖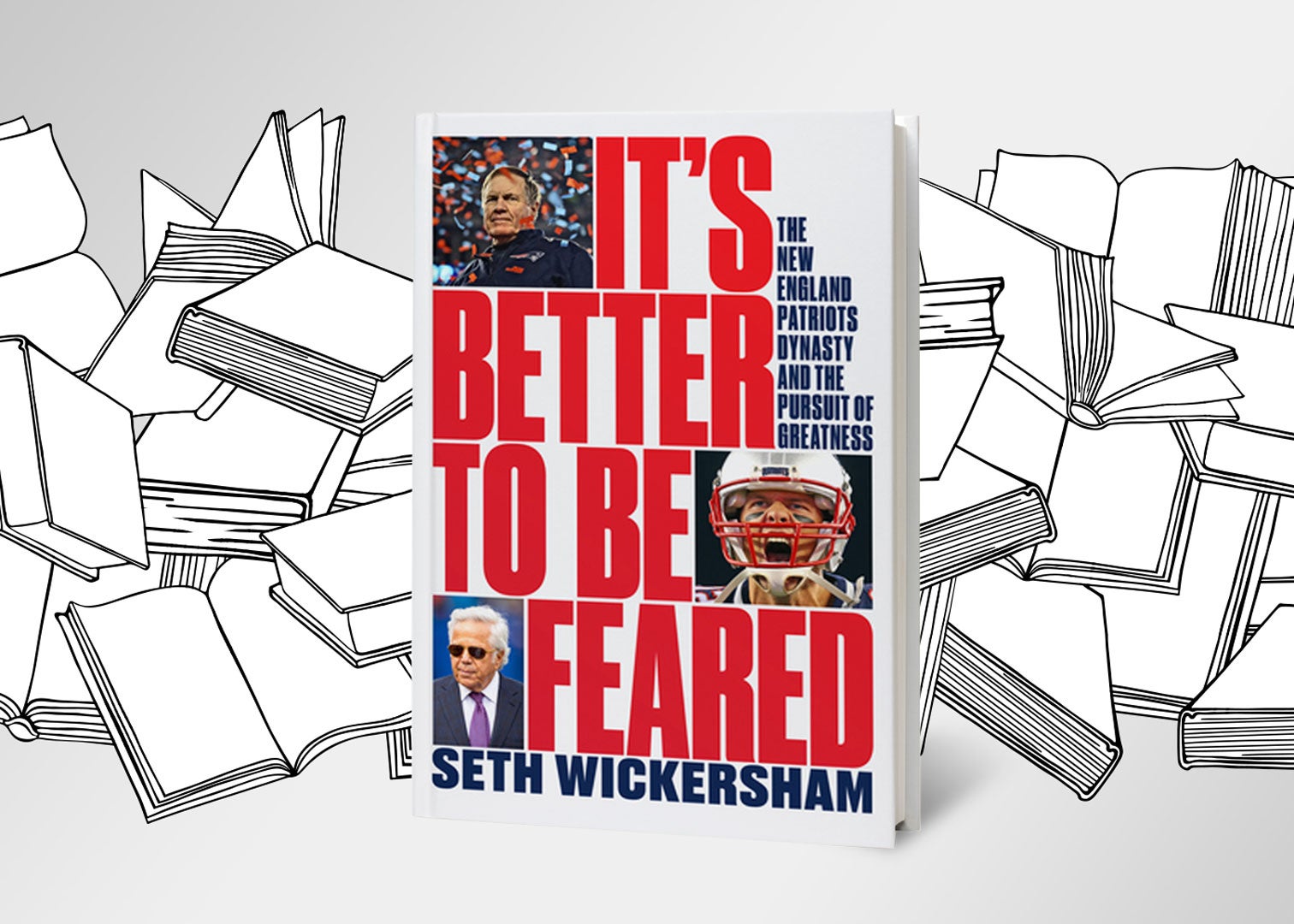 "It's Better to Be Feared" by Seth Wickersham
There have been a lot of books written about the Patriots. Some of them, like "Patriot Reign" and "The Education of a Coach," are quite good. Others, less so. But "It's Better to Be Feared" is the best book written about the Patriots to date. It encompasses the entirety of the Bill Belichick-Tom Brady dynasty: nine AFC championships and six Super Bowl championships. It delves deeply into the histories of Belichick, Brady, Robert Kraft, and several important figures of the dynasty: Julian Edelman, Josh McDaniels, Malcolm Butler, Peyton Manning, Roger Goodell, Eric Mangini, and many more. The good, great, bad, and worse are covered here, but not in a scandalous way, and not in a way that wastes extra time on extraneous stories. The focus of the book, and the fact that Wickersham has been covering the team and league since the dynasty's advent, make it special. $16.56-$27.60
"Drinking Like Ladies" by Misty Kalkofen and Kirsten Amman
Misty Kalkofen and Kirsten Amman's collection of cutting-edge cocktails created by the world's leading women bartenders as toasts to extraordinary women in history is a timeless selection born of their passion and commitment — from the founding of the Ladies United for the Preservation of Endangered Cocktails (LUPEC) and Boston Toast club through publication of the book and the ongoing podcast of the same name. $22.99
"Much Ado About Baseball" children's book by Rajani LaRocca
Set in the fictional town of Comity, Mass., this middle-grade novel is a modern fantasy retelling of "Much Ado About Nothing," centered on twelve-year-olds Trish and Ben. Local author Rajani LaRocca has infused this story with magic, wonder, mystery, and as the title implies, baseball. The book is technically a companion novel to LaRocca's debut middle-grade novel, "Midsummer's Mayhem," as they are both set in Comity and there are a few overlaps with characters, but you don't need to read "Midsummer's Mayhem" to enjoy "Much Ado About Baseball." LaRocca is a rising star who published six books this year. All of them would make great gifts for any child, but this is the most Massachusetts of the lot, and as such is our pick here. $16.55
"White Space" by Jennifer De Leon
The winner of the University of Massachusetts Press' Juniper Prize for Creative Non-Fiction, "White Space" is a book of essays by local author De Leon that traces her journeys from America back to her roots in Guatemala. De Leon is one of the most captivating speakers I have ever had the pleasure of listening to, and she brings forth from that well inside her in these essays. "White Space" is her third book project, as she edited "Wise Latinas: Writers on Higher Education," and wrote the young adult novel "Don't Ask Me Where I'm From," and teaches at both Framingham State and Bay Path University. But "White Space" is the most concrete distillation of De Leon and her experiences as a Guatemalan-American. $18.35
"You'll Be the Death of Me" by Karen M. McManus
Karen M. McManus's first book, "One Of Us Is Lying," has spent 198 consecutive weeks on The New York Times bestseller list. In case you're reticent to do the math, that's nearly four straight years. It is also a show now on NBC's Peacock streaming service. For her newest and fifth book, the queen of the young adult murder mystery selected Boston as a setting. Think "Ferris Bueller's Day Off" but in Boston and with murder, and you're most of the way there. It releases on Nov. 30. $18.39-$22.99
"One True Loves" by Taylor Jenkins Reid
Like the others on this list, this book was not published this year. Taylor Jenkins Reid, who grew up in Acton, Mass., did write a book this year, entitled "Malibu Rising," and that book is fabulous. But the pick here is "One True Loves," Reid's fourth novel. Set partially in Acton, it follows Emma, who has to choose between two impossible loves. Originally published in 2016, the novel gained a new wave of notoriety this summer thanks to TikTok. BookTok, as it is commonly known, has turned a lot of books into bestsellers, and "One True Loves" rode the BookTok wave all the way into a movie adaptation Reid is writing with her husband. It has cast "Shang-Chi And The Legend of the Ten Rings" star Simu Liu and "Hamilton" star Phillipa Soo. $16.55-$36.95
"The Talking Drum" by Lisa Braxton
The Talking Drum by local author Lisa Braxton is a novel that takes place in a fictional Massachusetts town and explores the intersections of race, class, and culture. The backdrop to the storyline centers gentrification and the impact it has on the fabric of a community. The author also weaves through concepts of belonging and the multi-dimensions of identity. $22.95
For Boston Sports Fans ⚾ 🏈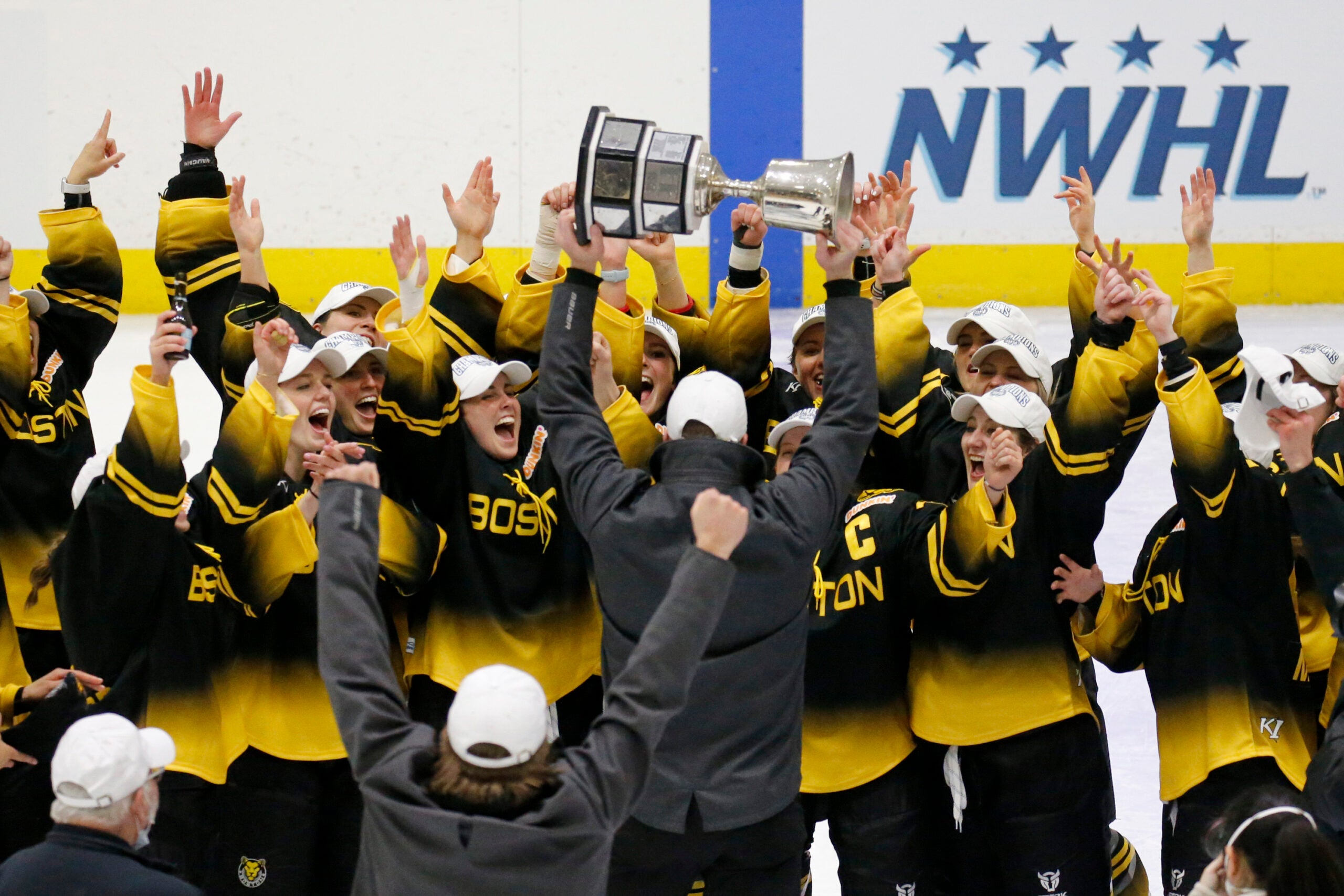 Boston's most recent championship team won the 2021 Isobel Cup in March. Now skating in the rebranded Premier Hockey Federation, the Pride play home games at Warrior Ice Arena in Brighton. Tickets start at $22 for games running through the end of February.
The New Hampshire ski area is a perfectly placed distance from Boston, offering more than 2,000 feet of vertical and 61 trails. Jump in with an XL 3 Pack for a long weekend, or try the more affordable weekday option to make the most of a mid-winter break. $269-$319
An ESPN+ streaming subscription
You already have too many subscriptions, but now's the time to give the Boston sports fan in your life ESPN+. Each Tuesday on the streaming service, a new episode of Tom Brady's "Man in the Arena" explores each of Brady's 10 Super Bowl appearances, 9 of which took place with the Patriots. $6.99 per month or 69.99 per year
Cavaliers Nike Swingman Custom Jersey Maroon
Why would a Boston sports fan want a customized Cavaliers jersey? Because you can write "Fall 99" on the back — an homage to departed fan favorite Tacko Fall. Sure, you could find a Celtics version, but that just makes the Celtics fan in your life look out of touch. A Cavaliers edition tells everyone they are paying attention (and also that they miss Tacko). $139.99
Dugout's Shortstop Mug
Perfect for your young baseball fan, Dugout's Shortstop Mug holds nine ounces of their favorite beverages, from hot cocoa to cold soda. Choose their favorite MLB team — the Sox, of course — and the logo is carved into three inches of solid baseball bat wood and then double sealed inside and out. There's even a mug that boasts Big Papi's signature, with a percentage of proceeds going to the David Ortiz Children's Fund. $59.99
"Wish It Lasted Forever" by Dan Shaughnessy
If you were lucky enough to witness Larry Bird's heyday, you know: The 1985-86 Celtics are the greatest team in NBA history. As the beat reporter for the Globe, Shaughnessy witnessed it up close, and his treasure trove of anecdotes will make you wish the book, and the era, lasted even longer.
For the Family 🧒 🎁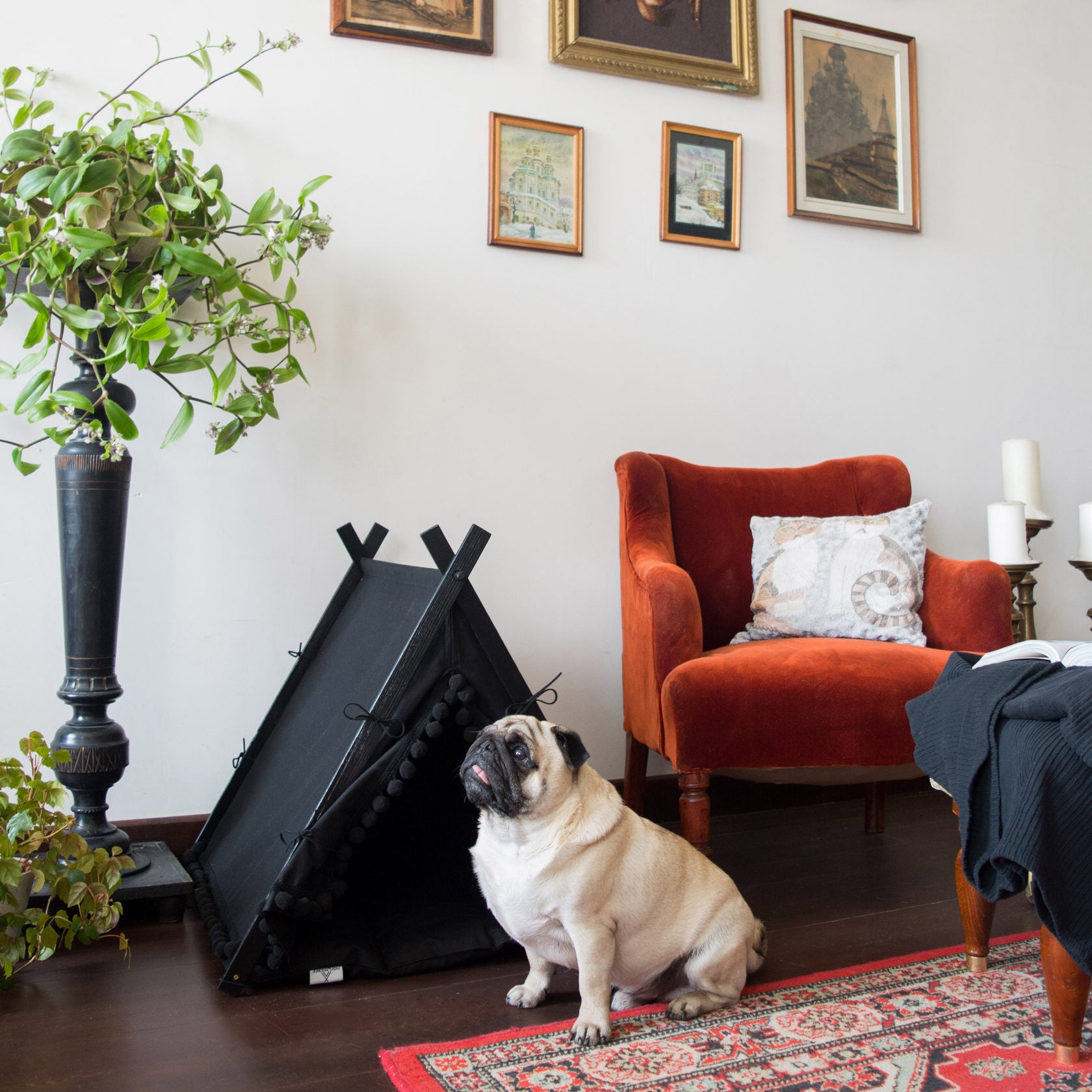 A toy for your (fur) baby from Stinky's Kittens & Doggies Too
Stinky's Kittens & Doggies Too is a one-stop shop for pet supplies and gifts for both the pet or the pet lover. From tea towels with witty cat sayings like "If cats could text you back, they wouldn't" to natural chew toys for your favorite furry friend, there are many great finds inside this Somerville shop. Pet sitting and grooming services are available, too. Prices vary
Encourage the little ones in your world to live life without limits through the adventures of Dr. Dee Dee Dynamo. This series of stories reinforces the power of positivity and embracing the journey of life. As the daughter of a science teacher and journalist, author Dr. Oneeka Williams grew up with a passion for storytelling and discovery. The meeting of these worlds birthed Dr. Dee Dee Dynam. Grab the hardcover book set and go on an adventure. $54.99
Fusion Dolls are more than just toys. They are a vehicle for encouraging self-love and inclusion at a young age. The Fusion dolls collection of multicultural and inclusive dolls allows children to be able to see themselves in the toys that they play with. Each doll has a story and a personality —like Kind Kinara, who has brown eyes and black, curly hair that can be styled. Her favorite activities are helping her mom in the garden and playing with her dog. $49.99
Starting Solids Kit That Gives from Little Cocoa Bean Co.
The Little Cocoa Bean Co. is a baby care and feeding business that provides a suite of products to help parents prepare their own nutritious baby food at home and a number of other baby care essentials. Consumption of healthy meals in the first few years of life is a social determinant of health. Their collection of baby essentials are stylish, sustainable, and functional. The all-in-one Starting Solids Kit That Gives is the perfect starter pack with starting solid foods with baby. $100
A Power Pony or Unicorn
While an actual pony might be on Santa's list, Power Pony is the next best thing. Equipped with an ultra-quiet ZüME Engine with rapid charge time, this adorable hand-crafted horse comes to life in 15 minutes. Using foot pressure similar to using a hover board, riders up to 150 pounds can control speed ranging from a trot to a race via the app. Interactive lights and realistic sounds add to the experience, and you can choose from two ponies and two unicorns for both indoor and outdoor play. $499
Monthly plant bundle from Emerald City
At Emerald City, everyone has the potential to discover their green thumb. This Norwood-based plant shop and botanical event space creates a unique experience for novice and expert plant parents to explore their collection of tropical indoor plants. In addition to live gifts, they also offer a collection of pots, plant care supplies, apparel, and decor items for your home. The monthly plant bundles are a perfect all-in-one gift that include a mystery plant a few special rotating surprises. $25
For Staying Well 😁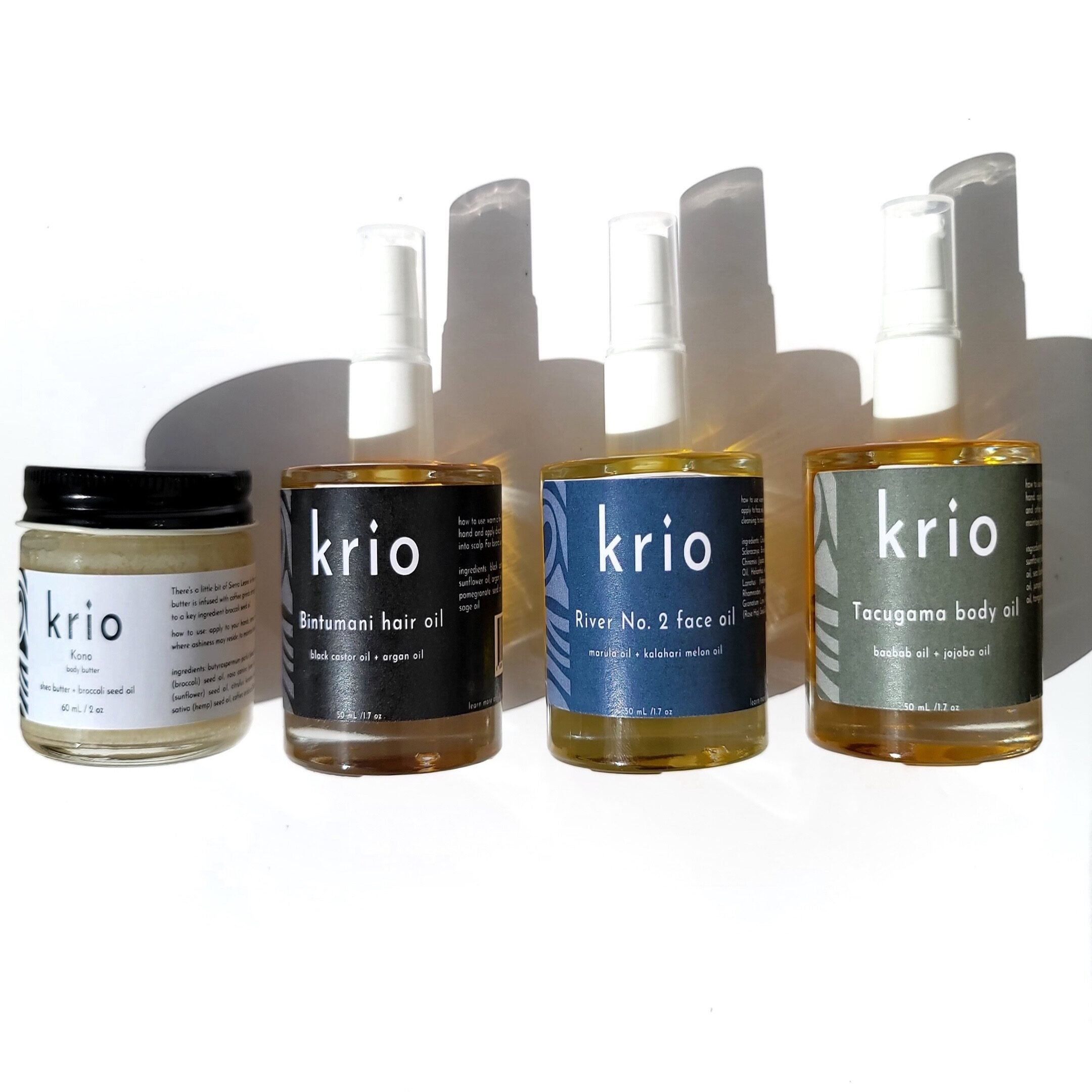 Being ashy is never cool. That's the motto of Krio, an indie skincare brand out of Boston drawing inspiration for their name and ingredients from Sierra Leone. The anti-ashy body kit, a powerful skincare solution for whole body care, includes the hydrating River No. 2 face oil, softening Tacugama body body oil, Bintumani nourishing hair oil, and moisturizing Kono body butter. It also is a perfect travel companion in airplane-friendly sizes. $49
The Té Spa's jasmine green tea
Shop loose-leaf tea and tea-based beauty products from The Té Spa. The brand prides itself on being an immersive, luxurious experience for lovers of everything tea. Their natural handcrafted herbal blends are carefully crafted to bring out the unique powers of each herb. Beyond drinkable tea, the brand leverages the power of tea in beauty products, including their aromatherapy blend Mint Lemongrass Oil roll-on, which doubles as a natural fragrance. $25
Skin brightening kit from Brown and Coconut
Brown and Coconut is a vegan and cruelty-free skincare brand crafted from natural ingredients with the health of your skin in mind. The collection of skincare is simple, clean, and allows for your skin's natural beauty to shine through. Pair a few items together for a no-frills, effective, and nourishing routine for any skin type and need. The skin-brightening kit includes the Balancing Cleanser with gentle, botanical-rich ingredients, and the Brightening Face Polish with a natural exfoliant that can be used as a mask or scrub. $69
A Whirly Board

Give at-home fitness a whirl: The Whirly Board can be used with a standing desk for a WFH lifestyle or to replace bulky core training equipment. Made from skateboard decks, the Whirly allows the user to spin 360˚ to engage all the core muscles for improved strength, balance, and agility at any skill level (even kids).
$139.95-$149.95
Rich Boss Lady vegan nail polish from Auda B
Auda B, at the intersection of beauty and luxury with their line of bold vegan nail lacquers, makes clean beauty a fashion statement. Inspired by the latest runway trends the brand offers a variety of vibrant colors to match any style or mood. What makes this collection so unique is the "gel" like finish, a healthier and safer alternative. $18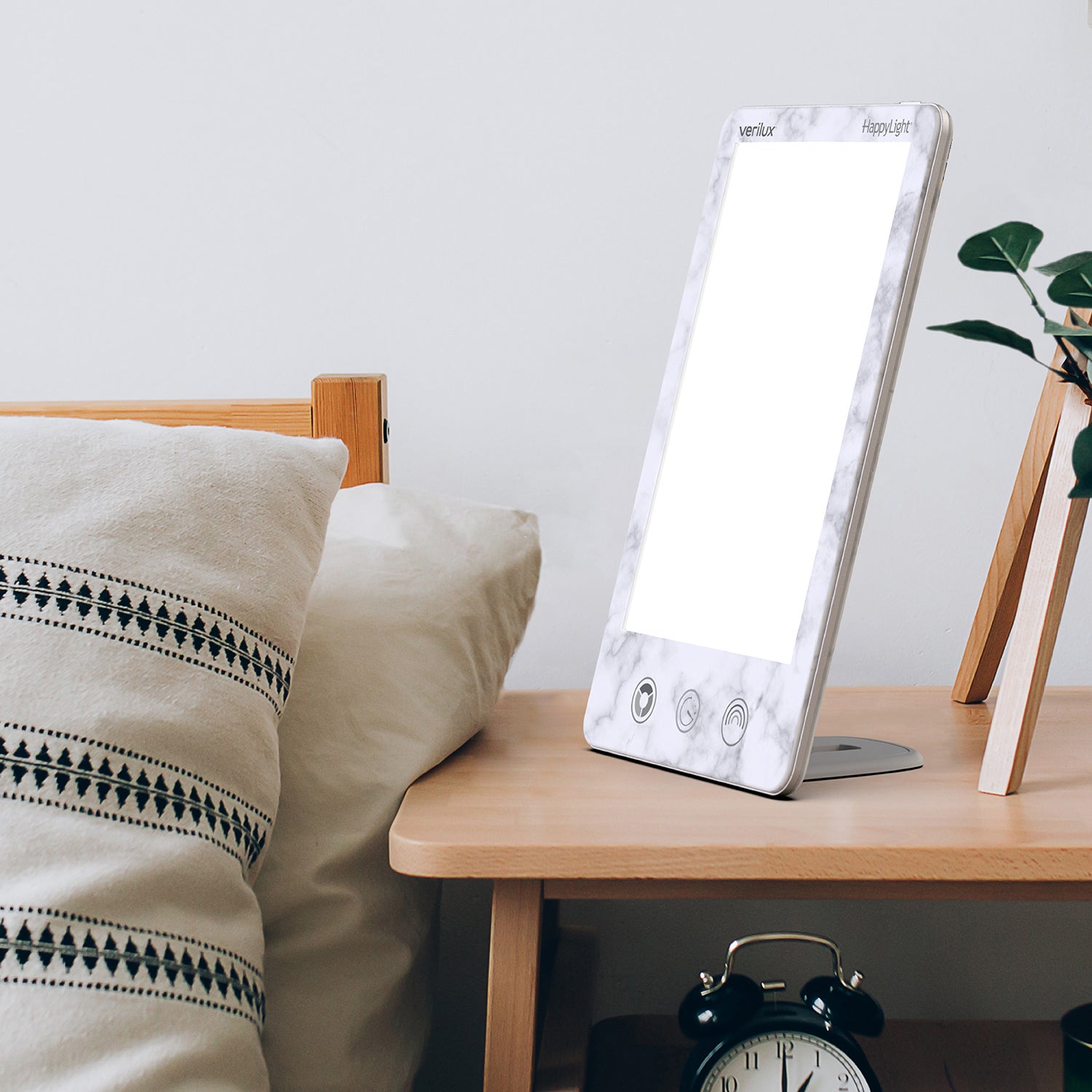 A light therapy lamp from Verilux

It's no joke: New England winters can be rough. Introduce a little happy into these days with Verilux's HappyLight Luxe light therapy lamp. This full-spectrum, UV-free light has a clinically proven 10,000-lux intensity and four brightness levels. With adjustable color, temperature, and a countdown timer, they'll be able to personalize the experience on their way to better days, no matter the weather.
$69.99
Classic Man: Beard, Bald Head and Body Oil from Mavology
Mavology is an intentional skincare brand that promotes the power of skincare rituals to unlock self awareness, wellbeing, and inner peace. From their collection of products provide a full body self care experience. From the Enhance Rose & Amber Whipped Shea Body Butter to the Classic Man: Beard, Bald Head and Body Oil, there is something for everyone. $28
Queen Body Butter from Soap Her Girl
Soap Her Girl is a Cambridge-based bath and body brand featuring handcrafted, small-batch soaps, lotions, body butters, and more. The brand was created to be a moment to enjoy self care through uplifting and relaxing scents and quality ingredients. Products featuring empowering names like Queen body butter or the Black Girl Magic soap that is made from olive oil, coconut oil, castor oil, mango butter, activated charcoal, and vitamin E. Scents include amber, ginger, and jasmine essential oils. $18
Clear quartz point crystal from Full Moon Botanica
Full Moon Botanica offers a variety of solutions for all your spiritual and metaphysical needs. The Full Moon Botanica experience is grounded in cultivating positivity, prosperity, and abundance. Their collection of products include smudging tools, tumbled stone bracelets, assorted crystals with associated informational cards, and other spiritual supplies based on traditional beliefs and practices with a modern twist. $15
For the Home 🏠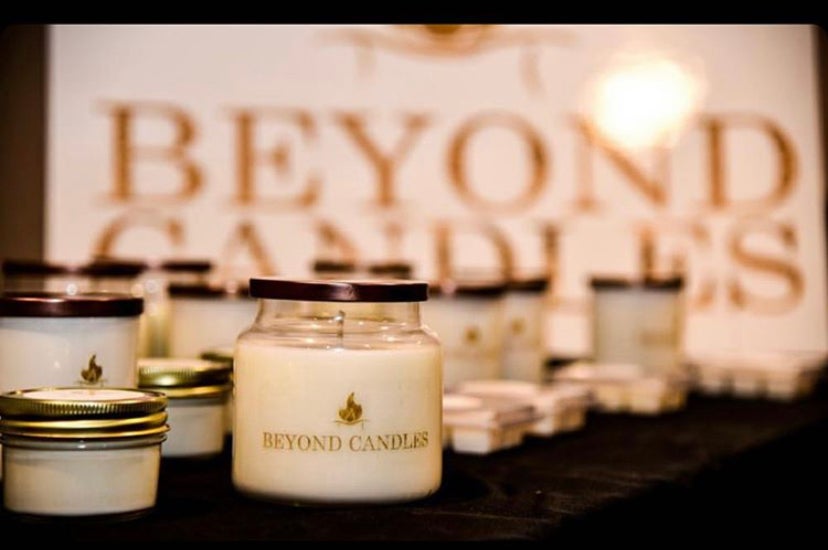 Apple maple bourbon soy candle from Beyond Candles
Stock up on 100 percent homemade soy candles from Beyond Candles specializing in eco-friendly and unique fragrances that provide a clean burn from start to finish. The bold and unique scents range from apple maple bourbon to bamboo coconut and are available in a range of sizes. They leave a lasting impression. $12-$30
Paisley pillow from Akosua's Closet
Curated by journalist Erica Ayisi, Akosua's Closet is a collection including everything from vibrant colored home decor styles like pillows and talking pieces to elegant jewelry and statement pieces. The goal of the boutique is to serve as a love letter to Africa, featuring products 100 percent made on the African continent spanning across South Africa, Ghana, Senegal, and Kenya. $39.50
Consider this conscious crafting: Launched in Needham by data analyst-turned-DIY entrepreneur Samantha Hoff, Pottery with a Purpose was created to encourage slower, more mindful living in the midst of COVID-19's chaotic world. Hoff's sustainably designed kits include everything you need: clay, tools, detailed instructions, paint, and brush. Get in the seasonal swing with the hot cocoa mug kit (complete with a cocoa bomb), or let that creativity shine with the candle holder kit. $70-$84
Beluga Batik Placemat from Tafari Wraps
Tafari Wraps is a sustainable lifestyle brand aiming to preserve Afro Diasporic culture through fashion, home decor, and educational programming. The wrap designs center on African textiles and celebrate the vibrancy of the Caribbean and African landscapes. $51.19
Decorative embroidered throw pillows from Ankhara By Luciana
Adorn your home with the styles and creations of Ankhara By Luciana. This collection of one-of-a-kind home decor and accessories features classic and trendy prints and bold designs. Inspired by culture, the eclectic product offering is versatile enough to pair with any home interior style. $65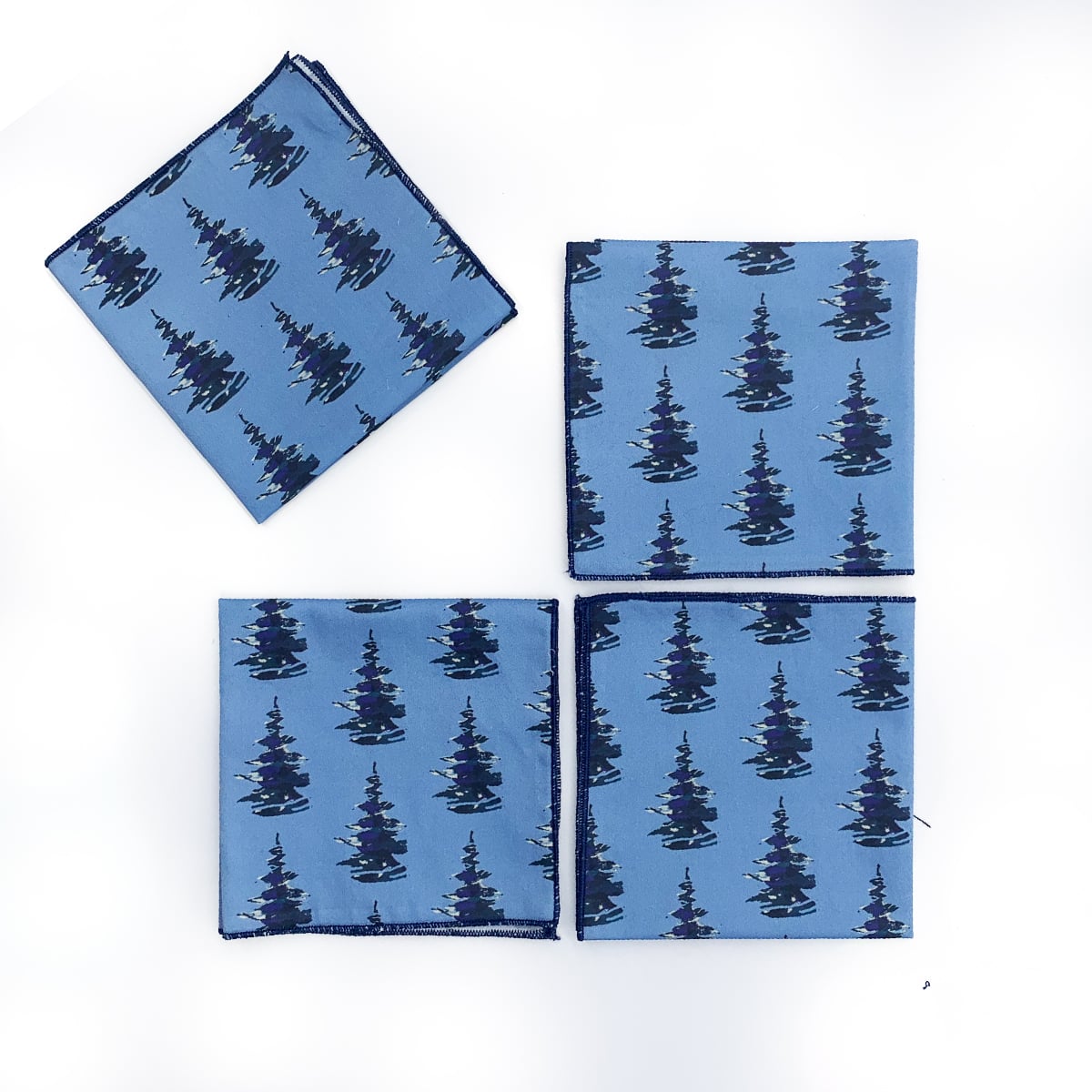 Amesbury Pine napkins by Linda Cabot Designs

Entertaining season is here. Brighten up your favorite host's table with earth-friendly, certified-organic cotton cocktail napkins from local textile designer Linda Cabot. Designed and stitched in small batches, the patterns are all derived from Cabot's original paintings and add a special touch to any gathering spot. The napkins come in packs of four, with five designs to choose from, including the festive Amesbury Pine. $24
The Mini by Yogibo

Everyone could use a little comfort and support these days. New Hampshire-based Yogibo has our backs. Literally. The Mini, the collection's smallest seat, has all the big comfort of its signature full-size lounger, conforming to the user's body with zero pressure points. Sit on it flat for meditation or diagonally as a seat, and toss on a Support to turn it into an arm chair. The washable covers come in 14 colors, and there are eight water-resistant covers to make the seat outdoor-ready. $149 ($99 for the Support add-on)

For Travelers and Adventurers 🚘 🚆
Enjoy a White Mountains getaway

If a snow-filled stay in the White Mountains sounds like the perfect ending to a challenging year, The Glen House in Gorham, N.H., is offering a Holidays in New England package. The package includes a two-night stay at the 68-room hotel at the base of Mt. Washington with gorgeous views of the snow-covered Presidential Range. Guests will receive a milk and cookies delivery to their room, a treat-filled stocking, and snow tubing for two at Great Glen Trails Outdoor Center, which is adjacent to the hotel. Back at the hotel, get cozy around a fire pit on the outside deck or at the fireplace bar inside. The trip must be booked by Dec. 12 for travel through Dec. 31. Rates start at $158 per night.
Explore the Northeast by train

Give your loved ones the gift of travel or join them for an exploration of the Northeast by train. Save money on Northeast travel this holiday season by booking these Saver Fares at least 14 days in advance for Acela and 21 days in advance for Northeast Regional. For example, get one-way fares between Boston and NYC for $59 on Acela and $29 on Northeast Regional and one-way fares between Boston and Washington, D.C. for $79 on Acela and $35 on Northeast Regional. Amtrak is waiving all change fees for reservations made through Jan. 4, 2022.
Wear locally-made earbuds while sleeping away from home

Do you find it hard to get a good night's sleep while traveling? If you're looking for earbuds that will sweeten your slumber on the road, these Sleepbuds II by Bose in Framingham just might do the trick, according to Oprah. The earbuds are part of Oprah's "Favorite Things" 2021 holiday gift guide. "Drown out a partner's snoring or listen to white noise at night with these earbuds," Oprah wrote. "They are so darn comfortable — even if you sleep with your ear smushed up against the pillow." $249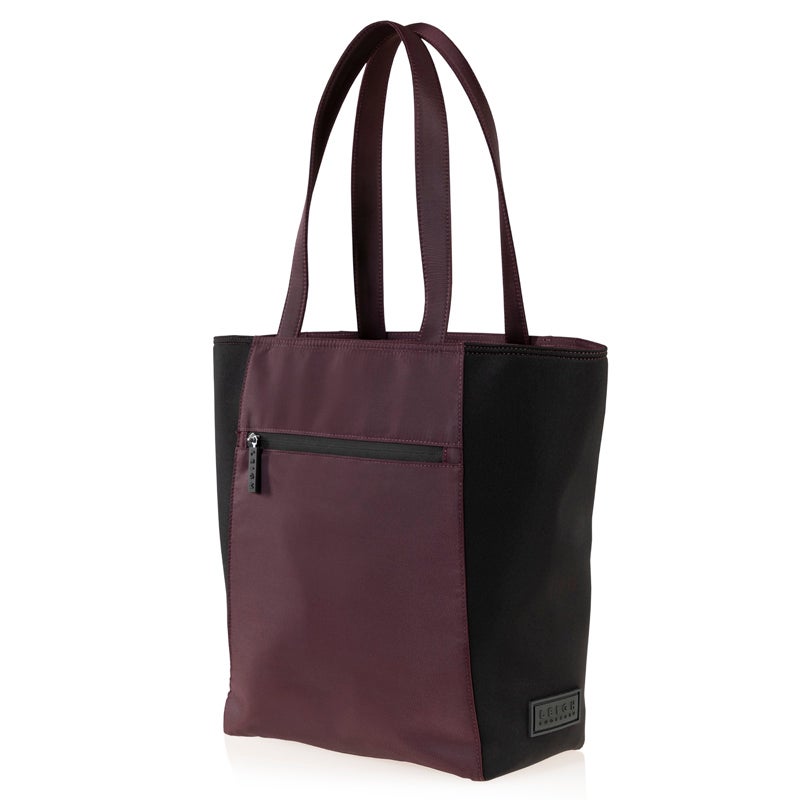 Buy a locally made, sustainable tote for your next trip
Now that you've finally booked that long-awaited trip, you can feel good about this sustainable nylon travel bag from Newport, R.I.-based luggage and travel accessory company LEIGH. The bags, part of the company's new LEIGHway collection, are made with recycled, antimicrobial, water repellent nylon. They're actually made from 100 percent post-consumer recycled bottles. The company also uses Ionic+TM silver technology, through a partnership with Noble Biomaterials, which stops microbes from growing on soft surfaces. Its first-ever tote bag features compartments ideal for a quick shoe change during your travels. $200
Book a luxury stay in Boston
On your first morning of 2022, how does breakfast in bed at a luxury boutique hotel in Boston's historic Beacon Hill neighborhood sound? XV Beacon's New Year's Eve package, NYE at XVB, includes a bottle of champagne, a signature XV champagne stopper, and a $50 breakfast credit towards in-room dining. Guests can also linger longer with a late check-out of 2 p.m. (based on availability). For those who don't want the party to stop, the hotel will take 15 percent off its best available rate for additional nights. $795 and up
Wall art from Benoit's Design
How about a gift that celebrates where you've been — and where you want to go? Benoit's Design Co. celebrates wanderlust with its line of wooden wall panels: ski trails, national parks, lake maps, topographic maps, and coastal charts carved into Baltic birch wood. Unique textures give depth to mountains and valleys, waterways, and major roads; the Boston Harbor art is stunning. The small shop of designers and makers in Westbrook, Maine, was founded by husband-wife team Christina and Greg Benoit. Starting at $145
For Movie-Lovers 🍿📺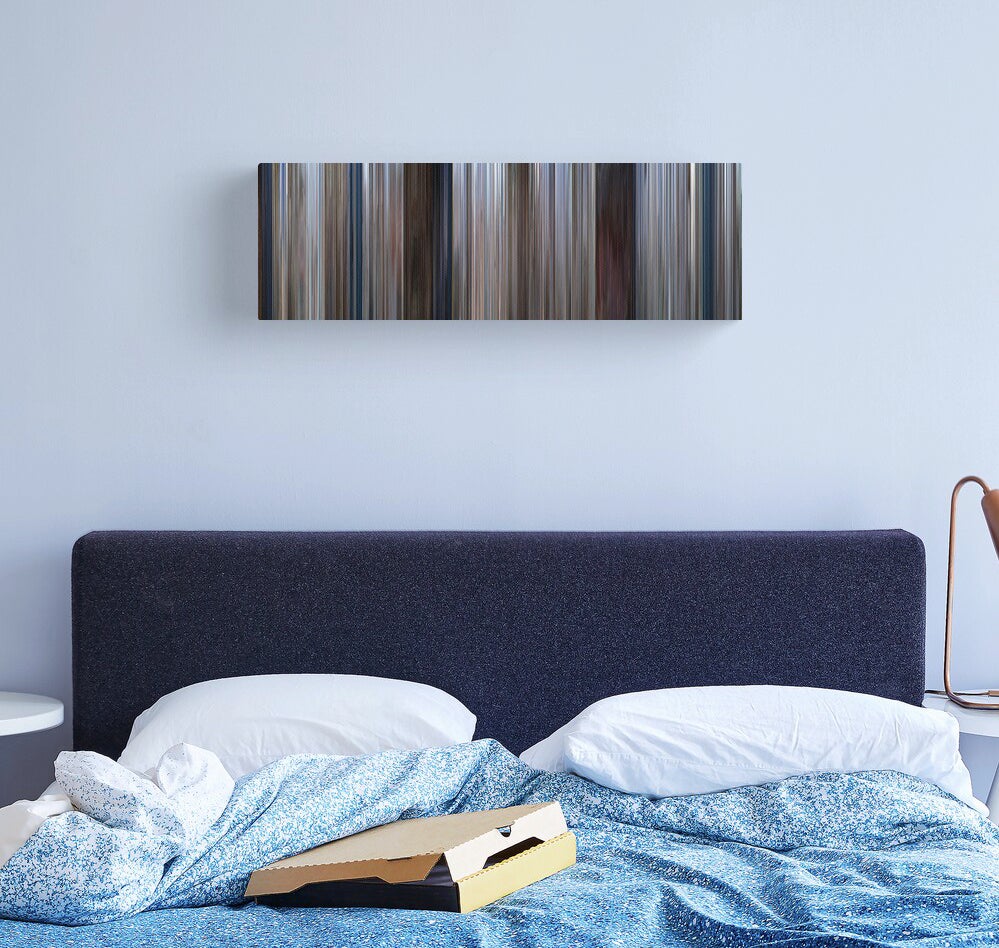 Movies are a collection of thousands of images, sequenced to tell a cohesive story. But what would happen if you compressed an entire feature-length film into a single image? As it turns out, that single image can still tell a story of sorts. That's the idea behind Movie Barcodes, in which each frame of a film is translated to a sliver of color on a canvas or art print. The end result tracks a film's full progression of color hues in a piece of modern wall art. If the sandy browns and ocean blues of "Jaws" don't match your decor, try one of the thousands of other options, including the CPU greens in "The Matrix" or the rainbow of hues in "The Lion King." $17.86-$114.50
Local mask mandates for indoor venues mean that trips to the movie theater may be a rare treat for many people at the moment. For those who want to recreate the movie theater experience at home, a popcorn spice set from Williams-Sonoma is just the ticket. With a variety of flavors that range from the classic (salted butter, kettle corn) to the unexpected (vanilla cinnamon), this gift set should satisfy all tastes. $39.95
Coolidge Corner Theatre membership
Movie theaters have been significantly impacted by dwindling attendance for nearly two full years now, which makes finding a way to support local independent venues more important than ever. As the preeminent non-profit art house cinema in the Boston area, a membership to the Coolidge Corner Theatre is worth every penny. Benefits include free tickets, invites to members-only screenings, and a surprising number of discounts at nearby restaurants and stores. But the real benefit is for the community, which will hopefully get to enjoy the 88-year-old theater for decades to come. $48-$3,000
Streaming subscription to Mubi
Struggling to navigate the vast libraries of Netflix, Hulu, or another big player? Mubi presents a highly curated streaming experience, rotating some of the best world cinema and independent films through its service, offering users a "movie of the day" and other user-driven picks. The service offers a seven-day free trial for those who want to check out some of its offerings, which include many movies you won't see anywhere else, even on physical media like DVDs or Blu-Rays. $29.99-$79.99
"Local" movies to own from the Criterion Collection
In the streaming era, physical media can feel like a relic of a forgotten age (assuming everyone has forgotten the early 2010s already). But streaming dominance comes its own host of issues, whether it be buffering, disappearing movies, or companies uploading low-quality versions of films plagued by incorrect aspect ratios, typo-filled subtitles, desaturated colors or inaudible dialogue. If you want to gift a pristine physical copy of someone's favorite film, The Criterion Collection is basically the Rolls-Royce of movies. The company releases a small handful of films each year, collaborating with directors to ensure that every aspect of the movie is held to the highest standard. Criterion's library skews toward the arthouse cinema, but there's plenty for all tastes: A few highlights with local ties include quintessential Boston movie "The Friends of Eddie Coyle," one of Ben Affleck's earliest roles ("Dazed and Confused"), a series of revolutionary documentaries tracking JFK's pre-presidency days, and Kevin Garnett's first big film role ("Uncut Gems"). $23-$40
All products were independently selected. Boston.com may collect a commission from the links on this page.
How to Boston
Get the best of the city, delivered to your inbox weekly.