Shopping
Where to buy a Christmas tree around Boston
Also, find out where you can cut down your own tree.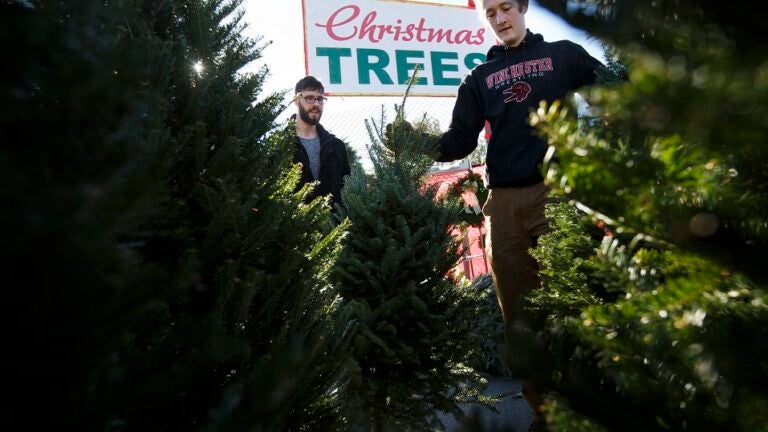 If you haven't yet bought a Christmas tree, there are plenty of Boston-area farms, markets, and garden centers eager to help you pick the perfect one.
"I think it's important to support your community," said Dannie Kelley, of Kelly's Christmas Trees in Roxbury, which has been selling Christmas trees for 35 years. "You need to keep your money circulating in your community. We believe in quality, customer-service, and putting out the best you can do in your community."
Ahead, discover some of the places where you can choose a fresh Christmas tree this holiday season, as well as where you can cut down your own.
Folks can shop for trees at Allandale Farm beginning Nov. 25. Reservations are required when shopping on Saturdays and Sundays and can be made on the farm's website, but are not required during the week. Trees are 4 to 12 feet tall, and the average trees in the 6 to 8 foot range cost $58 to $85. Shoppers will also find wreaths, garlands, ornaments, poinsettias, and baked goods. (259 Allandale Road, Brookline)
You can drop by this garden center daily through Christmas Eve, and shop for trees from $19.95 to $169.95 that are up to 11 feet tall, as well as wreaths, ornaments, and poinsettias. The garden center accepts cash or check. The center aims to sell trees beginning on Nov. 18, but call ahead to confirm. (41 Bay State Road, Cambridge)
This veteran-owned, family business will sell trees from Nov. 24 to Dec. 24, as well as tree stands, wreaths, garlands, and mantle pieces. The trees range from 3 to 12 feet and cost between $20 and $200. Curbside pickup and next day tree delivery are available. (22 Harvard Ave., Allston)
Beginning Nov. 20, customers can stop by Hood Park in Charlestown for trees ranging from tabletop to more than 12 feet tall. Don't have time to shop? They'll pick out a tree for you and deliver it to your door. Prices range from $50 for a tabletop tree to $899 for a premium Fraser fir Christmas tree that's more than 14 feet tall. Delivery rates range from $35 to $150, depending on where you live. Wreaths, tree stands, kissing balls, lights, and more are also available. (500 Rutherford Ave., Charlestown)
Customers can buy trees beginning on Nov. 21 that are up to 12 feet tall and range in price from $55 to $375. Delivery is available for a fee of $20 and up. Customers can also get custom-decorated wreaths and tree stands at the lot, which is open until midnight on Dec. 24. Trees can be ordered via text or phone by calling 617-298-5512 or 857-891-0180. "If the tree doesn't stay, you don't pay," said owner Dannie Kelly. (Roxbury Community College Parking lot at 167 Centre St., Roxbury)
You can take a selfie in front of a 14-foot inflatable Santa while shopping at this
family-owned spot in Brighton, selling Christmas trees and more. The
trees range in size from tabletop to 13 feet tall and cost
$25 to $200. Also for sale: various sized wreaths complete with
handmade bows, kissing balls, decorated wreaths, garlands, tree stands and
lights. The business is cash-only with an ATM on site. (360 North Beacon
St., Brighton)
Not interested or able to strap a tree to the roof of your car? No problem. This Union Square market, open Nov. 11 through Dec. 24, will deliver a tree to your door. Its trees, which stand up to 12 feet tall, range in price from $39.98 to $159, and cost $20 to $25 for local delivery. The market also sells decorative potted Christmas trees in all sizes, plus tabletop trees, wreaths, garlands, poinsettias, and mistletoe. (238 Washington St., Somerville)
The Fenway Tree Farm, located at The Station, returns Nov. 18 and operates daily through Dec. 25. The trees are provided by North Pole Xmas Trees, which also sells trees in Tyngsboro (and Nashua and Londonderry in New Hampshire). Folks can find tabletop to 20-foot trees that range in price from $25 to $250. Other items for sale include wreaths, garland, and more. Drive-in service is available, and customers can also pay for set up and delivery service. (1400 Boylston St., Boston)
Cut your own
The farm, which has been selling trees for 55 years, begins selling trees Nov. 18. Folks can choose from Douglas and Balsam firs up to 8 feet tall for $95, and pre-cut trees are also available. Saws are provided, but chainsaws are not permitted. The farm supplies twine and wraps the trees for free, but securing the tree to the car is the customer's responsibility. The farm accepts cash and checks. Pets are welcome. (120 Crane Neck St., West Newbury)
This 10-acre farm offers "a true New England tree farm experience" beginning Nov. 24, according to its website. Visitors can cut their own trees or choose a pre-cut tree from the farm. Hand saws are provided, or folks can bring their own. Chainsaws are not permitted. Staff members can help direct folks to the trees eligible for cutting and assist with loading the tree onto a vehicle. Cutting trees cost $40 to $140, depending on the size, and pre-cut trees cost $45 to $250. Delivery is available for an added charge. Wreaths and birch logs are also available. Santa visits the farm on Nov. 25. Pets are welcome. (25 Birch St., Millis)
Customers can cut their own Balsam fir trees beginning on Nov. 24 for $80, which includes tax. Apples and apple firewood are also for sale. "We will be doing some things differently this year, so please be looking for changes in traffic, parking, check-in and trailer queue," the farm wrote on its website. Customers can pay with cash, check, or credit card. (327 Ayer Road, Harvard)
This farm, which planted its first Christmas trees in 1984, begins selling trees on Nov. 24 for the holiday season. Customers can walk the farm and cut their own tree for $85 plus tax. While there, they can also visit the farm animals and shop the Christmas Tree Shop, which sells wreaths, kissing balls, handmade gifts, and carved ornaments. Trees are mostly Fraser fir, but there are also Balsam and Canaan. Pre-cut trees are $55 to $110 plus tax for trees up to 9 feet tall. The farm offers tree drilling to help trees fit into stands. Customers must pay with cash or check, and there is an ATM on site. Pets are welcome. (96 Dudley Road, Billerica)
At this South Shore farm, where sales begin Nov. 24, customers can choose from Fraser, Balsam, and Canaan firs, along with White Spruce. The trees cost $18 per foot. Customers can cut their own using a saw (no power tools allowed) or ask farm employees to cut the trees for them. Some customers ask to cut a slice off the stump, according to the farm, then engrave the date, add string, and hang it as an ornament on the tree. Once cut, the tree goes into "the shaker," which the business calls "one of the best-kept secrets" on the farm. The device shakes the brown needles and leaves off the tree before it is loaded onto the car. Employees can help fasten trees to cars. The farm takes cash and checks only and delivers trees for a fee. (Route 123, Neal Gate St., Scituate)
Need weekend plans?
The best things to do around the city, delivered to your inbox.