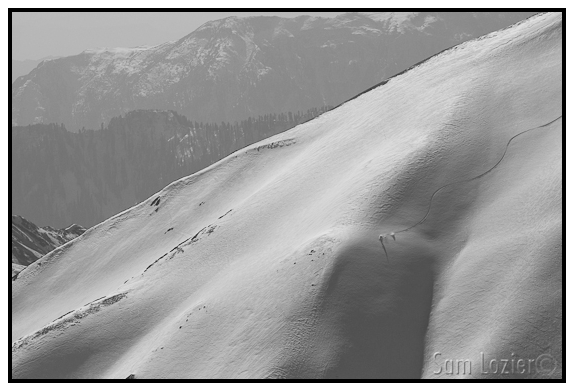 Ski blogger Sam Lozier is spending a chunk of this winter in Kashmir, India at Gulmarg.
Winter has finally arrived.
We had almost given up hope, and were seriously considering leaving and seeing more of India. Not anymore though, as this storm delivered. As of noon today, we had gotten at least a meter-and-a-half on the ground in Gulmarg. By the end of it, we're looking for at least two meters in town, with significantly more accumulation at higher elevations. One Gulmarg rumor places the water content for the storm at eleven inches, an almost unfathomable number at home.
To give you an idea of what it's like to see this much heavy snow come down this quickly, here are a few quick observations from town:
The golf course in the center of town was brown with a few white patches before this storm, after the storm, the chain link fences surrounding it have been entirely buried

Every 20 minutes or so, during the height of the storm, my home in Gulmarg – the Green Heights Hotel – rumbles and shakes as the roof avalanches under the weight of all the new snow.

The snow banks on the side of the road have risen from shin height to neck height during the storm.

Monkey Hill (a steep, short slope behind my hotel) has gone from skiing OK, with just a bit of snow, to skiing well with midseason coverage all over.

I've had to skin out the front door of my hotel to start skiing, and have had to climb a snow bank. 
The easiest way to get around town today was by skis. We wanted to run up to another hotel to get on the internet, which of course didn't work because the power was out, but by far the best way to get up there was to put skins on and tour up the hill to get there.
Read and see more of Sam's work at www.famousinternetskiers.com