Going for a stroll on Shittadar Peak
By Sam Lozier, Boston.com Correspondent
Ski blogger Sam Lozier has returned to the U.S. after spending a chunk of this winter skiing in India.
For what turned out to be our final ski objective in India, Amit, Allen, and I decided to go for a peak that would get us over 5,000 meters. Amit was a little fixated on the number, and the peak he wanted to hit seemed like it had good skiing as well, so we all got on board.
Shittadar Peak, more boringly known as Friendship Peak, is near the head of the Solang Valley. By Himalayan standards, even Kullu Valley standards, the Solang Valley is quite accessible and small. Within the upper Solang Valley, Shittadar Peak is the smallest and most accessible of the prominent summits ringing the valley, so what we went through to get up it should give you a good idea of the enormity of the peaks in the local area, and the Himalayas at large.

Allen, en-route
A late, 9 a.m. start, got us out the door and up the road past the Solang ski area by 10 a.m.. With our poorly maintained bikes beginning to lose power and overheat, we rolled to a stop at the mud pit that was the end of the road, and began hiking up the Solang Valley towards Beas Kund.
It was getting extremely hot, to the point that I was sweating profusely in light, rolled up, soft-shell ski pants, and a sleeveless shirt. As we skinned in, we observed some large snow rollers, and a massive rock fall across the valley, both sides of dangerous warming of the snowpack.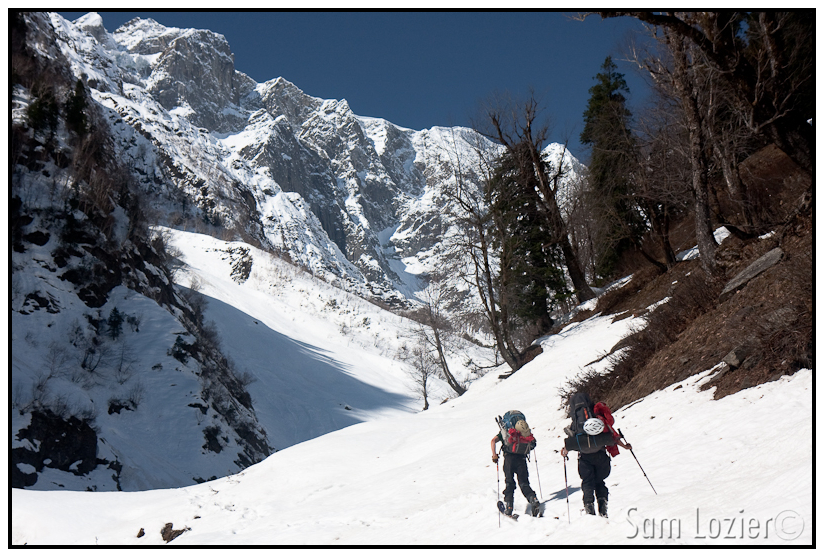 Allen and Amit breaking trail up towards Beas Kund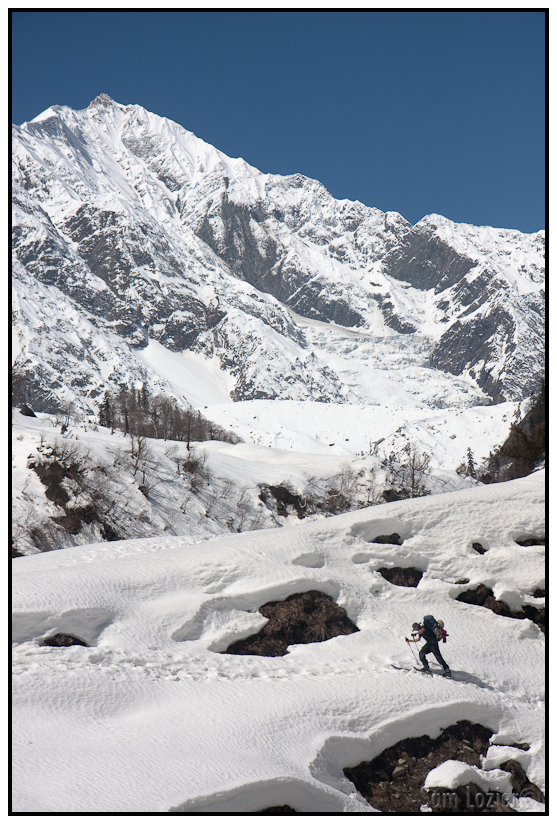 Allen in his really cool hat.

Slaving away under a hot sun.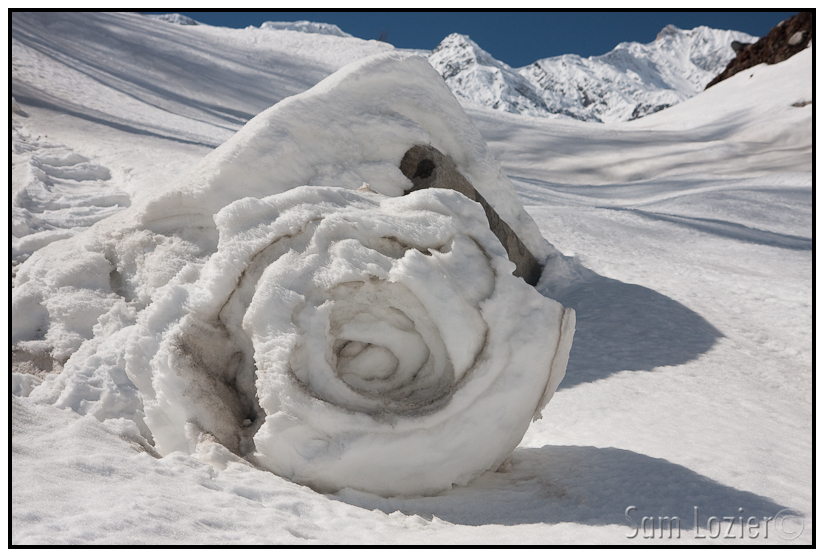 I wasn't kidding, there we're some really huge snow rollers. This one was up to my elbow.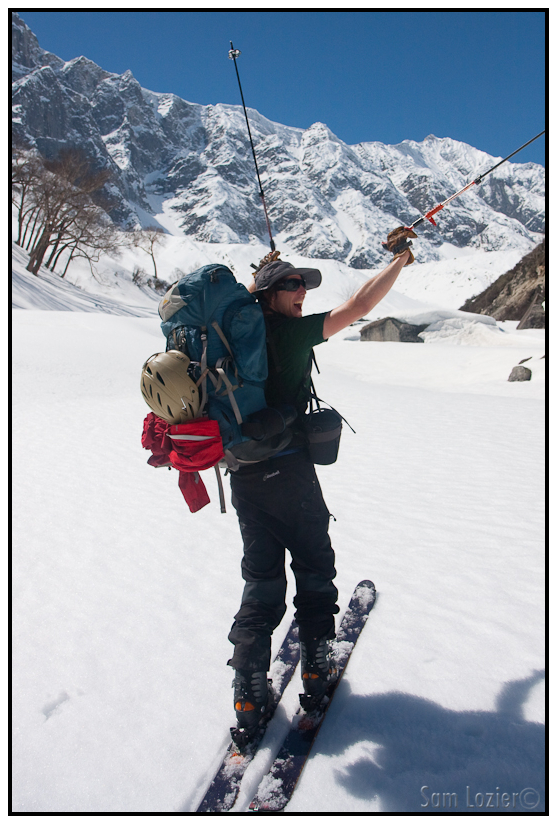 Allen, clearly forgetting how much work skinning is.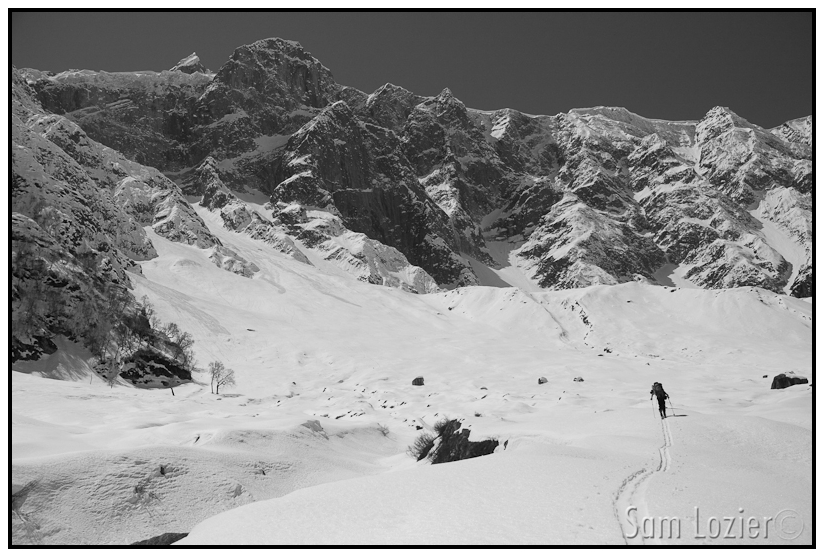 On the home stretch. This location definitely had the views!
After several hours, and a few thousand feet of pleasant skinning, we arrived at a flat, protected spot near the base of Friendship Peak and began building our campsite. Due to several weeks of warm temperatures and bright sun, there was not enough snow to build a snow-cave, so we resorted to a snow trench and a tarp. As we planned to wake up at 1 a.m. to start hiking the next morning, and weren't going to get much sleep anyway, our accommodations weren't much of a priority to us. As we'd gotten into camp early that day, we spent the afternoon eating, melting water, and enjoying the view up and down the valley. After several, lunches, snacks, and dinners we were finally in bed by 9 p.m., dosing off to sleep to the sounds of increasing winds and the tarp snapping in the breeze.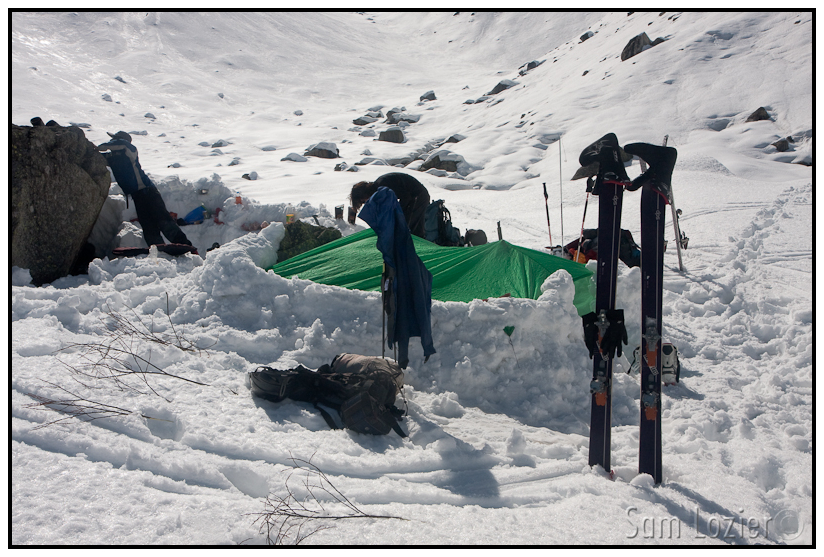 Yurt, Chalet, Condo; call it what you like, but it wasn't that bad.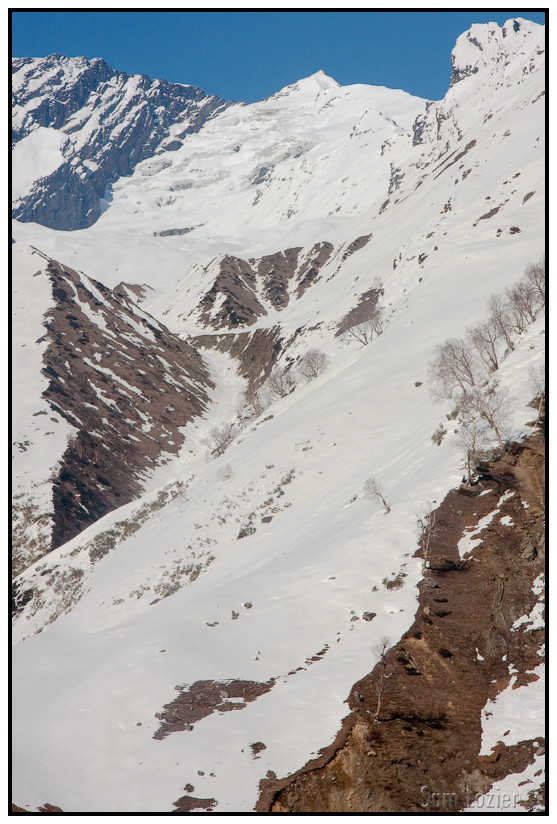 We tried to burn this image into our brains in preparation for a pre-dawn start in the morning. Shittadar peak is the tall snowy thing in the middle.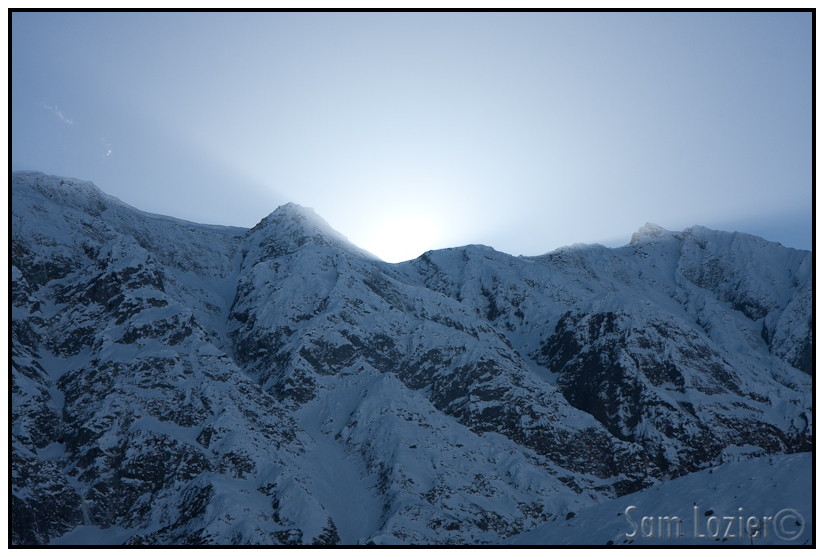 Due to the steepness of the valley, we lost direct sun at 4 p.m., even though the sun doesn't set until almost 7:30.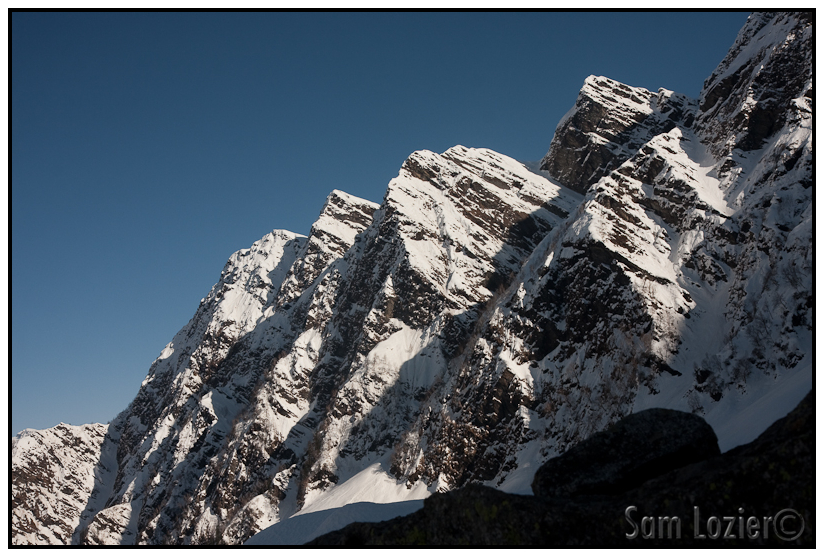 Another good view from our Yurt.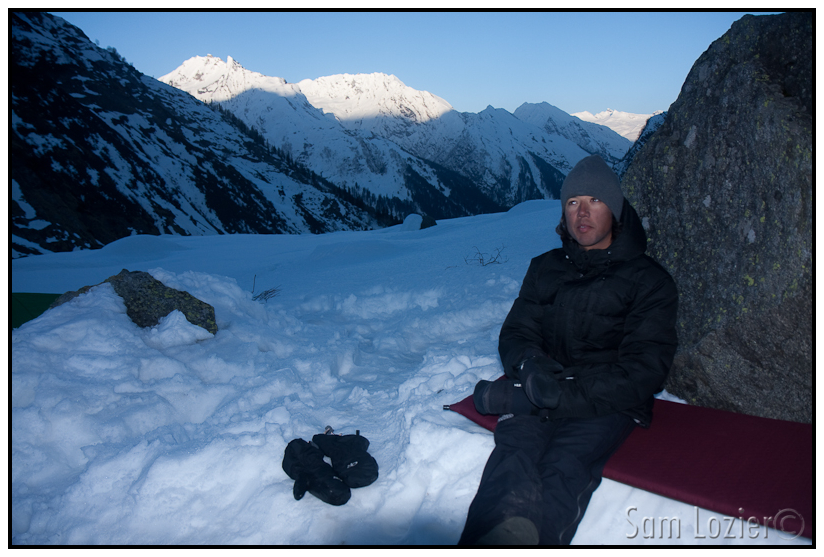 Amit, shown here sporting a wonderful goggle tan, really liked our kitchen. We even had granite counters!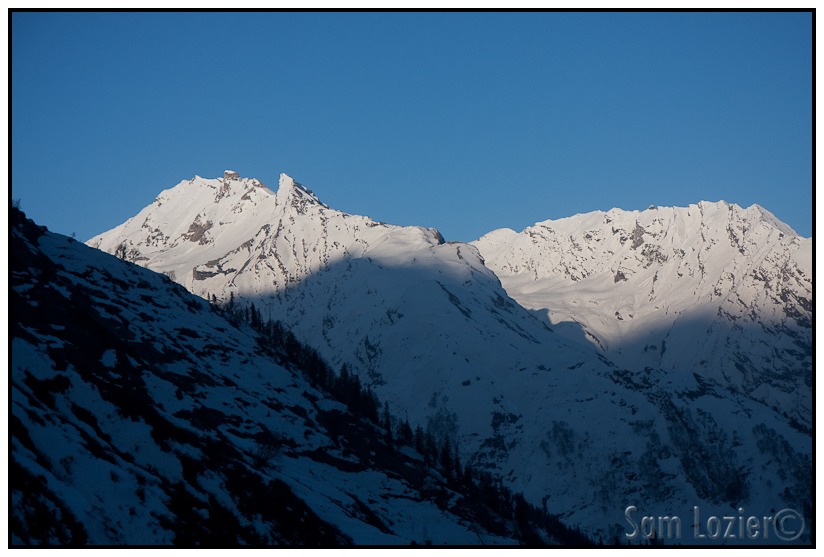 Sunset across the valley.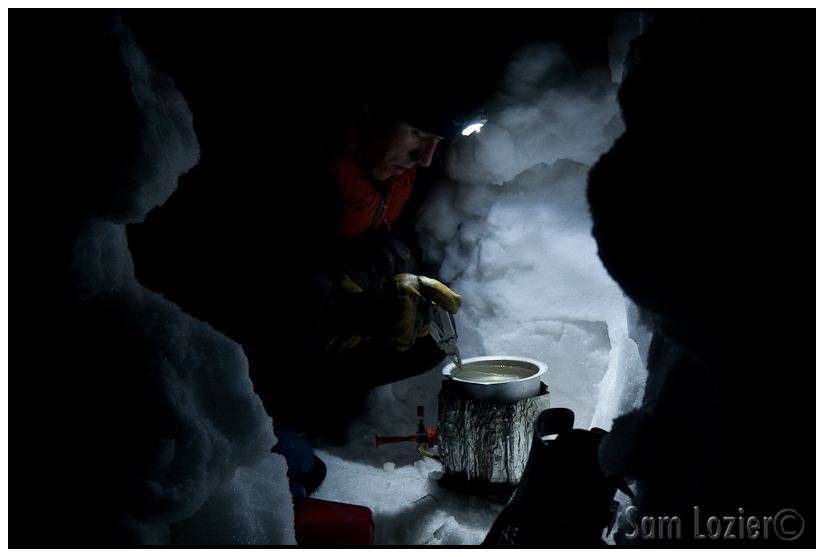 One last pot of water to melt before bed. (photo: Amit Paul)
Two alarms were required to wake us in the morning, but when we finally did wake up the air temperature and wind were both surprisingly mild. We sat in our sleeping bags for almost an hour scarfing down peanut butter and nutella sandwiches before finally getting out the door and starting our hike at 2:15 a.m.
Despite trying to memorize what the route looked like during the previous afternoon, we encountered several route-finding challenges. The slope we intended to start the day on turned out to be too steep and icy to skin, so we abandoned our original plan in favor of a more direct route up a chute. Once at the top of the chute, we were faced with a strange, rolling yet slowly climbing, slope in front of us that, as we hiked along, continually defied all estimations of scale, especially in the total darkness of a moonless Himalayan night.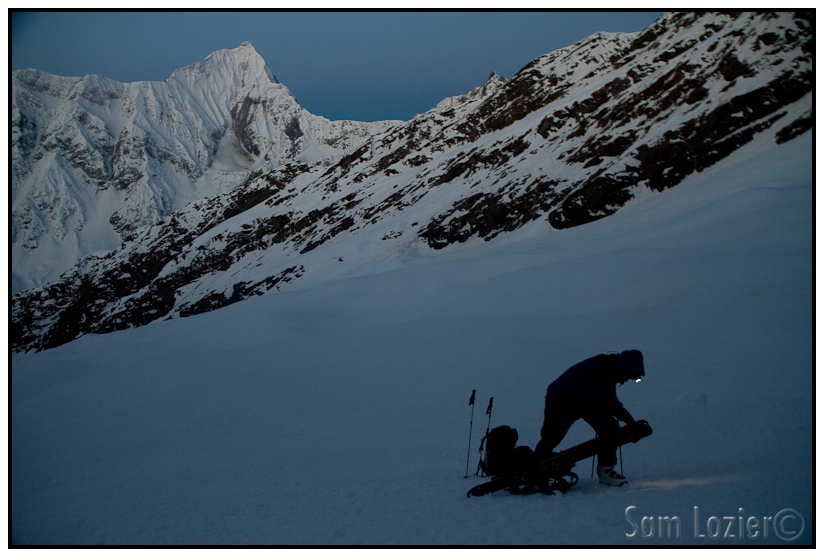 Me, getting my skis on my backpack in preparation for bootpacking. (Photo: Allen Taylor)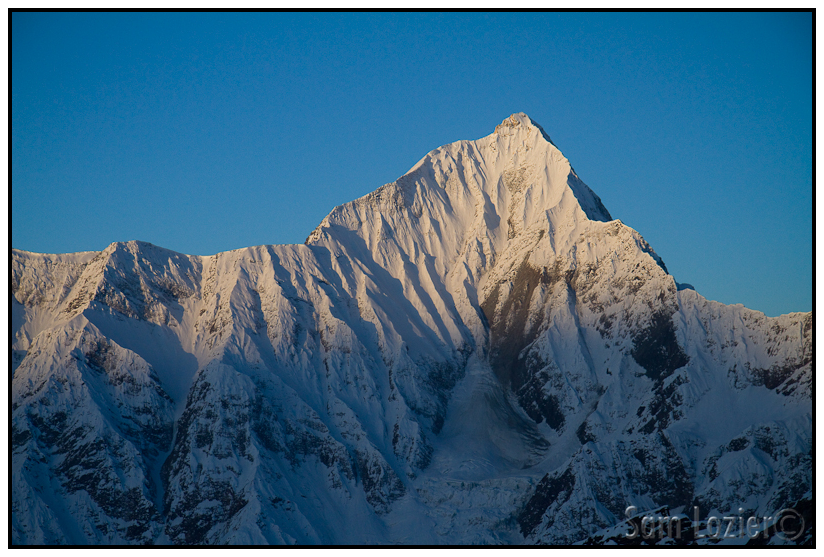 Himalayan sunrises are pretty cool.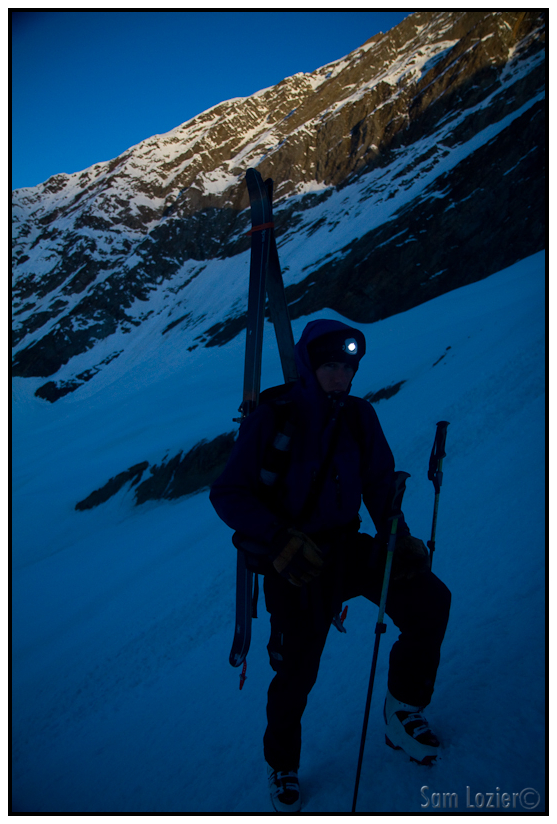 Me (to Amit): You know, this trip really surprised me, I would have thought the Himalayas would have been colder
Me (several hours later, pictured above), eating those words with an extra big spoon.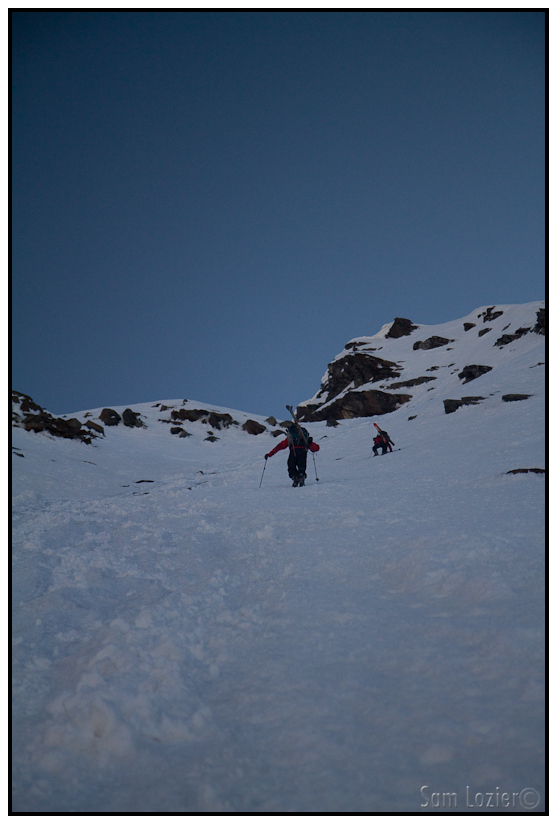 Booting up the steep, icy, slope. We left crampons and axes at home to save weight, which turned out to be a questionable move.
After four-and-a-half hours of climbing by headlamp, just as the first rays of pre-dawn light were brightening the sky and the wind, which had been gaining force all morning, reached the height of it's strength, we came to the base of slope too icy to skin and even a little sketchy to boot pack up. As we got our gear ready for the hike, I began to get intolerably cold, but Allen graciously lent me his mittens, saving my day. At the top of the steep, icy pitch, we found that we were, in fact, not yet at the ridge, but still about a hundred meters below it. Another fifteen minutes more, and we were finally (FINALLY!) on the ridge, in the sun, and, unfortunately, also the wind. We sat around for a few minutes, trying to warm up before setting off up the ridge forwards the summit.
Not 10 minutes further, we crested a ridge and were shocked to learn that we were still not on the summit ridge, but that we were, in fact, on a lesser ridge that abruptly ended in the middle of a large face that we would have to boot up (too steep/icy for skinning) for at least another thousand feet before gaining the summit ridge.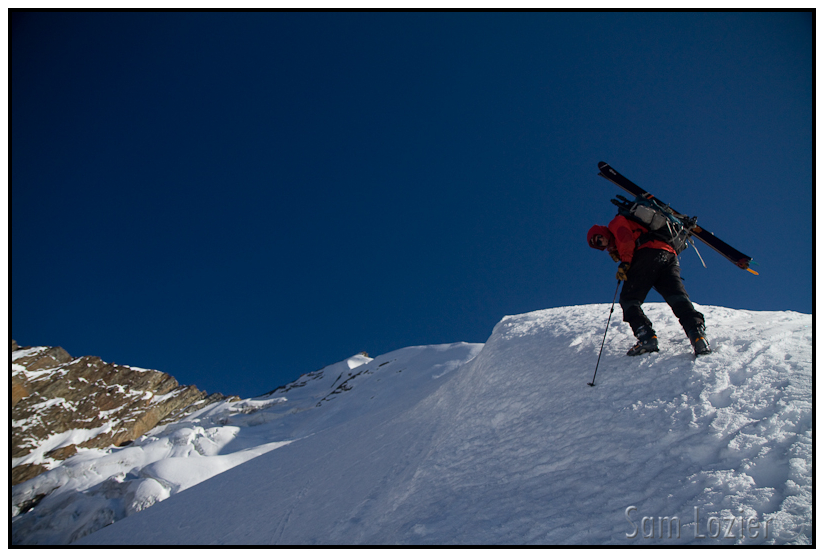 They say it's better to lead than follow. That's especially true when you have to follow this walking view ruin-er. (Allen, gaining the false summit ridge.)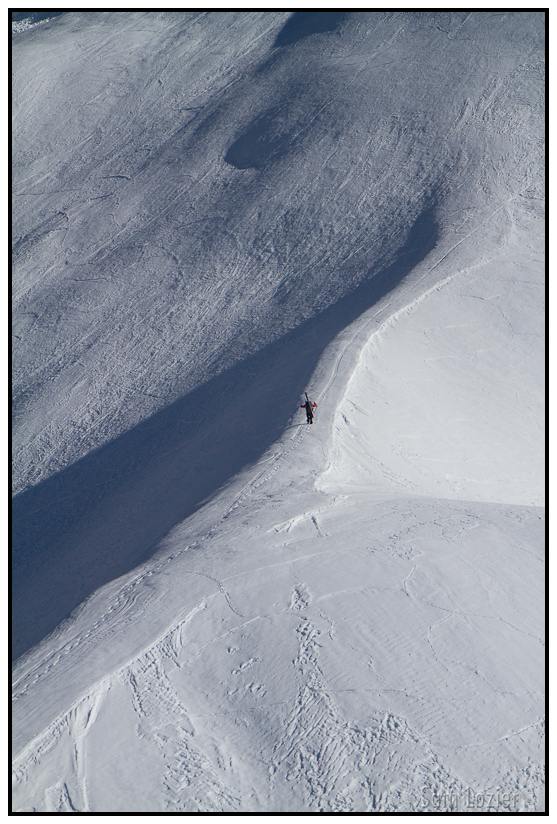 Allen, following Amits skintrack towards the final open slope.
Up to this point, we'd been moving pretty quickly, and gaining altitude at a headache inducing clip. By the time we got to the snow slope though, we were at a crawl. Somewhere on the slope, we crossed the 5,000 m mark, and to make it more challenging, the snow we were climbing was extremely crusty, necessitating time-consuming rest-stepping. When we finally reached the real summit ridge, we were all feeling the effects of altitude in the form of fatigue, headaches, and a mild dizziness. After a short rest we pressed on though, to a high point at 5,100 m, where we stopped for lunch. The summit lay another hundred meters higher, but the steep, exposed snow below it would have taken at least another two hours to climb in our condition. We decided that since the snow below us was already starting to warm, it would be smart to eat lunch at our current location and enjoy great skiing, rather than push on to the summit and therby expose our self to the dangers of thin air, and late afternoon snow.
Check out the rest of the trip report over on Famous Internet Skiers.