Sports
Skating into winter, in and around Boston
The outdoor seasonal rinks in and around Boston are perfect for affordable family fun or a winter-weather date night.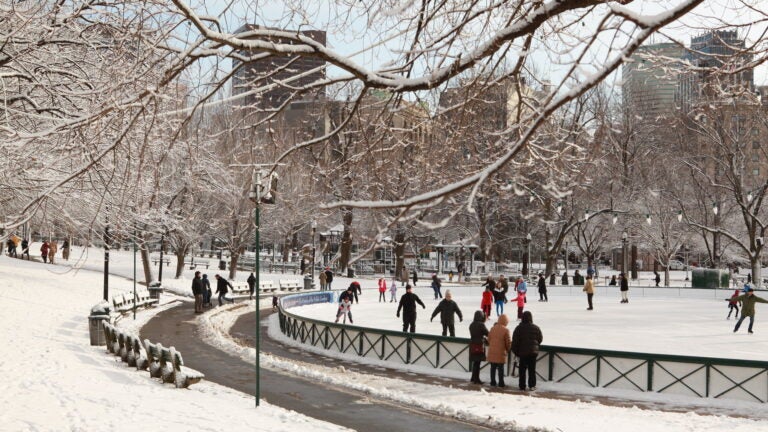 Winter is almost here, and that means it's time for one of New England's favorite pastimes: ice skating.
Boston has no shortage of seasonal outdoor rinks for little or no admission —from the Frog Pond to Cambridge to Jamaica Plain.
Venture a little further outside the city to places like Patriot Place or Lynnfield for a complete skating/shopping/dining experience, or bring your own skates to little local outdoor rinks like the one on Stoneham Common.
Notably, Seaport's rink won't return this year—instead, visitors to Snowport can find a holiday market, a tree market, and a light display.
Located just off Third Street, this outdoor rink in the heart of Kendall opens for the season on Dec. 1. The rink offers skate rentals, lessons, and a snack bar with hot cocoa. On Saturday, Dec. 11, they host their 14th annual Holiday on Ice Skating Show, a free ice show featuring two-time Olympic medalist Nancy Kerrigan.
Marketstreet's outdoor rink is back for its eighth season, and this year they have gas firepits surrounding the ice. The rink offers skate rentals and private events, and after a skating session, Marketstreet has ample shops and restaurants to grab a bite or warm-up.
For the 12th year, Patriot Place hosts a professionally maintained skating rink with on-site skate rentals and free parking. Skaters can warm up at the concession stand or over at any of Patriot Place's 19 restaurants or even the movie theater.
Named the No. 1 ice skating rink in the country by USA Today in 2017, the Frog Pond has served as a winter ice rink since the 1990s (although Bostonians had been skating on the Common's ponds since the 1800s). Admission is $6 for folks 58 inches and over, and free for those under. Along with skates, you can also rent "Bobby the Skating Seal" for children learning to navigate the ice.
Each winter, the North Shore town hosts a seasonal ice-skating rink on their town common, open daily from 9 a.m. to 9 p.m. Since it's weather-permitting, it usually opens in January, and their Facebook page will have more updated information. Ice skating is a hallowed institution in this small town—they've sent locals like Nancy Kerrigan to five different winter Olympic games.
This outdoor rink off the Stonybrook T stop in Jamaica Plain is free and open to the public, although skate rentals are $2 for kids and $3 for adults. There's no concession stand but there is music played from the speakers at the picturesque rink.
The Fenway rink is now open for its second season. Sponsored by REI, the rink adds to the bustle of the neighborhood along with other new developments like Trillium and Time Out Market. The rink is open every day of the week (visit the website for operating hours), and skate rentals are $6.
The Featherland Park skating rink in Sudbury is open yearly, weather permitting. Skating is free and skaters must bring their own skates. The park has two concession areas and free parking.
The Brookline rink opens this season on Dec. 10. They won't offer concessions this year because of COVID-19, and all folks must register for recreational skating ahead of time. They rent out both figure skates and hockey skates, and offer lessons, drop-in hockey, and a men's hockey league. The full weekly schedule is on their website.
Newsletter Signup
Stay up to date on all the latest news from Boston.com