Streaming
What critics think of 'Never Have I Ever' Season 2
Mindy Kaling's award-winning Netflix show is back for a second season, and critics are loving it.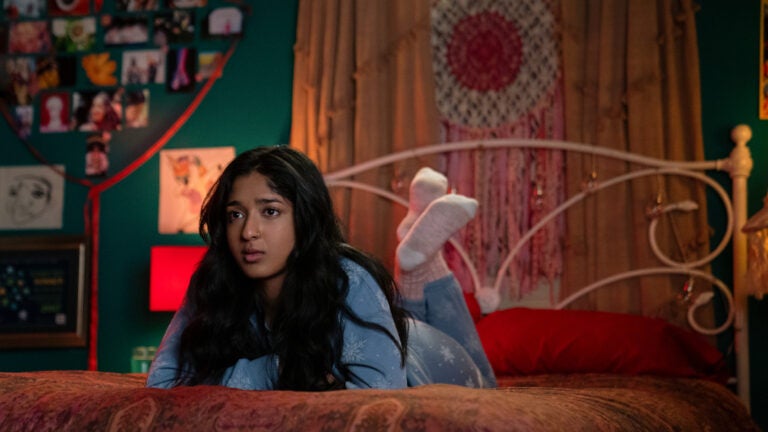 Will Mindy Kaling have another hit on her hands with "Never Have I Ever" Season 2?
The Cambridge native had one of the most popular shows streaming on Netflix during the early stages of the pandemic in 2020 with the first season of "Never Have I Ever," a coming-of-age comedy partially based on Kaling's own childhood.
Season two, which debuted on Netflix this week, once again follows the high school trials and tribulations of Devi (Maitreyi Ramakrishnan), a first-generation Indian American teenager who has a short fuse that gets her into difficult situations. This season, Devi continues to face the emotional turmoil caused by the death of her father, all while balancing a frenemy, a love triangle, and quarrels with her strict mother.
At the time of this article's publication, "Never Have I Ever" Season 2 had earned a 93 percent freshness rating on Rotten Tomatoes, only a few percentage points short of the 97 percent freshness rating it received for season 1.
That said, a single number can't adequately capture the range of critical response, and many of the reviews coded as "fresh" or "rotten" by the critical aggregation site have a bit more nuance. To help you judge whether to add Kaling's latest to your Netflix queue, here's what some of the top film critics are saying, both good and bad, about "Never Have I Ever" Season 2.
The Good
Salon critic Melanie McFarland wrote that "Never Have I Ever" Season 2 "even better" than Season 1, adding that the show has grown into itself.
"'Never Have I Ever,' already an outstanding comedy, manages to be even better in its sophomore run. Everything about the show is more confident – the physical comedy is goofier, Devi's dingbat logic is more outlandish, and McEnroe's narration easily flows with the action. It's also among the most naturalistic depictions of an inclusive high school student body on television that neither strains to call attention to that, nor ignores its characters' cultural backgrounds. "
Saloni Gajjar of the A.V. Club wrote that "Never Have I Ever" Season 2 succeeds in part because Kaling is able to tell a very specific story that doesn't try to be universally relatable.
"Through Devi, Nalini, and cousin Kamala (Richa Moorjani), the show examines and subverts stereotypes instead of simply tacking them onto the characters. NHIE doesn't try to represent an entire and richly diverse community, but it does tell a range of stories about women's troubles and joys."
NOW Toronto's Radheyan Simonpillai praised Ramakrishnan's lead performance.
"Maitreyi Ramakrishnan devours a role that demands even more maturity and physical comedy. She handles it with confidence, enthusiasm and terrific comic timing."
Kristen Lopez of IndieWire gave "Never Have I Ever" Season 2 an A-, praising both the cast and Kaling/Fisher for creating the "perfect blend of heart and humor with a little sting underlying everything."
"Never Have I Ever" Season 2 is just as delightful, funny, and relatable as Season 1, thanks in large part to its cast. Ramakrishnan and Jagannathan remain the MVPs, but there's not a sour note in the bunch."

The So-So
Candice Frederick of TV Guide gave "Never Have I Ever" Season 2 a mixed review, writing that the show dilutes its characters by trying to "win over particularly white viewers."
"Never Have I Ever, now in its sophomore season, struggles with the same sort of identity crisis of its protagonist. It tries so hard to win over particularly white viewers who might say they don't identify with the main characters, but in doing so it sometimes dilutes what makes its heroine so great."

The Ugly
Inkoo Kang of the Washington Post warned that Kaling and co-creator Lang Fisher had amped up both the best and worst elements of Season 1, citing unnecessary characters and plot lines that should have been quietly phased out.
"The result is a follow-up season that, despite its greater narrative streamlining, feels crowded with characters and conflicts that make this otherwise sweetly horny, hijinks-fueled series feel bloated and weighed down."
Newsletter Signup
Stay up to date on all the latest news from Boston.com