Streaming
'Don't Look Up' is a darkly funny satire that resonates in the COVID-19 era
Adam McKay's star-studded romp targets politicians, the media, big tech, and human nature itself.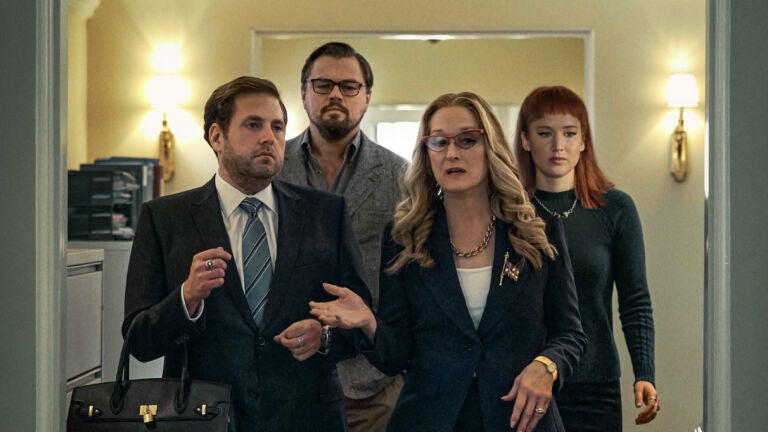 What would you do if you found out a giant comet would destroy the planet in six months? Would you live every moment with intention, maximizing your time with loved ones? Would you go off the rails and indulge in every hedonistic impulse? Or, as Adam McKay's "Don't Look Up" theorizes, would you be one of the tens of millions who simply ignore the reality of scientific consensus and put their faith in a toxic mixture of snake-oil salesmen and the loudest, angriest authority figures from the political party or cable network of their choice?
That's the central question at the heart of "Don't Look Up," a satire that was conceptualized prior to the COVID-19 pandemic but feels all the more timely given the events of the last two years. At times, McKay's climate change parable (which hits theaters Dec. 10 before debuting on Netflix on Dec. 24) can be heavy-handed, and its satire — which targets politicians, the media, and big tech alike — can occasionally miss the mark. But the director of "Anchorman" and "The Big Short" has managed to create a darkly funny film that will resonate with audiences fed up with the state of the world.
The Plot
Gazing through a telescope at Michigan Student University, Wu-Tang Clan blaring in her earbuds, astronomy PhD. candidate Kate Dibiasky (Jennifer Lawrence) makes a startling discovery: A comet with the size and velocity of a "planet killer" is headed directly toward Earth. After confiding with her advisor, Dr. Randall Mindy (Leonardo DiCaprio), the two are quickly whisked to Washington D.C., where they are joined by veteran NASA official Teddy Oglethorpe (Rob Morgan) in a quest to inform president Janie Orlean (Meryl Streep) about the imminent calamity.
Orlean and her chief of staff/son, Jason Orlean (Jonah Hill), barely listen to the astronomer's warnings, focusing instead on the pressing issue of their supremely unqualified supreme court nominee's latest gaffe. Besides, the administration's appointed scientists, including the head of NASA (a businesswoman with no astronomy experience) say everything is fine.
Stymied, the trio of scientists leak news of the comet to the fictional New York Herald, only to see the news bumped from the headlines by the breakup of celebrity musicians Riley Bina and DJ Chello (played by real-life musicians Ariana Grande and Kid Cudi). Later on, when President Orlean decides that it's time to reconsider the threat, it's mostly because she's seeking to distract from a steamy scandal involving her and the aforementioned supreme court nominee.
Even with the Orlean administration now (somewhat) in their corner, the astronomers find it tough to make the world care. When Kate and Randall are booked on "The Daily Rip," the questions from co-hosts Brie Evantee (Cate Blanchett) and Jack Bremmer (Tyler Perry) are pure fluff. Kate loses her cool and walks off the set, and is quickly sidelined in future media appearances. In her absence, Randall ascends, playing the handsome, charismatic scientist who can answer the media's softball questions with a smile and tell the world that everything will be OK.
The Good
Over a three-decade career launched in the writers' room of "Saturday Night Live," McKay has proven that he knows how to get a laugh. The film's script, co-written by political commentator David Sirota, is full of clever one-liners and quips. With the Orlean administration, McKay and Sirota have successfully skewered the Trump presidency more fully than every Alec Baldwin "SNL" skit combined. The film's satire of the media ecosystem is also well observed, with "The Daily Rip" a perfect stand-in for the pull-all-punches puffery of shows like "TODAY" and "Good Morning America" that are all style and no substance.
With such a huge assemblage of on-screen talent (many of whom caused quite a stir while the movie filmed in the Boston area in 2020 and 2021), the performances in "Don't Look Up" are solid. Hill, in particular, plays the part of a proudly uninformed power broker to perfection, peppering Kate and Randall with sneering put-downs at every turn. As Mindy, DiCaprio is asked to do the heaviest lifting, and he succeeds 90 percent of the time, believably portraying the astronomer's transformation from a nebbish, panicky stargazer into a bonafide celebrity. Even minor roles, like Boston natives Michael Chiklis (as a blowhard cable news host) and Chris Evans (as an oblivious movie star) add to the expansive world of the film.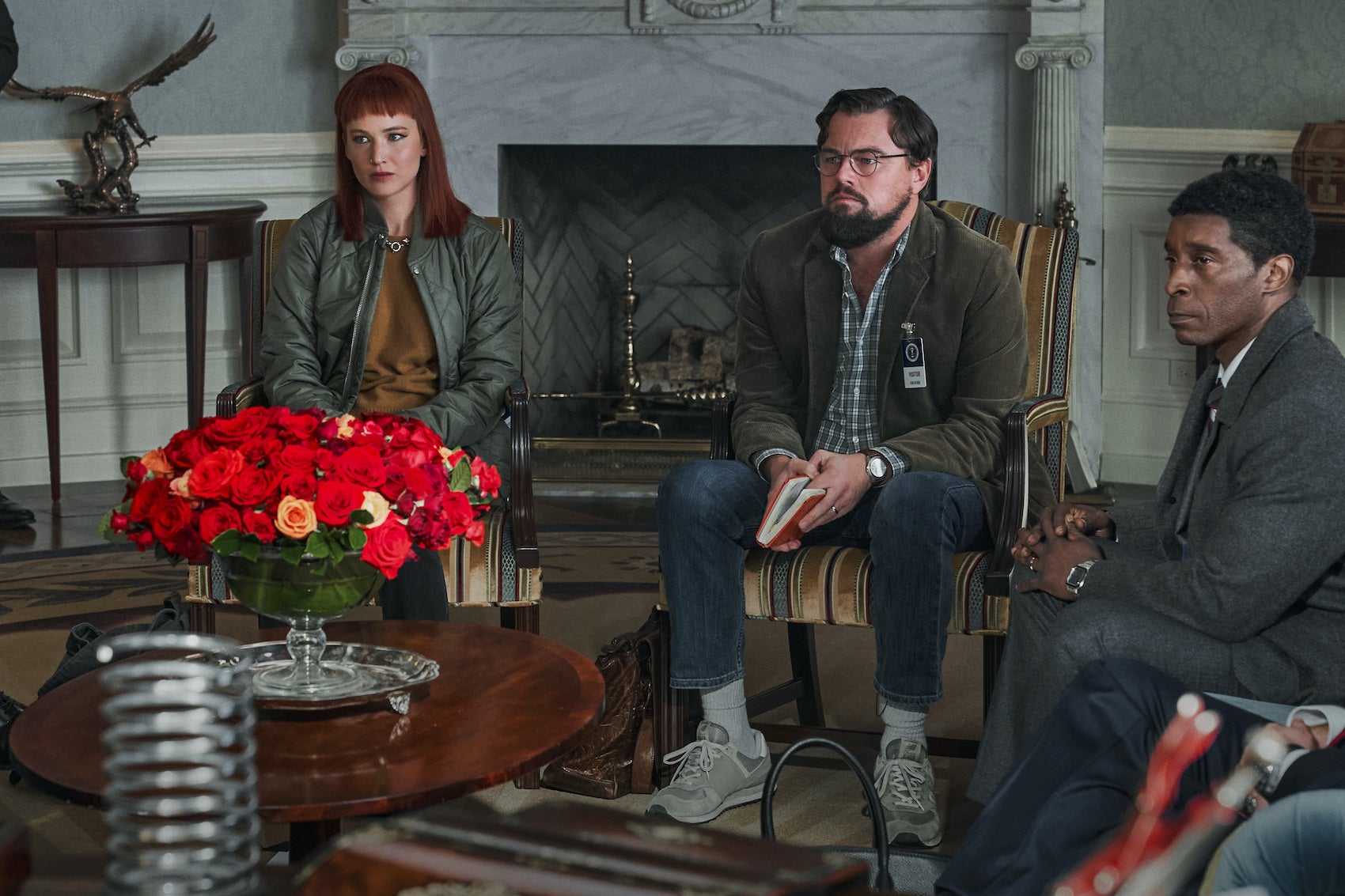 The Bad
For all its success in poking fun at American politics and corporate media, "Don't Look Up" misses the mark with its attempted send-up of big tech. The billionaire CEO of fictional tech company BASH, Peter Isherwell (Mark Rylance), appears only briefly in the first half of the film, telling an audience about the company's new product, a device that senses any negative emotion a person has and suppresses it with cute animal videos. As Isherwell, Rylance speaks in a strangely pitched and breathy squeak of a voice that serves no narrative purpose and is deeply off-putting. When he reenters the picture almost an hour later, his sudden prominence feels unexpected and under-explained, perhaps the result of one too many deleted scenes.
By and large, "Don't Look Up" is unsubtle by design: In real life, McKay and Sirota have argued that the global response to climate change should be analogous to the looming disaster in their film. For most of the movie's runtime, McKay avoids his unfortunate tendency to over-explain, an issue that rendered his 2018 Dick Cheney satire, "Vice," an unwatchable mess of fourth-wall-breaking pomposity. But McKay occasionally indulges, to the film's detriment. Four or five separate times, a scene suddenly cuts to a screensaver-like montage of ambient nature footage, circling and underlining and starring in thick red pen the preciousness of life. Near the film's climax, DiCaprio is given a scene-chewing speech that evokes Peter Finch's iconic diatribe in "Network," a shouty, finger-pointing diatribe that spells out the film's thesis statement syllable by syllable. Given how DiCaprio has played Dr. Mindy for nearly two hours, the scene feels entirely out of character.
The Takeaway
Despite occasional missteps, "Don't Look Up" is a darkly funny movie that offers razor-sharp satire of wholly deserving targets. True to the filmmaker's intent, "Don't Look Up" also sounds a clarion call for immediate climate change action, while also drawing parallels to the world's response to the COVID-19 pandemic.
Should I watch "Don't Look Up"?
Viewers who wish our last president was still in office may not love "Don't Look Up," but for most viewers the film is a fun, thought-provoking watch, whether in theaters or at home on Netflix.
Rating: 3 stars (out of 4).
Newsletter Signup
Stay up to date on all the latest news from Boston.com