Streaming
5 must-watch movies and TV shows streaming right now
The best of what's new on Netflix, Hulu, HBO Max, Disney Plus, and more.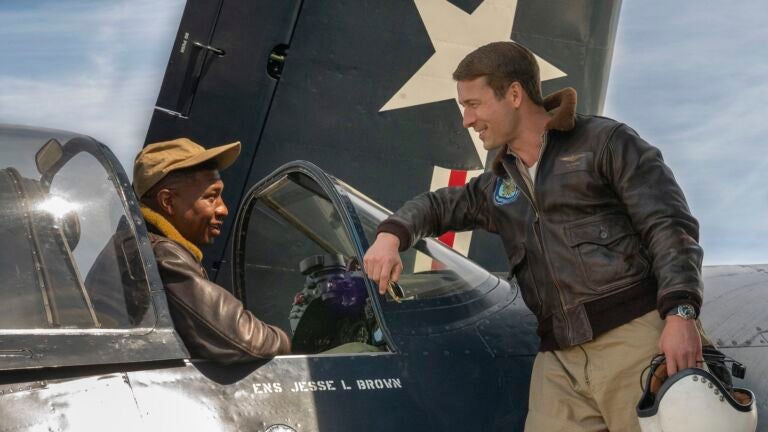 Welcome to Boston.com's weekly streaming guide. Each week, we recommend five must-watch movies and TV shows available on streaming platforms like Netflix, Hulu, Amazon Prime, Disney+, HBO Max, and more.
Many recommendations are for new shows, while others are for under-the-radar releases you might have missed or classics that are about to depart a streaming service at the end of the month.
Have a new favorite movie or show you think we should know about? Let us know in the comments, or email [email protected]. Looking for even more great streaming options? Check out previous editions of our must-watch list here.
Movies
"Devotion"
"Top Gun: Maverick" isn't the only 2022 movie on Paramount+ where you can watch Glen Powell play a fighter pilot. There's also the Korean War drama "Devotion," which chronicles the true story of Ensign Jesse Brown (Jonathan Majors, "The Harder They Fall"), the first Black man to complete the basic flight training program in the U.S. Navy. Thanks to the steady hand of director J.D. Dillard ("Sweetheart"), "Devotion" avoids many of the cliches in movies that portray inspiring interracial friendships, with Majors and Powell, playing Lieutenant Junior Grade Tom Hudner, showcasing a relationship that feels authentic in all of its ups and downs. (Fun fact: Hudner was a Fall River native who later became a commissioner of the Massachusetts Department of Veterans' Services and helped his story reach the big screen before his death in 2017.)
How to watch: "Devotion" is streaming on Paramount+.
"The Drop"
New on Hulu this Friday, "The Drop" is about a group of friends reuniting for a wedding. When one accidentally drops the other's baby, it creates a ripple effect of actions and conversations that slowly changes the dynamics of every couple at the resort. Produced by mumblecore kings The Duplass Brothers, the heavily improvised film feels a bit like an episode of "Curb Your Enthusiasm," but without a comic titan like Larry David at its center. Still, if you like your comedy with a healthy dose of cringe, "The Drop" is worth checking out, if only for the genuinely interesting insights about what happens when people stop being polite and start getting real.
How to watch: "The Drop" is streaming on Hulu.
"Fletch"
If you didn't watch the supremely underrated "Confess, Fletch," a reboot of the amusing '80s films with Jon Hamm ("Mad Men") stepping into Chevy Chase's role as journalist Irwin "Fletch" Fletcher, go stream it on Showtime right away. But before you do, catch up with the 1985 original, which was added to Netflix's library earlier this month. Chase is at the height of his swaggering, smirking powers here, wisecracking his way through a noir in which a mysterious millionaire offers him a large sum of money to end his life. But seriously, go watch "Confess, Fletch" when you're done — Paramount only gave the Boston-filmed sequel a quick limited release, and if we want Hollywood to keep making 'em like they used to, it's a movie worth supporting.
How to watch: "Fletch" is streaming on Netflix.
TV Shows
"Avenue 5"
After a large between seasons due to COVID-19, "Avenue 5" returned to HBO in October with a much-improved second season. Created by Armando Iannucci ("Veep"), the show centers on a luxury space cruise ship that is flung off course, extending the eight-week tour into a multi-year journey. Hugh Laurie ("House") plays the ship's deeply unqualified captain, while Josh Gad ("Pixels") plays the pompous owner of the space shuttle. A mix of entitled cruise guests driven to madness and clueless staff preparing for starvation provide plenty of laughs, with Zach Woods ("The Office") a highlight as the ship's customer relations specialist. Given HBO's recent cost-cutting maneuvers, "Avenue 5" may need a word-of-mouth bump to ensure it gets a wholly deserved Season 3.
How to watch: "Avenue 5" is streaming on HBO Max.
"Vikings: Valhalla"
During its six-season run, Michael Hirst's Scandinavian historical drama "Vikings" never received its due. Perhaps it was because the show primarily aired on the History Channel instead of a network known for prestige drama like HBO. Regardless, Netflix clearly recognized the value of "Vikings," as it greenlit a spinoff series, "Vikings: Valhalla," shortly after the original ended its six-season run in 2021. The new edition, which returned for a second season this week, fast-forwards 100 years past the events of the original "Vikings," focusing on Leif Erikson, the Norwegian explorer who first established a Western foothold in the Americas centuries before Columbus. If you need to catch up on the original series first, "Vikings" is streaming on Amazon Prime, Hulu, Peacock, and HBO Max.
How to watch: "Vikings: Valhalla" Season 2 is streaming on Netflix.
Newsletter Signup
Stay up to date on all the latest news from Boston.com