Streaming
5 must-watch movies and TV shows streaming right now
The best of what's new on Netflix, Hulu, HBO Max, Disney Plus, and more.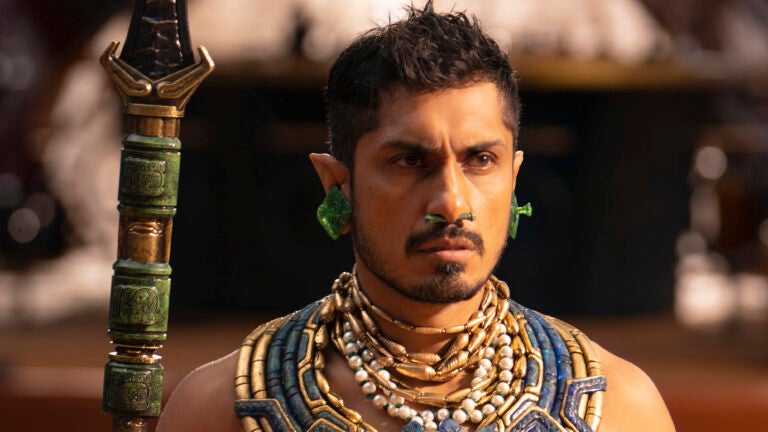 Welcome to Boston.com's weekly streaming guide. Each week, we recommend five must-watch movies and TV shows available on streaming platforms like Netflix, Hulu, Amazon Prime, Disney+, HBO Max, and more.
Many recommendations are for new shows, while others are for under-the-radar releases you might have missed or classics that are about to depart a streaming service at the end of the month.
Have a new favorite movie or show you think we should know about? Let us know in the comments, or email [email protected]. Looking for even more great streaming options? Check out previous editions of our must-watch list here.
Movies
"Black Panther: Wakanda Forever"
After raking in more than $800 million at the box office, Ryan Coogler's "Black Panther" sequel arrived on Disney+ this week, giving at-home audiences a chance to return to Wakanda once more. From the very first shot of "Wakanda Forever," the memory of Chadwick Boseman, who passed away in 2020, looms large. Coogler begins the film with a beautifully shot funeral and processional sequence, at once grand in its scale and intimate in its close-up moments with Boseman's on-screen family. The death of King T'Challa leaves a power vacuum in Wakanda, one that global powers quickly seek to exploit. It's up to the remaining Wakandan leaders, still consumed with grief, to prevent further destruction of everything they hold dear. "Black Panther: Wakanda Forever" captures much of the original film's magic while also telling a deeply personal story that transcends the boundary between the screen and the real world.
How to watch: "Black Panther: Wakanda Forever" is streaming on Disney+.
"If Beale Street Could Talk"
With the arrival of Black History Month, seemingly every streaming service under the sun made sure to secure the rights to "If Beale Street Could Talk," a deeply moving piece of Black cinema from Barry Jenkins ("Moonlight") based on the James Baldwin novel of the same name. Told in a non-linear fashion, "Beale Street" chronicles the lives of Tish and Fonny (Kiki Layne, Stephan James), a young Black couple trying to scrape out a decent living in 1970s New York City amidst discriminatory housing practices. When Fonny is imprisoned for a crime he didn't commit, Tish does what she can to keep their lives under control, even with a child on the way. James and Layne's chemistry is undeniable, and Regina King, who won an Oscar for playing Tish's mother, gives a standout performance.
How to watch: "If Beale Street Could Talk" is streaming on Netflix, Hulu, Peacock, Prime Video, and Paramount+.
"The Talented Mr. Ripley"
In a career that has spanned more than 30 years, Matt Damon has rarely played a character as complex as Tom Ripley, the striving chameleon at the center of this thriller from Anthony Minghella ("The English Patient"). Tasked by a shipping magnate to go to Italy and return his wastrel of a son to America, Tom instead becomes a friend and confidant to the spoiled Dickie Greenleaf (Jude Law) and his girlfriend Marge (Gwyneth Paltrow). The central trio is a joy to watch, and supporting turns from two greats in Cate Blanchett and the late Philip Seymour Hoffman, are icing on the cake. Because the film is based on a novel by Patricia Highsmith ("Strangers on a Train," "Deep Water"), the viewer can reasonably expect a fair share of psychological and sexual intrigue, but Damon and company keep you guessing until the very end.
How to watch: "The Talented Mr. Ripley" is streaming on Prime Video and Paramount+.
TV
"Dear Edward"
If you're a fan of shows like "This Is Us" and "A Million Little Things" — achingly sincere ensemble shows precisely calibrated to target your tear ducts — Apple TV+'s new drama "Dear Edward" might be for you. Created by Jason Katims ("Friday Night Lights"), "Dear Edward" centers on a 12-year-old boy named Edward (Colin O'Brien), who is the only survivor of a major plane crash. Now living with his aunt (Boston native Taylor Schilling, "Orange is the New Black"), Edward becomes a media sensation, all while trying to come to terms with why everyone else on that plane — including his family — perished. Like the aforementioned shows, "Dear Edward" pulls in other storylines of characters tied to crash, including a fun turn from Boston native Connie Britton ("Friday Night Lights," "Nashville"), as a wealthy woman who must forge her own identity after losing her husband in the crash.
How to watch: The first three episodes of "Dear Edward" are streaming on Apple TV+, with new episodes debuting each Friday.
"Frasier"
In case you didn't hear the news, "Frasier" is shipping up to Boston for its upcoming Paramount+ reboot, with psychologist Frasier Crane (Kelsey Grammer) returning to his "Cheers" roots after more than three decades. With historically cold weather this weekend, why not settle in on the couch with TV's fussiest doctor for an episode or two… hundred? All 11 seasons of the NBC sitcom are available on multiple streaming services, which means many of you will be able to answer when those tossed salads and scrambled eggs begin calling you again this weekend.
How to watch: "Frasier" is streaming on Hulu, Peacock, and Paramount+.
Newsletter Signup
Stay up to date on all the latest news from Boston.com