Streaming
5 must-watch movies & TV shows streaming right now
The best of what's new streaming on Netflix, Hulu, HBO Max, Disney Plus, and more.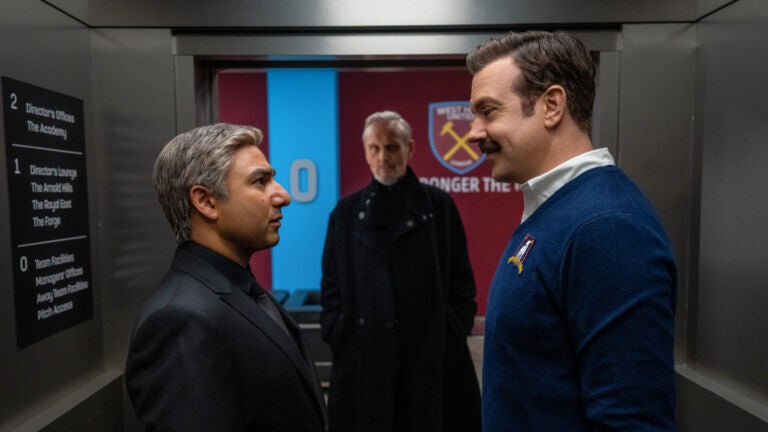 Welcome to Boston.com's weekly streaming guide. Each week, we recommend five must-watch movies and TV shows available on streaming platforms like Netflix, Hulu, Amazon Prime, Disney+, HBO Max, and more.
Many recommendations are for new shows, while others are for under-the-radar releases you might have missed or classics that are about to depart a streaming service at the end of the month.
Have a new favorite movie or show you think we should know about? Let us know in the comments, or email [email protected]. Looking for even more great streaming options? Check out previous editions of our must-watch list here.
Movies
"Boston Strangler"
Call me biased, but I love a good newspaper movie. From "All the President's Men" to "Spotlight," watching on-screen journalists chase down leads, build sources, and file copy is nothing short of thrilling. "Boston Strangler," has a worthy argument to join those aforementioned titles in the pantheon of journalism films, recounting one of Boston's most infamous crime waves through the eyes of two reporters covering the story (Keira Knightley, Carrie Coon). Director Matt Ruskin takes great pains to avoid the pratfalls of contemporary true crime stories, which tend to over-simplify source material and lean heavily on lurid reenactments. Much like David Fincher's "Zodiac" — to which "Boston Strangler" owes a debt of gratitude — all of the focus is on the journalists unraveling the case. (Read my full review of "Boston Strangler" here.)
How to watch: "Boston Strangler" is streaming on Hulu.
"The Fugitive"
Unlike Christmas or Halloween, there isn't an extensive collection of St. Patrick's Day movies to stream in celebration this weekend. Setting aside the vast collection of top-notch Irish films, we're going to recommend "The Fugitive," which celebrates its 30th anniversary this summer and features a timely St. Patrick's Day parade in Chicago that allows Dr. Richard Kimble (Harrison Ford) to evade police notice. Imprisoned for the murder of his wife, Kimble is on a hunt to find the one-armed man who is the real culprit and clear his name. As the lead investigator tracking Kimble down, Tommy Lee Jones — who won an Oscar for the role — has never been better.
How to watch: "The Fugitive" is streaming on HBO Max.
"Mrs. Harris Goes to Paris"
If you're looking for a fun, triumphant story told in a straightforward fashion, "Mrs. Harris Goes to Paris" is pure comfort food, in the best way possible. Lesley Manville ("Phantom Thread") plays Mrs. Harris, a widowed cleaning lady who takes a sudden cash windfall as a sign to travel to Paris in pursuit of a beautiful Christian Dior dress. Despite being a fish out of water in the world of haute couture, she befriends many Dior employees, leading to an unexpected series of coincidences. Manville is delightful as always, as is Isabelle Huppert ("Elle") as her nemesis at the fashion house.
How to watch: "Mrs. Harris Goes to Paris" is streaming on Prime Video.
TV
"Swarm"
Donald Glover's fantastic FX series "Atlanta" ended after four seasons in 2022, but its spirit is alive and well in "Swarm," a new series co-created by Glover and fellow "Atlanta" writer Janine Nabers. "Swarm" centers around Dre, a young woman whose entire existence is devoted to Ni'Jah, a Beyonce-like pop star whom Dre (Dominique Fishback) worships as a goddess. Rather than settle scores against Ni'Jah's Twitter haters online, Dre locates them in real life and then kills them. There are some big ideas at play in "Swarm" that don't always pan out, but much like "Atlanta," it's hard to take your eyes off the surreal, horror-tinged reality Glover and co. have created.
How to watch: "Swarm" is streaming on Prime Video.
"Ted Lasso" Season 3
The third (and likely final) season of Apple TV's feel-good soccer comedy "Ted Lasso" brings back everyone's favorites from previous seasons, as the affable American coach played by Jason Sudeikis attempts to shepherd fictional club AFC Richmond through its first season in the Premier League. The first episode, which debuted Wednesday, is a bit of table-setting for the rest of the season, with Ted and former protege Nate (Nick Mohammed) attacking each other in the press. One can only assume that the duo will find a way to make amends, but for now showrunner Bill Lawrence ("Scrubs") is keeping us guessing.
How to watch: "Ted Lasso" Season 3 is streaming on Apple TV+, with new episodes debuting on Wednesdays.
Newsletter Signup
Stay up to date on all the latest news from Boston.com