Streaming
5 must-watch movies & TV shows streaming right now
The best of what's new streaming on Netflix, Hulu, HBO Max, Disney Plus, and more.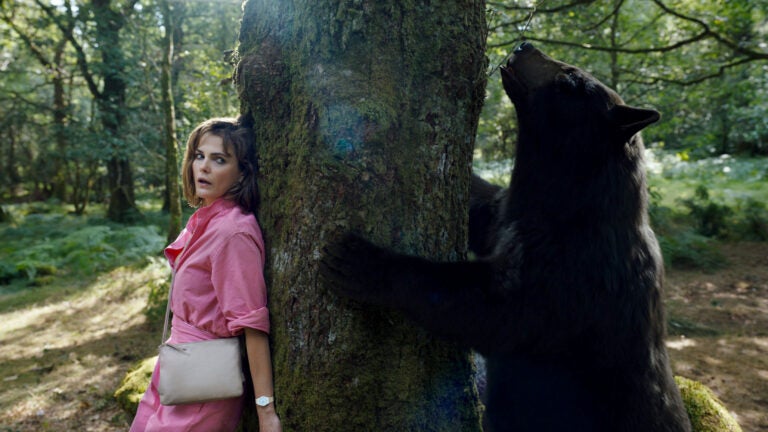 Welcome to Boston.com's weekly streaming guide. Each week, we recommend five must-watch movies and TV shows available on streaming platforms like Netflix, Hulu, Amazon Prime, Disney+, HBO Max, Peacock, Paramount+, and more.
Many recommendations are for new shows, while others are for under-the-radar releases you might have missed or classics that are about to depart a streaming service at the end of the month.
Have a new favorite movie or show you think we should know about? Let us know in the comments, or email [email protected]. Looking for even more great streaming options? Check out previous editions of our must-watch list here.
Movies
"Cocaine Bear"
Everything that needs to be said about Elizabeth Banks' "Cocaine Bear" is said in the title. It's a movie about a bunch of crazy stuff that happens after a bear does cocaine. If that sounds like your bag, you'll enjoy the ride. If not, keep it out of your queue. But to offer slightly more detail for those on the fence: "Cocaine Bear" is surprisingly dark at times, shaking off the shackles of campy comedy to delve into gore and horror that shocks rather than amuses. But most of the time, you'll be laughing through the blood and guts thanks to above-par performances from the likes of Keri Russell ("The Americans"), Jesse Tyler Ferguson ("Modern Family"), and the late Ray Liotta ("Goodfellas").
How to watch: "Cocaine Bear" is streaming on Peacock.
"The Spanish Prisoner"
Director/playwright David Mamet is known for the rhythms of his dialogue — sentences that trail off, stuttered phrases, and a deluge of four-letter words. Watching "The Spanish Prisoner," his first PG movie, is a bit like watching Joe Pesci in "Home Alone": The "Mamet-speak" sounds the same, but everything is cleaned up for the kids. That's not to say that "The Spanish Prisoner" (which celebrated the 25th anniversary of its wide release last week) is mere children's fare: It's a twisty, Hitchcockian thriller about an engineer on vacation (Campbell Scott) who, upon meeting a seemingly wealthy businessman (Steve Martin) is drawn into a scheme he doesn't fully understand. At a taut 91 minutes, it's a joy to watch the ensemble cast play off each other and attempt to discern who is scamming who.
How to watch: "The Spanish Prisoner" is streaming on Peacock and Amazon Freevee.
"Ticket to Paradise"
At the time of its release in October 2022, "Ticket to Paradise" was seen as a litmus test for whether adult audiences were ready to return to movie theaters in full force. About $172 million later, it's safe to say plenty bought tickets to "Ticket," but in case you were waiting for it to land on your streamer of choice, the throwback romcom debuted on Prime Video this week. Julia Roberts and George Clooney play divorcees whose hatred for each other is briefly put on hold as they team up to convince their daughter (Kaitlyn Dever, "Booksmart") not to marry her fianceé. There's nothing groundbreaking about the film, but why tweak the formula when you have such a winsome pair of A-List stars at your disposal?
How to watch: "Ticket to Paradise" is streaming on Prime Video.
TV
"American Manhunt: The Boston Marathon Bombing"
April 15, 2023, marks the 10-year anniversary of the Boston Marathon bombings, one of the most shocking and unforgettable tragedies in the city's history. In the lead-up to the anniversary, Netflix has released "American Manhunt: The Boston Marathon Bombing," a three-part docuseries directed by Floyd Russ ("Malice at the Palace") that is both thorough and unsparing. Even those intimately familiar with the bombings will likely hear a new perspective from the documentary: Interviewing more than a dozen subjects, the series examines everything from the unity of the city following Dzhokhar's capture to the days of wild speculation by online sleuths. All of this makes "American Manhunt: The Boston Marathon Bombing" a worthy watch, but it's a recommendation that comes with reservations for Boston viewers. Watching footage of the bombings is difficult, but expected. Watching footage of a plane flying into the World Trade Center on 9/11 to help illustrate Islamophobia is both unexpected and uncalled for. Also unnecessary are gimmicky scenes in which actors portraying the Tsarnaev brothers dramatize moments from that week, with the performers' faces scrambled like a staticky TV signal. Given the glut of true crime documentaries, podcasts, and specials populating streaming services today, it was probably inevitable that a documentary about the Boston Marathon bombings would be made, and "American Manhunt: The Boston Marathon Bombing" is a reasonably strong effort. But if you have no interest in revisiting that painful period in our city's history, there is certainly nothing wrong with skipping it.
How to watch: "American Manhunt: The Boston Marathon Bombing" is streaming on Netflix.
"Single Drunk Female"
Don't let the name (and the network) fool you: "Single Drunk Female" is not a typical soapy Freeform drama or a salacious reality show. It's the story of one woman's journey toward getting sober (and staying sober) after hitting rock bottom. Back for a second season on Freeform (though the entire second season is also available now on Hulu), we find Sam (Sofia Black-D'Elia) in a better place than Season 1. She is two years sober, still living in Boston with her mom, and has another writing job. But there are difficulties on the horizon when Sam loses her sponsor, stumbles into romantic complications, and has a major falling-out with her mother (Ally Sheedy of "The Breakfast Club" fame). Based on series creator Simone Finch's own experiences growing up (and then returning) to Melrose, "Single Drunk Female" had a funny, touching freshman season. With all 10 episodes of Season 2 now on Hulu, it's clear Finch has much more to share.
How to watch: "Single Drunk Female" is streaming on Hulu.
Newsletter Signup
Stay up to date on all the latest news from Boston.com