Streaming
5 must-watch movies & TV shows streaming right now
The best of what's new streaming on Netflix, Hulu, Max, Disney Plus, and more.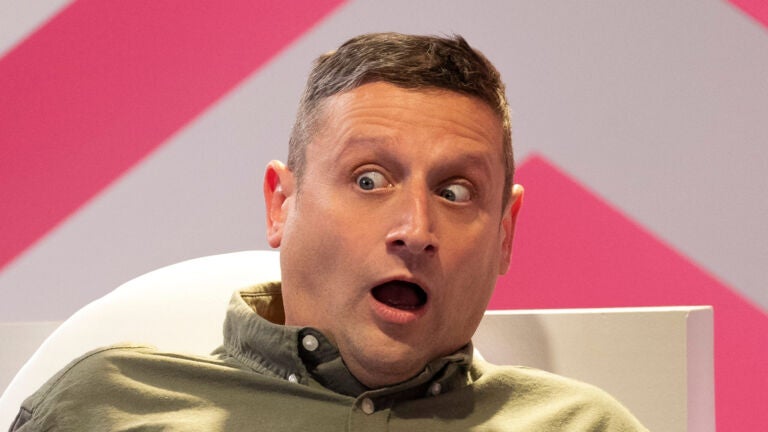 Welcome to Boston.com's weekly streaming guide. Each week, we recommend five must-watch movies and TV shows available on streaming platforms like Netflix, Hulu, Amazon Prime, Disney+, Max, Peacock, Paramount+, and more.
Many recommendations are for new shows, while others are for under-the-radar releases you might have missed or classics that are about to depart a streaming service at the end of the month.
Have a new favorite movie or show you think we should know about? Let us know in the comments, or email [email protected]. Looking for even more great streaming options? Check out previous editions of our must-watch list here.
Movies
"Jackie Brown"
Ask five film fans about their favorite Quentin Tarantino movie, and you'll likely get five different answers. For me, QT's best film is the only one he adapted from another writer's work, 1997's twisty crime caper "Jackie Brown." Based on the Elmore Leonard novel "Rum Punch," "Jackie Brown" follows a titular stewardess (Pam Grier) who has been smuggling cash for a gun runner (Samuel L. Jackson) during her cross-country flights. With a major cash deal on the horizon, an orbiting cast of associates and foes played by the likes of Michael Keaton, Robert De Niro, and Robert Forster enters the picture, kicking off a cascading series of setups, double-crosses, and unhappy endings. Many Tarantino hallmarks are still present in "Jackie Brown," with Jackson in particular delivering a performance not unlike the one he gave in "Pulp Fiction." But Leonard's pulpy source material gives "Jackie Brown" a propulsive quality generally lacking in QT's oeuvre. (As a side note, the film's soundtrack, full of '60s and '70s funk, R&B, and soul, is one of the best ever.)
How to watch: "Jackie Brown" is streaming on Max.
"The Full Monty"
On June 14, Hulu will debut the full first season of "The Full Monty," a sequel to the 1997 U.K. comedy that became a surprise hit stateside, grossing $258 million off a $3.5 million budget. In the depressed town of Sheffield, where nearly every able-bodied man is out of work, men decide to use their bodies to make a buck, performing a cheekily choreographed, fully nude striptease. Starring Robert Carlyle ("Trainspotting"), Tom Wilkinson ("Michael Clayton"), and Mark Addy ("A Knight's Tale"), the film was an important milestone at the time in its frank discussion of masculinity and body image. Nominated for four Academy Awards, including Best Picture, "The Full Monty" walked so the "Magic Mike" franchise could run.
How to watch: "The Full Monty" is streaming on Max.
"Spider-Man"
We only recommend streaming titles in this column. Still, we're going to use the arrival of the Tobey Maguire Spider-Man trilogy on Netflix as an opportunity to write a mini-review encouraging readers to see "Spider-Man: Across the Spider-verse," which swings into theaters this weekend. The animated sequel finds Miles Morales (Shameik Moore) increasingly struggling with the isolation of being the only Spider-Man in his universe after meeting so many Spider-verse compatriots he could relate to in the 2018 original. The art style is gorgeous, the script from Phil Lord and Chris Miller ("The Lego Movie") is clever without being arch, and the opening 15 minutes will leave you giddy. Watching "Across the Spider-verse" is reminiscent of the feeling audiences got 20+ years ago when "Spider-Man" first hit theaters in 2002. Even now, approximately 7,000 superhero movies later, the Sam Raimi-directed blockbuster stands out for its tone, humor, and fantastic performances from Maguire, Kirsten Dunst, and Willem Dafoe.
How to watch: "Spider-Man" is streaming on Netflix.
TV
"The Eric Andre Show"
Sunday night marks the welcome return of "The Eric Andre Show" for a sixth season on Adult Swim, a milestone the network is currently celebrating by re-airing old episodes 24/7 on YouTube. Since 2012, the Berklee grad's show has been part "Jackass" and part David Letterman, serving as a vessel for absurd hidden camera pranks and a dadaist deconstruction of the late-night TV talk show formula — with D-list guests like Lou Ferrigno and Flava Flav serving as Andre's unwitting foils. You can join millions of others by watching a best-of compilation on YouTube. Still, there's something to be said for watching the 10-minute episodes from beginning to end, providing a bit of structure to a show that is seemingly allergic to the concept.
How to watch: "The Eric Andre Show" is streaming on Hulu.
"I Think You Should Leave with Tim Robinson"
Newton is a well-known hub of comedic talent, thanks to folks who grew up there like "Friends" star Matt LeBlanc and "The Office" funnymen John Krasinski and B.J. Novak. Another name that should be added to that list is Zach Kanin, the co-creator of Netflix's absurd sketch comedy series "I Think You Should Leave with Tim Robinson," which returned for a third season earlier this week. Robinson and Kanin, who worked together on "Saturday Night Live" and the Comedy Central series "Detroiters," traffic in the uncomfortable and the odd. They put characters in embarrassing situations, then have those characters go to extreme lengths to save face, even when the possibility of doing so is long gone. Put another way by former "SNL" coworker Seth Meyers, "ITYSL" has given Robinson the chance to "play angry 155 uniquely different ways." If you want a taste of what's to come, check out this sketch from season one about a group of shoppers shell-shocked by a novelty hot dog car crashing through the store window, and the mysterious man in the hot dog costume (Robinson) who's "trying to find the guy who did this."
How to watch: "I Think You Should Leave with Tim Robinson" is streaming on Netflix.
Newsletter Signup
Stay up to date on all the latest news from Boston.com