Streaming
5 must-watch movies & TV shows streaming right now
The best of what's new streaming on Netflix, Hulu, HBO Max, Disney Plus, and more.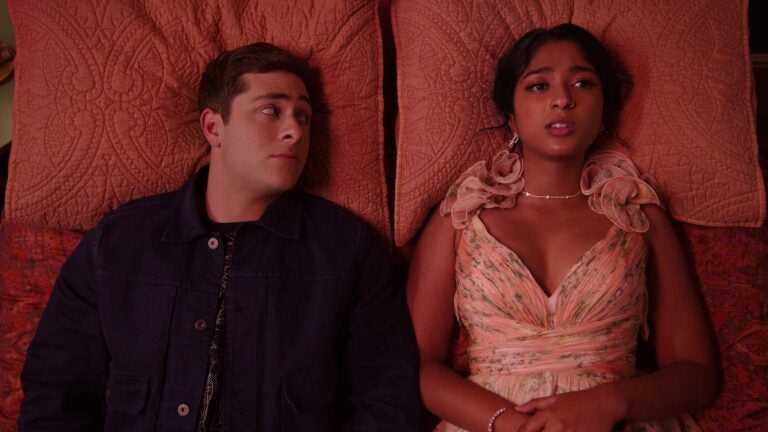 Welcome to Boston.com's weekly streaming guide. Each week, we recommend five must-watch movies and TV shows available on streaming platforms like Netflix, Hulu, Amazon Prime, Disney+, HBO Max, Peacock, Paramount+, and more.
Many recommendations are for new shows, while others are for under-the-radar releases you might have missed or classics that are about to depart a streaming service at the end of the month.
Have a new favorite movie or show you think we should know about? Let us know in the comments, or email [email protected]. Looking for even more great streaming options? Check out previous editions of our must-watch list here.
Movies
"A Star Is Born"
While we eagerly await Bradley Cooper's Leonard Bernstein biopic "Maestro," it's worth taking another look at the actor's directorial debut, "A Star Is Born," which was added to Max this week. Almost five years after the film was released (and 86 years after the original film), so many aspects of "A Star Is Born" still resonate, from the unbelievable chemistry of Cooper and Lady Gaga to the majesty of "Shallow," the Oscar-winning song from the movie — which has its own fascinating origin story. Cooper and Gaga (who is starring in the upcoming "Joker" sequel opposite Joaquin Phoenix) almost certainly have decades of movies to come in their futures. But if "A Star Is Born" ends up being the peak of their powers, it's a pretty impressive career apex.
How to watch: "A Star Is Born" is streaming on Max.
"Avatar: The Way of Water"
After more than a decade of waiting, James Cameron proved that he's still the king of the multiplex with "Avatar: The Way of Water," which splashed over $2.3 billion into Disney's coffers this past winter. Jake (Sam Worthington), Neytiri (Zoe Saldaña), and their children are on the run, with humans once again threatening the natural resources of Pandora. This time, however, it's the couple's children who are at the center of things, as the pre-teens grow into their own identities among the water tribe. While the at-home viewing experience is inevitably inferior given the state-of-the-art technology used to create "Way of Water," the movie is still a marvel to look at on most screens.
How to watch: "Avatar: The Way of Water" is streaming on Disney+ and Max.
"Flamin' Hot"
Apparently 2023 is the year of movies that tell inspirational stories about businessmen making a lot of money creating consumer products beloved by millennials and Gen Xers. In the past four months, Ben Affleck and Matt Damon's Nike biopic "Air," Taron Egerton's "Tetris," Glenn Howerton's "Blackberry," and Mike Faist's "Pinball" have all told a nostalgia-tinged version of the American Dream based on a true story. What distinguishes "Flamin' Hot," the new film from Eva Longoria about the invention of Flamin' Hot Cheetos, is that the "true story" at the center of the movie is either wildly exaggerated or completely false, depending on your perspective. "Flamin' Hot" tells the inspiring story of Frito-Lay employee Richard Montañez, who started as a janitor (true), rose through the ranks to become a marketing executive at the company (also true), and invented the company's popular Flamin' Hot Cheetos (false, according to the company's own statements). If you can suspend your disbelief, "Flamin' Hot" is a great showcase for Jesse Garcia ("The Mother") and a promising narrative feature directorial debut for Longoria.
How to watch: "Flamin' Hot" is streaming on Hulu and Disney+.
TV
"Based On A True Story"
America's obsession with true crime has been effectively satirized by streamers in the past, with Netflix's "American Vandal" and Hulu's "Only Murders In The Building." Now it's Peacock's turn to get its punches in on the murder podcast craze with "Based On A True Story," which debuted all eight episodes of its freshman season on Thursday. A married couple played by Kaley Cuoco ("The Big Bang Theory") and Chris Messina ("Air") are stuck in a rut, and facing money troubles with a baby on the way. A series of events we won't spoil here (beyond what the trailer reveals above) lead them to create a hit true crime podcast in which they are dangerously close to the subject matter. Like a lot of true crime podcasts, "Based On A True Story" ropes you in with an irresistible premise, spins its wheels for a few hours, but provides an explosive payoff in its final chapter. It's hard to describe how without spoiling things, but it leaves us with hope that "Based On A True Story" will be back again soon for a second season.
How to watch: "Based On A True Story" is streaming on Peacock.
"Never Have I Ever"
Mindy Kaling's coming-of-age high school comedy has officially reached its end, with Devi entering her senior year with the show's fourth and final season. On the precipice of adulthood, Devi (Maitreyi Ramakrishnan) is applying to colleges, having sex, and trying to keep her entire life from going off the rails. It's sad to see this likable show come to an end, but at a time when Netflix has begun to cancel shows left and right, it's a relief that Kaling's show was able to end on its own terms.
How to watch: "Never Have I Ever" Season 4 is streaming on Netflix.
Newsletter Signup
Stay up to date on all the latest news from Boston.com