Streaming
5 must-watch movies & TV shows streaming right now
The best of what's new streaming on Netflix, Hulu, HBO Max, Disney Plus, and more.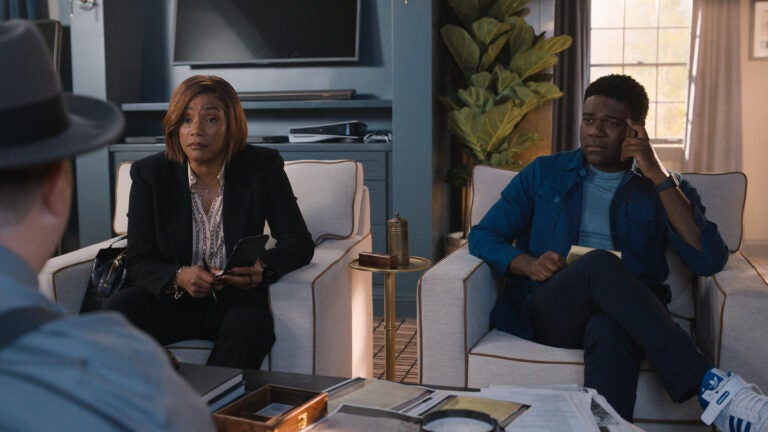 Welcome to Boston.com's weekly streaming guide. Each week, we recommend five must-watch movies and TV shows available on streaming platforms like Netflix, Hulu, Amazon Prime, Disney+, HBO Max, Peacock, Paramount+, and more.
Many recommendations are for new shows, while others are for under-the-radar releases you might have missed or classics that are about to depart a streaming service at the end of the month.
Have a new favorite movie or show you think we should know about? Let us know in the comments, or email [email protected]. Looking for even more great streaming options? Check out previous editions of our must-watch list here.
Movies
"Aftersun"
With acclaimed veteran directors like James Gray and Steven Spielberg exploring their own adolescence on screen this past year with "Armageddon Time" and "The Fabelmans," it's somewhat shocking that 2022's best autobiographical coming-of-age tale came from Charlotte Wells, a 30-something first-time director. "Aftersun" follows Sophie (Frankie Corio), a pre-teen Scottish girl on vacation with her 31-year-old dad, Calum (Paul Mescal, "Normal People"), in Turkey. Wells layers on the melancholy as we watch Sophie come of age and come to realize that her dad has worries and struggles of his own, leading to a widening chasm of understanding between them. The film's finale packs an emotional wallop, one that I still haven't shaken months later.
How to watch: "Aftersun" is streaming on Paramount+.
"Puss in Boots: The Last Wish"
I assumed fellow movie critics were joking when they began to lavish praise on "Puss in Boots: The Last Wish," a spinoff of the "Shrek" franchise that arrived in theaters late last year, 11 years after the original "Puss in Boots." But the long-delayed sequel is one of the best Dreamworks animated films ever, with a voice cast and an animation style that pop off the screen. The film's swashbuckling feline (Antonio Banderas) faces a midlife crisis — or more accurately, an 8/9th's life crisis — when he finds out that his daring adventures have left him with only one of his nine lives remaining. Desperate to claw back his vitality, he quests for a wishing star while being chased by fairy tale villains like Goldilocks (Florence Pugh) and Big Jack Horner (John Mulaney). Much like 2001's "Shrek," there's plenty here for young children and adults alike, with Mulaney a particular standout.
How to watch: "Puss in Boots: The Last Wish" is streaming on Netflix.
TV
"The Afterparty"
Apple had a hit on its hands in early 2022 with "The Afterparty," which takes a simple concept — a murder mystery whodunnit — and turns it on his head, with each episode told from a different point of view and unfolding as a style parody of a different genre of show or movie. Sam Richardson ("Veep") and Tiffany Haddish ("Girls Trip") are back in sleuth mode, with a new cast of suspects seeking to figure out who killed a crypto wunderkind (Zach Woods, "The Office") following his wedding. There are moments when the show struggles to balance its central murder mystery and extended riffs on the likes of Jane Austen, Wes Anderson, and 1930s noir, but the talented ensemble cast makes "The Afterparty" worth sticking around to solve.
How to watch: "The Afterparty" Season 2 is streaming on Apple TV+, with new episodes debuting Wednesdays through September 6.
"Full Circle"
Steven Soderbergh has a proven track record of directing both slick caper movies with lots of moving parts ("Ocean's 11," "Logan Lucky") and gritty international dramas ("Traffic,"). The veteran director has packed the plot twists of "Ocean's" into the border-hopping kidnapping drama of "Traffic" with "Full Circle," a six-part limited series on Max. Nothing is quite what it seems on the show, which centers around the kidnapping (or is it?) of a teenager for ransom from his parents, played by Timothy Olyphant ("Justified") and Claire Danes ("Homeland"). The kidnappers, who hail from Guyana, ask for a very specific ransom — $314,159 — which represents the first pie crumb on a trail of deception, mistaken identity, and even witchcraft. Unraveling it all is postal inspector Harmony (Zazie Beetz, "Atlanta"), who has the sleuthing skills of Columbo with the attitude of Dr. House.
How to watch: "Full Circle" is streaming on Max.
"What We Do In The Shadows"
"What We Do in the Shadows" has come a long way from the 2014 mockumentary co-created by Taika Waititi and Jemaine Clement ("Flight of the Conchords"). The core premise — a group of vampire roommates living in Staten Island — has remained the same, but each year has brought new ways for the show's fanged protagonists to spread their wings. Season 5, which debuted Thursday on FX and Hulu, finds Lazlo (the sublime Matt Berry) at the center of it all, trying to figure out what's going on with familiar/servant Guillermo, building a friendship with non-vampire neighbor Sean, and leaning into the political candidacy of energy vampire Colin. You really need to start with Season 1 to appreciate all the lore "Shadows" has built over the seasons, but it's well worth the time if you haven't already.
How to watch: "What We Do In The Shadows" Season 5 is streaming on Hulu, with new episodes airing Thursdays on FX.