Streaming
5 must-watch movies & TV shows streaming right now
The best of what's new streaming on Netflix, Hulu, HBO Max, Disney Plus, and more.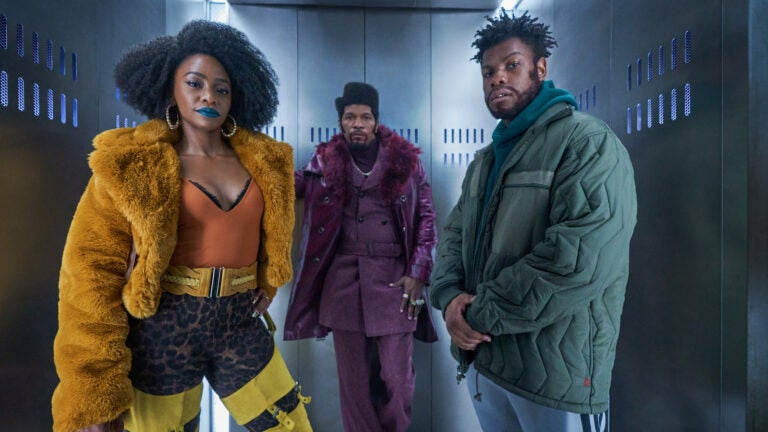 Welcome to Boston.com's weekly streaming guide. Each week, we recommend five must-watch movies and TV shows available on streaming platforms like Netflix, Hulu, Amazon Prime, Disney+, HBO Max, Peacock, Paramount+, and more.
Many recommendations are for new shows, while others are for under-the-radar releases you might have missed or classics that are about to depart a streaming service at the end of the month.
Have a new favorite movie or show you think we should know about? Let us know in the comments, or email [email protected]. Looking for even more great streaming options? Check out previous editions of our must-watch list here.
Movies
"The Lego Movie"
Want to watch a movie this weekend based on a beloved toy franchise whose protagonist inadvertently messes things up in their magical world, much to the irritation of a CEO played by Will Ferrell? If you can't make it to "Barbie" this weekend — though my "Barbie" review strongly makes the case that you should — stay home and watch "The Lego Movie" instead. Before Greta Gerwig and Margot Robbie got all meta on Mattel, Chris Pratt and the directing duo of Phil Lord and Chris Miller went in on another classic children's toy.
How to watch: "The Lego Movie" is streaming on Max.
"Mamma Mia!"
All of the discourse around Barbenheimer this weekend has mostly ignored the fact that movie studios have been counter-programming Christoper Nolan for a long time now. On July 18, 2008, for example, Universal Pictures released jukebox musical "Mamma Mia!" on the same day as Nolan's brooding Batman sequel "The Dark Knight," giving film fans who weren't ready for Heath Ledger's haunting performance a lighter alternative. Using the songs of Swedish supergroup ABBA, "Mamma Mia!" (based on the 1999 musical of the same name) tells the story of Sophie (Amanda Seyfried), a young woman who invites three men from her mother's past to her wedding, hoping to discover which one is her father and have him walk her down the aisle. Not to generalize, but if watching Meryl Streep having the time of her life on a Greek island with Pierce Brosnan, Colin Firth, and Stellan Skarsgård orbiting her doesn't sound fun to you, there's a good chance you're skipping the "Barbie" half of Barbenheimer.
How to watch: "Mamma Mia!" is streaming on Peacock.
"They Cloned Tyrone"
"They Cloned Tyrone" feels like it was engineered in a lab to appeal specifically to my tastes. A few of the inspirations rookie director Juel Taylor uses to concoct this heady satire are cinematography reminiscent of peak John Carpenter, the time loop paradox of "Palm Springs," and the racial paranoia of Boots Riley's "Sorry To Bother You," one of my favorite films of 2018. The film centers around a trio of low-level criminals — drug dealer Fontaine (John Boyega, "Star Wars: The Force Awakens"), sex worker Yo-Yo (Teyonah Parris, "WandaVision"), and pimp Slick Charles (Jamie Foxx). When Fontaine is killed by a fellow low-life, only to show up the next day with no memory of his death, the three begin investigating a conspiracy that spans generations. Boyega continues his impressive post-lightsaber run, and given the recent concern over Foxx's health, it's a joy to see him on screen, magnetic as always.
How to watch: "They Cloned Tyrone" is streaming on Netflix.
TV
"Hijack"
Remember the hype around the first season of "24," the Fox drama starring Kiefer Sutherland that was told in real-time over the course of a full season? Well, time tends to forgive all sins, and that first season of "24," while generally a lot of fun, also featured a lot of silly, time-wasting plot threads in order to adequately fill out its 24-hour season. Apple's new real-time series "Hijack," on the other hand, is only seven episodes long, which gives professional negotiator Sam (Idris Elba, "The Wire") much less time to save a hijacked plane full of passengers traveling from Dubai to London. "Hijack" runs into turbulence when it checks in on subplots that aren't in the sky. But when the focus is on Elba and his fellow passengers, the series is a total thrill.
How to watch: "Hijack" is streaming on Apple TV+, with new episodes debuting Wednesdays.
"Justified: City Primeval"
Fans of the FX neo-western drama "Justified," which ran from 2010 to 2015, shouldn't need much prodding to welcome U.S. Marshal Raylan Givens (Timothy Olyphant, "Deadwood") back into their homes. But in case there was any doubt, rest assured that the eight-episode revival "Deadwood: City Primeval" features the same crackling dialogue and Southern-fried charm as the original, even though Raylan has ventured north to Detroit this time around. Based on another of Elmore Leonard's page-turners, Givens is tasked with taking down a ruthless criminal known as the Oklahoma Wildman (Boyd Holbrook, "Narcos"), who immediately rattles Raylan by brazenly approaching the marshal's daughter (played by Olyphant's real-life daughter, Vivian). "City Primeval" doesn't quite match the original series, but it's a respectable effort at providing just a bit more from a show that has been sorely missed.
How to watch: "Justified: City Primeval" is streaming on Hulu, with new episodes debuting Tuesdays on FX.
Need weekend plans?
The best things to do around the city, delivered to your inbox.