Streaming
5 must-watch movies & TV shows streaming right now
The best of what's new streaming on Netflix, Hulu, HBO Max, Disney Plus, and more.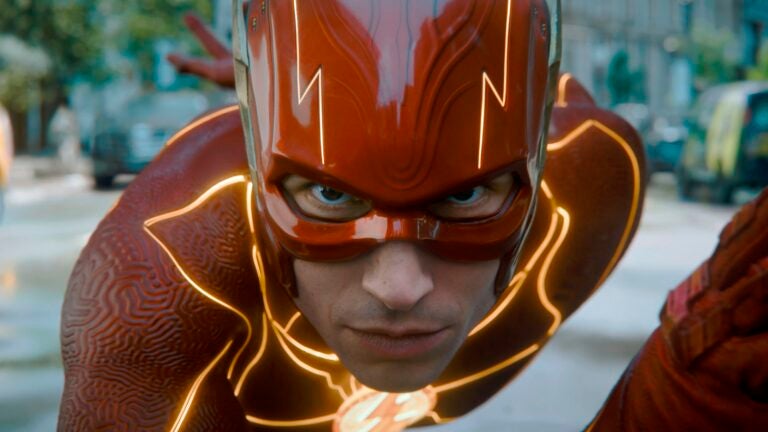 Welcome to Boston.com's weekly streaming guide. Each week, we recommend five must-watch movies and TV shows available on streaming platforms like Netflix, Hulu, Amazon Prime, Disney+, HBO Max, Peacock, Paramount+, and more.
Many recommendations are for new shows, while others are for under-the-radar releases you might have missed or classics that are about to depart a streaming service at the end of the month.
Have a new favorite movie or show you think we should know about? Let us know in the comments, or email [email protected]. Looking for even more great streaming options? Check out previous editions of our must-watch list here.
Movies
"The Flash"
After almost a decade of studio upheaval and lagging behind Marvel in the superhero arms race, Warner Bros. took a step in the right direction with "The Flash," the first standalone film for the speedy vigilante. Barry Allen, the 20-something superhero with lightning-quick speed played by Ezra Miller, is perpetually late — both to his day job and his duties as a member of the Justice League. His focus is divided, and he spends most of his waking hours trying to correct a defining childhood tragedy: the murder of his mother and the wrongful conviction of his father. Setting aside the actor's numerous legal issues, Miller turns in a masterful pair of performances. Original Barry is full of nervous energy and pessimism, while Alternate Barry, blessed with a loving home and no burden of responsibility, is an endearing goof. Having to play two versions of the same character — often sharing the screen with no one else — is a difficult task, and Miller is up to it.
How to watch: "The Flash" is streaming on Max.
"How to Blow Up a Pipeline"
No, "How to Blow Up a Pipeline" is not a literal how-to guide, a la "The Anarchist's Cookbook." But the film does show us what it might look like if a group of sufficiently motivated activists channeled their inner "Ocean's 11" towards a West Texas pipeline instead of a Vegas casino. Every member of the crew has their own backstory as to how the oil industry ruined their lives, and each has a role to play, including a terminal cancer patient whose illness was caused by pipelines (Sasha Lane) and an Indigenous man (Forrest Goodluck) who plans to use his bomb-making skills to pay back hundreds of years of karmic justice for his ancestors. Director Daniel Goldhaber doesn't tip his hand and moralize over whether the crew's plan is ethical, wisely letting the action unfold in a tense, thrilling fashion.
How to watch: "How to Blow Up a Pipeline" is streaming on Hulu.
"You Are So Not Invited to My Bat Mitzvah"
Adam Sandler has been putting his daughters into his movies since they were toddlers. But for the first time ever, the Sandler progeny are front and center, with Sadie Sandler playing Ronnie, the older sister of Stacy (Sunny Sandler), who is filled with angst ahead of literally the most important day of her life, her bat mitzvah. Though it's less cringe-inducing than Bo Burnham's unflinching coming-of-age film "Eighth Grade," "You're So Not Invited" shows the ugly side of adolescence in between the jokes. When Stacy declares war on her lifelong best friend for dating her crush, it will send you back to the days of middle school when such frivolities were all-consuming. While Adam Sandler steals a few scenes as Stacy's grumpy dad, he wisely defers to her, and she delivers.
How to watch: "You Are So Not Invited to My Bat Mitzvah" is streaming on Netflix.
TV
"Ahsoka"
You may have read elsewhere that the newest series in the Star Wars universe, "Ahsoka," caters to fans who have immersed themselves in every single Lucasfilm movie, series, cartoon, and video game. That's a wild overstatement, but "Ahsoka" can be quite a lot of info for non-viewers of the "Clone Wars" film and series — which has been around for almost 20 years now — quite a lot of backstory to digest. The show's main character, a skilled Jedi named Ahsoka, is played with steely reserve by Rosario Dawson, who also played the character in "The Mandalorian" and "The Book of Boba Fett." Set after the fall of the Empire in "Return of the Jedi," Ahsoka looks to reunite with some of her "Star Wars: Rebels" crew while also hunting a ruthless imperial leader, Thrawn (Lars Mikkelsen) who could be key in fueling the rise of the First Order. I could go on, but all you need to know is that creator Dave Filoni does a capable job of balancing exposition with lightsaber fights, of which there are plenty.
How to watch: "Ahsoka" is streaming on Disney+, with new episodes debuting every Tuesday.
"Harlan Coben's Shelter"
Mystery author Harlan Coben is known for his twisty, page-turning plots, and his work has been adapted for screen numerous times already. The "Shelter" book series caters to a younger audience than some of his other work, but the thrills remain intact. Mickey (Jaden Michael) is the new kid in town, sent to live with his aunt following his father's death. When a girl Mickey likes mysteriously disappears, he teams up with new friends to dig into what might happened to her, and why the adults at school don't seem to care. Reminiscent of other coming-of-age adventures like "The Goonies," "Harlan Coben's Shelter" is binge-worthy fun for preteens and open-minded adults alike.
How to watch: "Harlan Coben's Shelter" is streaming on Prime Video, with new episodes debuting every Thursday.
Newsletter Signup
Stay up to date on all the latest news from Boston.com