Streaming
5 must-watch movies & TV shows streaming right now
The best of what's new streaming on Netflix, Hulu, HBO Max, Disney Plus, and more.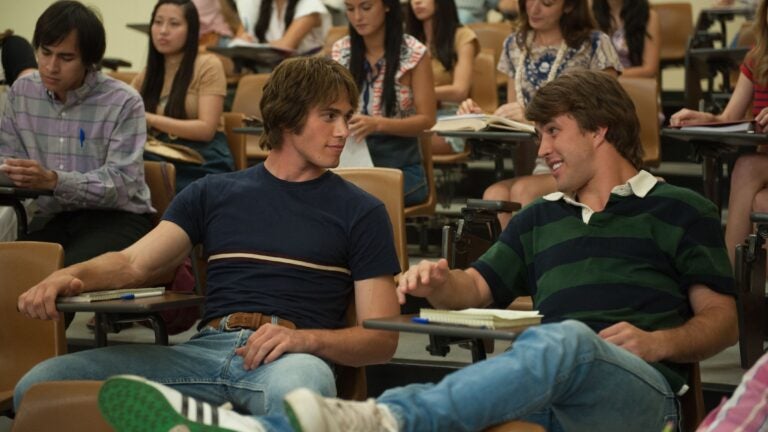 Welcome to Boston.com's weekly streaming guide. Each week, we recommend five must-watch movies and TV shows available on streaming platforms like Netflix, Hulu, Amazon Prime, Disney+, HBO Max, Peacock, Paramount+, and more.
Many recommendations are for new shows, while others are for under-the-radar releases you might have missed or classics that are about to depart a streaming service at the end of the month.
Have a new favorite movie or show you think we should know about? Let us know in the comments, or email [email protected]. Looking for even more great streaming options? Check out previous editions of our must-watch list here.
Movies
"Everybody Wants Some!!"
We usually stick to recommending titles available to stream on one of the big seven platforms, but an exception must be made for Richard Linklater's exceptional "Everybody Wants Some!!". The 2016 film is a spiritual sequel to Linklater's "Dazed and Confused" (currently streaming on Peacock) — whereas the latter film captured Texas students on the last night of high school in 1976, "Everybody Wants Some!!" follows members of the University of Texas baseball team in the days leading up to their first college classes in 1980. The anticipation and expectation is palpable, as players cruise the campus for women, assert their identities amongst the team hierarchy, and go through a surprising amount of growth and self-discovery in a mere 48 hours. Much like "Dazed" before it, "Everybody Wants Some!!" boasts early-career performances from bonafide movie stars (Glen Powell, Zoe Deutch) as well as others who are right on the edge of breaking through (Blake Jenner, Wyatt Russell).
How to watch: "Everybody Wants Some!!" is streaming on Hoopla or with ads on Pluto TV, and is also available to rent on various platforms.
"Fast Times at Ridgemont High"
Since we're already on the subject of coming of age movies set in the 1980s, it's a fun coincidence that Amy Heckerling's landmark teen comedy, 1982's "Fast Times at Ridgemont High," is debuting on Netflix today. Heckerling ("Clueless") assembled a formidable group of young talent and let them loose, giving early star turns to future Oscar nominees and winners like Jennifer Jason Leigh, Sean Penn, Forest Whitaker, and (in a blink-and-you'll-miss-it cameo) Nicolas Cage. Nothing much of consequence happens in "Fast Times": Kids have crushes, have sex, get in fights, get high, and generally fret about their teenage existence. But every line of dialogue, every feathered hairdo, and every unbuttoned collared shirt is note-perfect.
How to watch: "Fast Times at Ridgemont High" is streaming on Netflix.
"Superbad"
OK, this didn't start out as an exclusively coming-of-age streaming list, but it's too perfect of a coincidence that "Superbad" is also available to stream on Max as of today. The Greg Mottola-directed film is a quest of sorts, as Seth (Jonah Hill) and Evan (Michael Cera) spend much of the movie trying to procure alcohol for an end-of-school party that they see as their final shot to lose their virginities before college. But mostly it's antics on top of antics, with endlessly quotable lines from Bill Hader, Seth Rogen, and Joe Lo Truglio, among others. Seeing an early-career Emma Stone is a highlight, as is a career-defining performance from Christopher Mintz-Plasse as McLovin.
How to watch: "Superbad" is streaming on Max.
TV
"Freaks and Geeks"
And we're back to the 1980s! In what remains one of the most mystifying, frustrating, boneheaded TV executive decisions this century, Paul Feig and Judd Apatow's absolutely phenomenal "Freaks and Geeks" was cancelled by NBC after only one season in 2000. Set at a suburban Detroit high school during the 1980-81 school year, the show delicately explored the angst of the Weir siblings, Lindsay (Linda Cardellini) and Sam (John Francis Daley), who are each trying to step into a new identity to start the school year. Brainy, responsible Lindsay tries to hang with the "freaks" (James Franco, Seth Rogen, Jason Segel, Busy Phillips) while Sam works overtime to transcend the label of "geek" (shared by BFFs played by Samm Levine and Martin Starr). Like all of the films listed above, "Freaks and Geeks" had an unbelievable pre-stardom cast, and left you totally invested in every minor setback or triumph for its winsome protagonists.
How to watch: "Freaks and Geeks" is streaming on Hulu, Prime Video, and Paramount+.
"Undeclared"
Believe it or not, Judd Apatow and Seth Rogen collaborated on not one but two incredible coming-of-age shows cancelled after one season in the early 2000s. The lesser of the two — but only slightly — was "Undeclared," which was axed by Fox after 17 episodes in 2002. Centered around a hall of freshmen students whose major isn't the only question mark in their lives, "Undeclared" introduced us to Rogen, Jay Baruchel ("How To Train Your Dragon"), and Charlie Hunnam ("Sons of Anarchy"), getting a rare chance to speak in his native English accent as dreamy exchange student Lloyd. (Bonus: Keep an eye out for a young Simon Helberg pre-"Big Bang Theory" in the show's opening scene.)
How to watch: "Undeclared" is streaming on Prime Video. (You can find all 17 episodes on YouTube as well.)
Newsletter Signup
Stay up to date on all the latest news from Boston.com