Streaming
40 streaming TV shows to watch during Hurricane Lee this weekend
All the best shows from 2023 (and a few from the past) to get you through a rainy, windy weekend.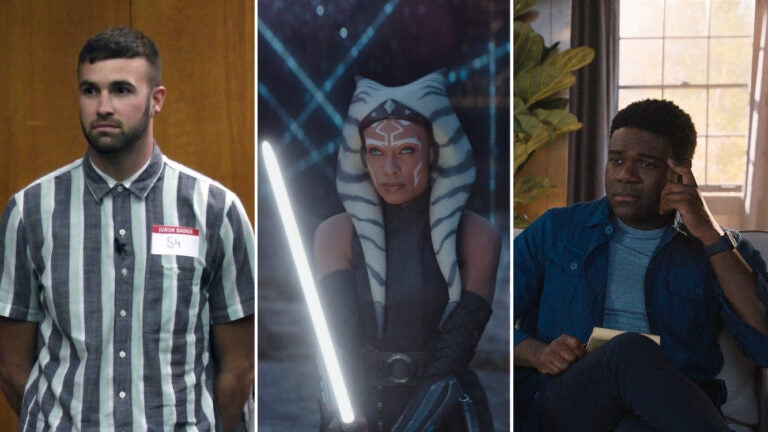 The latest predictions about the path, timing, and strength of Hurricane Lee seem to suggest that outside of Cape and the islands, much of New England has dodged a bullet. Nevertheless, many weekend events have already been canceled or postponed, which makes this the perfect time to catch up on streaming TV shows that have been sitting on your watchlist for months.
Thankfully, we've been keeping track of all the best new and returning shows all year long with our weekly streaming guide. Below, you'll find a wide range of recommendations, from recent debuts to shows that have aired their final episodes.
Our list spans genres and streaming services, so no matter what mood you're in or what mega-corporation you pay a monthly fee, we've got you covered.
Here are 40 streaming shows to watch this weekend, sorted by provider.
---
---
Streaming on Netflix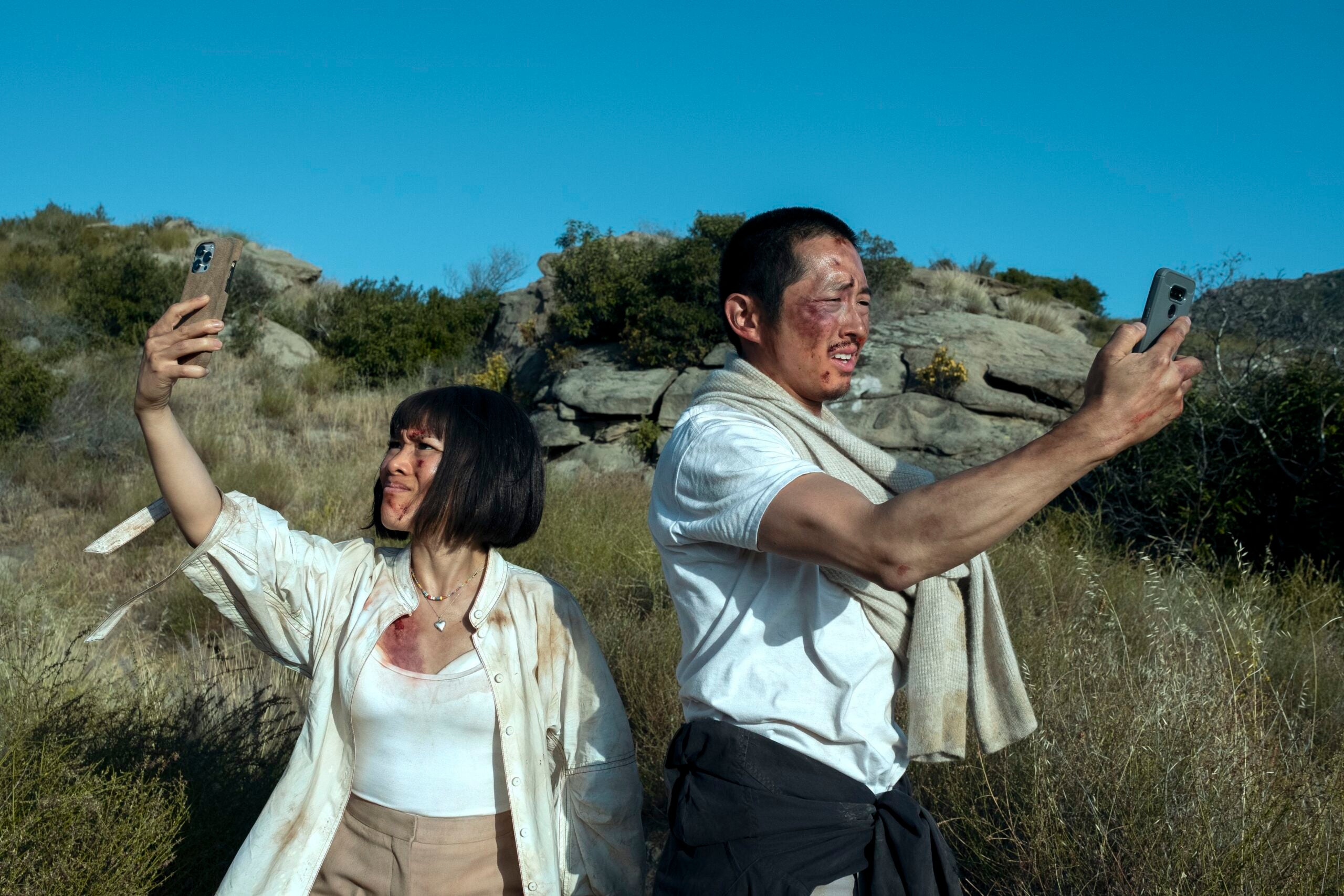 "Beef"
Confession: I am totally in the tank when it comes to Steven Yeun, who is almost always the best thing about any project he's in. But I was a little concerned that the conceit of "Beef" — about two people (Yeun and comedian Ali Wong) whose brief road-rage incident turns each into the other's worst enemy — wasn't strong enough to sustain a 10-episode series. Thankfully, creator Lee Sung Jin builds a thrilling narrative that is funny, alarming, and familiar, even when its protagonists veer into extreme territory to enact their revenge.
Watch "Beef" streaming on Netflix
"Black Mirror"
"Black Mirror" was a big hit in the early days of Netflix, with the British import originally broadcast on Channel 4 serving as a modern-day "Twilight Zone" focused on technology's corrosive influence on society. Season 6 of the series, which debuted earlier this year, remains as acidic as ever. Not every episode hits with the same ferocity as Season 1 episodes once did, but some of the stronger outings veer away from technology as the boogeyman and instead expose the darkness of humanity itself.
Watch "Black Mirror" streaming on Netflix
"I Think You Should Leave with Tim Robinson"
Newton is a well-known hub of comedic talent, thanks to folks who grew up there like "Friends" star Matt LeBlanc and "The Office" funnymen John Krasinski and B.J. Novak. Another name that should be added to that list is Zach Kanin, the co-creator of Netflix's absurd sketch comedy series "I Think You Should Leave with Tim Robinson," which returned for a third season earlier this year. Robinson and Kanin, who worked together on "Saturday Night Live" and the Comedy Central series "Detroiters," traffic in the uncomfortable and the odd. They put characters in embarrassing situations, then have those characters go to extreme lengths to save face, even when the possibility of doing so is long gone. Put another way by former "SNL" coworker Seth Meyers, "ITYSL" has given Robinson the chance to "play angry 155 uniquely different ways." If you want a taste of what's to come, check out this sketch from season one about a group of shoppers shell-shocked by a novelty hot dog car crashing through the store window, and the mysterious man in the hot dog costume (Robinson) who's "trying to find the guy who did this."
Watch "I Think You Should Leave with Tim Robinson" streaming on Netflix
"Insecure" (also on Max)
In the topsy-turvy world of streaming, it's a bit surprising to see all five seasons of "Insecure," the award-winning HBO comedy starring Issa Rae, suddenly pop up on Netflix. It's all part of Warner Bros. Discovery CEO David Zaslav's plan to monetize WBD's content in new ways, with additional HBO shows including "Band of Brothers" and "Six Feet Under" headed to Netflix in the near future as well. Unlike Zaslav's decision to lock several unreleased movies in the Warner Bros. vault for tax purposes, this money-making scheme benefits consumers. The more people who are able to watch Rae — playing a young professional struggling to move into the "real adult" phase of her life amidst romantic turmoil and fights with her friends — the better.
Watch "Insecure" streaming on Netflix
"Never Have I Ever"
Mindy Kaling's coming-of-age high school comedy has officially reached its end, with Devi entering her senior year with the show's fourth and final season earlier this year. On the precipice of adulthood, Devi (Maitreyi Ramakrishnan) is applying to colleges, having sex, and trying to keep her entire life from going off the rails. It's sad to see this likable show come to an end, but at a time when Netflix has begun to cancel shows left and right, it's a relief that Kaling's show was able to end on its own terms.
Watch "Never Have I Ever" streaming on Netflix
"Our Planet"
There's a simple rule in my household: If there's a nature documentary narrated by David Attenborough, I'm watching it. The naturalist has been showcasing the wonders of our planet for decades now, most notably in BBC's "Planet Earth." Netflix's second season of "Our Planet" brings even more astounding animal footage, filmed with the most powerful cameras in existence. As always, Attenborough doesn't mince words about the dangers of climate change, urgently imploring viewers to act lest the natural beauty on display disappear permanently.
Watch "Our Planet" streaming on Netflix
---
Streaming on Max (HBO Max)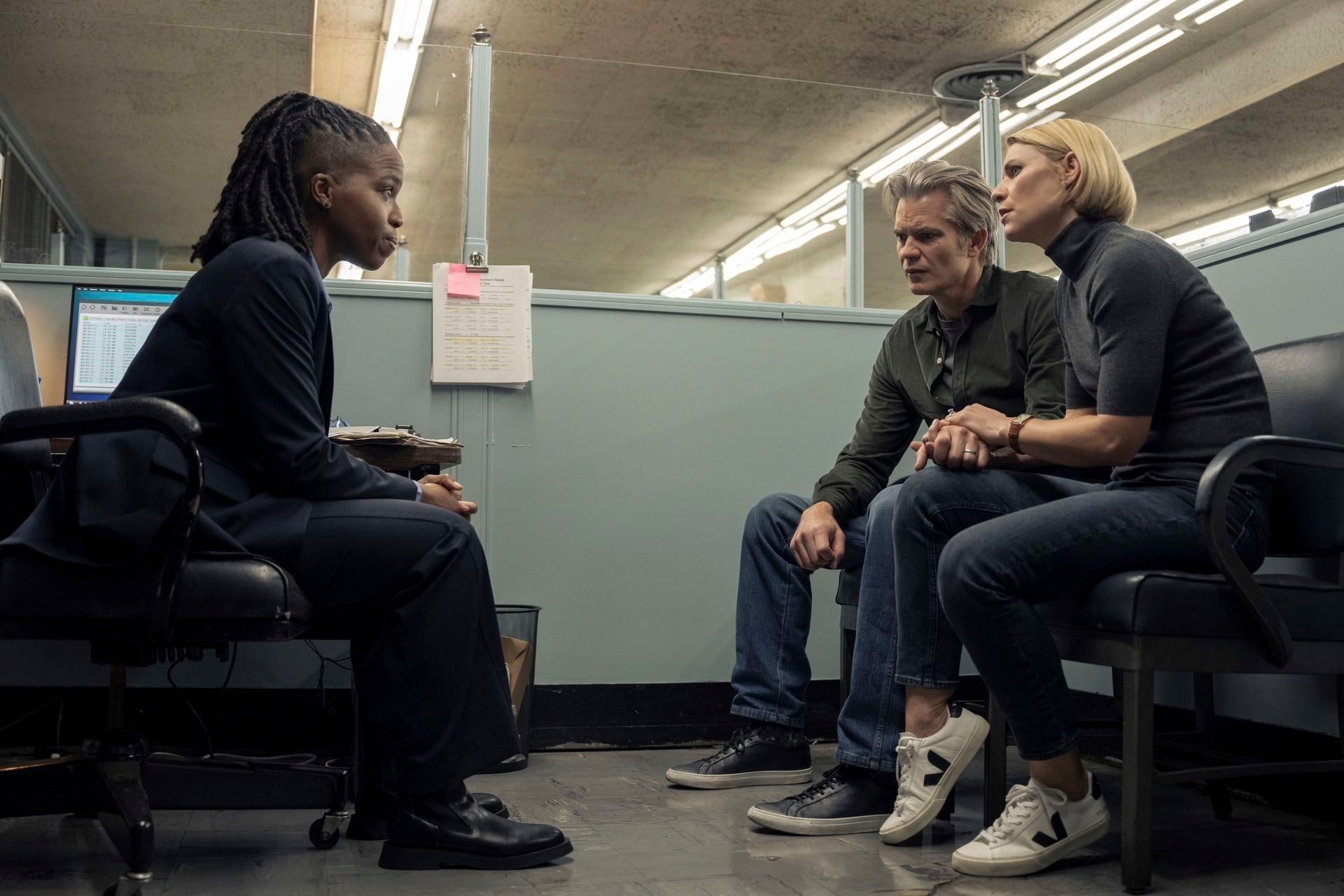 "Avenue 5"
After a large gap between seasons due to COVID-19, "Avenue 5" returned to HBO last year with a much-improved second season. Unfortunately, the improvement wasn't enough to save it from cancellation earlier this year. Created by Armando Iannucci ("Veep"), the show centers on a luxury space cruise ship that is flung off course, extending the eight-week tour into a multi-year journey. Hugh Laurie ("House") plays the ship's deeply unqualified captain, while Josh Gad ("Pixels") plays the pompous owner of the space shuttle. A mix of entitled cruise guests driven to madness and clueless staff preparing for starvation provide plenty of laughs, with Zach Woods ("The Office") a highlight as the ship's customer relations specialist.
Watch "Avenue 5" streaming on HBO Max
"Full Circle"
Veteran director Steven Soderbergh has packed the plot twists of his "Ocean's 11" into his border-hopping kidnapping drama "Traffic" with "Full Circle," a six-part limited series on Max. Nothing is quite what it seems on the show, which centers around the kidnapping (or is it?) of a teenager for ransom from his parents, played by Timothy Olyphant ("Justified") and Claire Danes ("Homeland"). The kidnappers, who hail from Guyana, ask for a very specific ransom — $314,159 — which represents the first pie crumb on a trail of deception, mistaken identity, and even witchcraft. Unraveling it all is postal inspector Harmony (Zazie Beetz, "Atlanta"), who has the sleuthing skills of Columbo with the attitude of Dr. House.
Watch "Full Circle" streaming on Max
"How To with John Wilson"
When it first premiered in 2020, "How To with John Wilson" was a salve for everyone stuck indoors, a reminder of the joys of observing a bustling city and the oddballs that inhabit it. In its third and final season, Wilson continued to capture vignettes of the city, with the ostensible framing of each episode ("How to make small talk," "How to put up scaffolding") quickly abandoned in favor of seeking deeper meaning in the fabric of New York City. Wilson also continues to weave his own personal story into the show when he sees fit, and it never feels unearned. It's tough to describe, but well worth a watch.
Watch "How To with John Wilson" streaming on Max
"The Righteous Gemstones"
Dear Lord, thank you for blessing us with "Righteous Gemstones," and for continuing to shine your light on Danny McBride ("Vice Principals," "Eastbound & Down") and his collaborators. Season 3 of the HBO comedy finds the Gemstone family of mega-pastors once again acting out their own version of "Succession," with the lingering question of whether any of the Gemstone siblings — Jesse (McBride), Judy (Edi Patterson), or Kelvin (Adam DeVine) — have what it takes to replace Eli (John Goodman) as head of the church. Matters are complicated when a long-lost Gemstone family member (Kristen Johnston) and her doomsday cult leader husband (Steve Zahn) enter the picture.
Watch "The Righteous Gemstones" streaming on Max
"Telemarketers"
Directing duo the Safdie Brothers have shown a fondness for scuzzy grifters whose oily desperation fuels their schemes, from Robert Pattinson in "Good Time" to Adam Sandler in "Uncut Gems." You can see why the brothers were interested in producing "Telemarketers," a limited series documentary shot by workers at a highly illegal nonprofit call center. What begins as burnouts filming office pranks and shenanigans a la "Workaholics" morphs into a genuine effort to expose and take down the bosses who steal millions from innocent Americans.
Watch "Telemarketers" streaming on Max
"Winning Time: The Rise of the Lakers Dynasty"
"Winning Time," the HBO sports drama about the Showtime Lakers of the 1980s, had an entertaining albeit uneven first season, which came under fire from many of its subjects for not so much stretching as completely shredding the truth. While some of the same problems crop up in Season 2 (complete with a disclaimer about its veracity at the top of each episode), local fans should tune in to see how McKay and Co. have shifted much of the focus onto the Celtics. Playing Larry Bird, newcomer Sean Patrick Small captures the Hick from French Lick in all of his swaggering, trash-talking glory, a constant thorn in the side of Magic Johnson (Quincy Isaiah), Jerry West (Jason Clarke), Jerry Buss (John C. Reilly), and the rest of the Lakers brain trust.
Watch "Winning Time: The Rise of the Lakers Dynasty" streaming on Max
---
Streaming on Hulu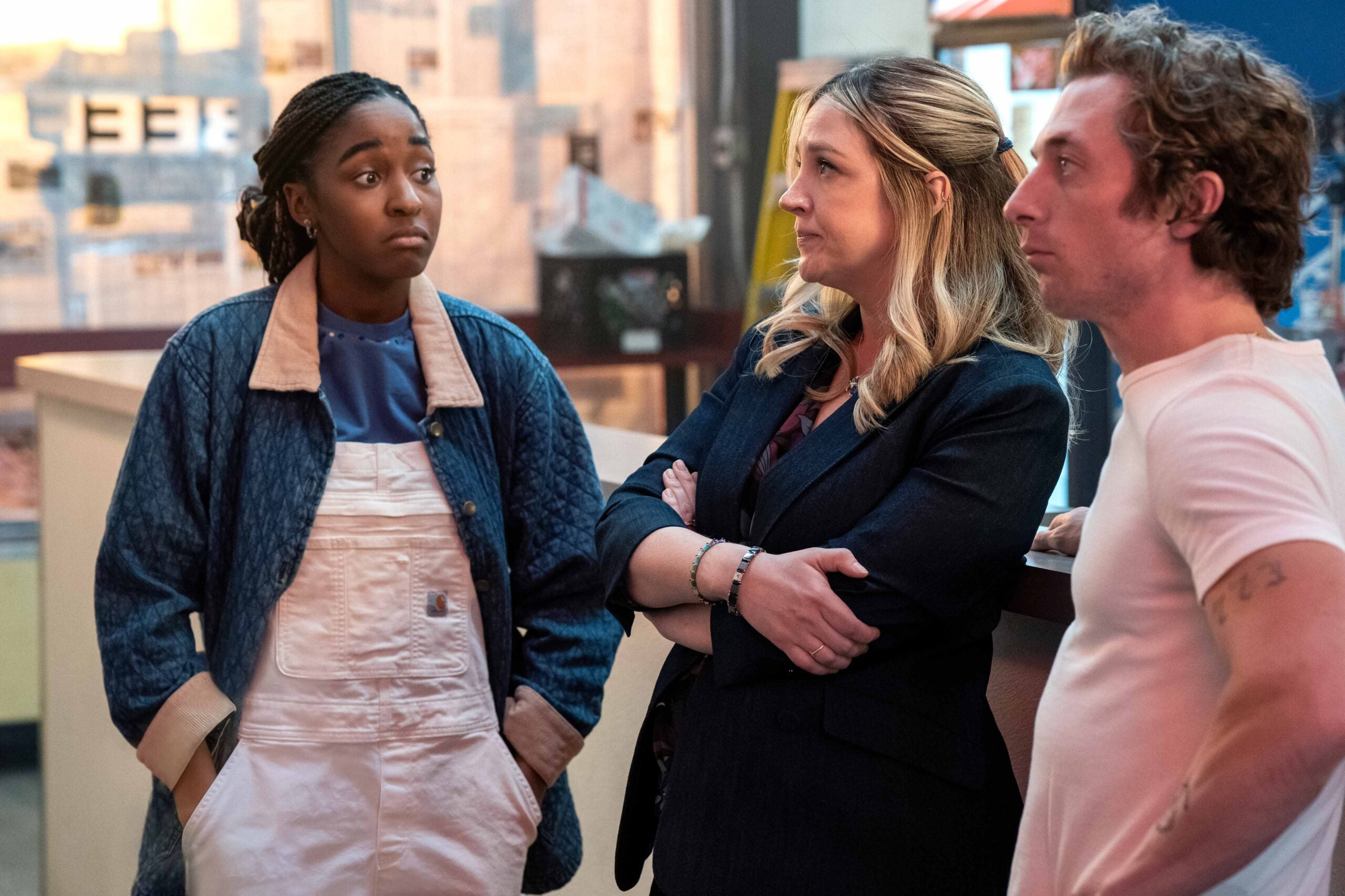 "The Bear"
One of our favorite TV shows of 2022, FX's restaurant drama "The Bear," was back in business this summer with Carmy (Jeremy Allen White, "Shameless") and Sydney (Dorchester native Ayo Edebiri) working on their new restaurant. Much like last season, things go to hell in short order — which is a problem, since the terms of the loan mean that Carmy will lose the restaurant if it flops. "The Bear" continues to mine comedy from the characters' inner demons, and shines because of how authentically it portrays its chefs as real human beings and nails the intricate dynamics of a restaurant's inner workings.
Watch "The Bear" streaming on Hulu
"Futurama"
Since its 1999 debut, "Futurama" has been cryogenically frozen and unfrozen more times than its main character, a delivery boy named Philip J. Fry (Billy West) who steps into a cryogenic chamber on the eve of Y2K and wakes up 1,000 years in the future. "Futurama" was canceled in 2003, revived as a series of direct-to-DVD films in 2007, brought back as a show by Comedy Central in 2010, canceled again in 2013, and has now been reborn for an 11th season a decade later on Hulu. The first episode of the new season is a little heavy on the self-referential humor, but subsequent episodes feel like the "Futurama" of old, and should please long-time fans of the show.
Watch "Futurama" streaming on Hulu
"The Great"
Hulu recently announced the cancellation of its historical (or perhaps ahistorical?) dark comedy "The Great" after only three seasons. It's a tragic end to one of the best TV shows of recent years, which chronicled the rise of Catherine the Great (Elle Fanning, "Super 8") and her relationship with deranged emperor Peter III (Nicholas Hoult, "Mad Max: Fury Road"). Showrunner Tony McNamara ("The Favourite") kept viewers guessing by ripping up the history books and inventing new storylines from thin air, and the show was better for it. Given that all of the major streamers are now removing their own shows from their libraries and selling them off to other companies, there's no better time to watch "The Great" than now.
Watch "The Great" streaming on Hulu
"Only Murders in the Building"
Steve Martin, Martin Short, and Selena Gomez had one of the biggest hits of the pandemic with "Only Murders in the Building," playing a trio of true-crime-obsessed neighbors who create a podcast in the midst of solving a murder in their tony Manhattan building. This time around, the titular building is now a theatre, where Oliver (Short) hopes to revive his Broadway producing career with a new musical. When his unlikeable lead actor (Paul Rudd, playing against type) drops dead, the suspects include Meryl Streep, playing a lifelong actress who never found her breakthrough role. There are guest stars aplenty, but the main attraction of the series continues to be the chemistry of the lead trio, which hasn't wavered since its 2021 debut.
Watch "Only Murders in the Building" streaming on Hulu
"Reservation Dogs"
"Reservation Dogs," now in its third and final season, is the rare Indigenous North American story that features primarily Native and First Nation talent. This season, which premiered in August, picked up with Season 2's storyline involving Bear Smallhill searching for his absent father far away from their rural Oklahoma home in California. What makes "Reservation Dogs" so wonderful is how, beyond the occasional interlude from dead ancestor William Knifeman, the show feels almost like a slice-of-life documentary. The series is short enough that you should catch up now, immersing yourself in the stories not only of our four young protagonists but the entire Indigenous community at large.
Watch "Reservation Dogs" streaming on Hulu
"What We Do In The Shadows"
"What We Do in the Shadows" has come a long way from the 2014 mockumentary co-created by Taika Waititi and Jemaine Clement ("Flight of the Conchords"). The core premise — a group of vampire roommates living in Staten Island — has remained the same, but each year has brought new ways for the show's fanged protagonists to spread their wings. Season 5, which debuted earlier this summer, finds Lazlo (the sublime Matt Berry) at the center of it all, trying to figure out what's going on with familiar/servant Guillermo, building a friendship with non-vampire neighbor Sean, and leaning into the political candidacy of energy vampire Colin. You really need to start with Season 1 to appreciate all the lore "Shadows" has built over the seasons, but it's well worth the time if you haven't already.
Watch "What We Do In The Shadows" streaming on Hulu
---
Streaming on Disney+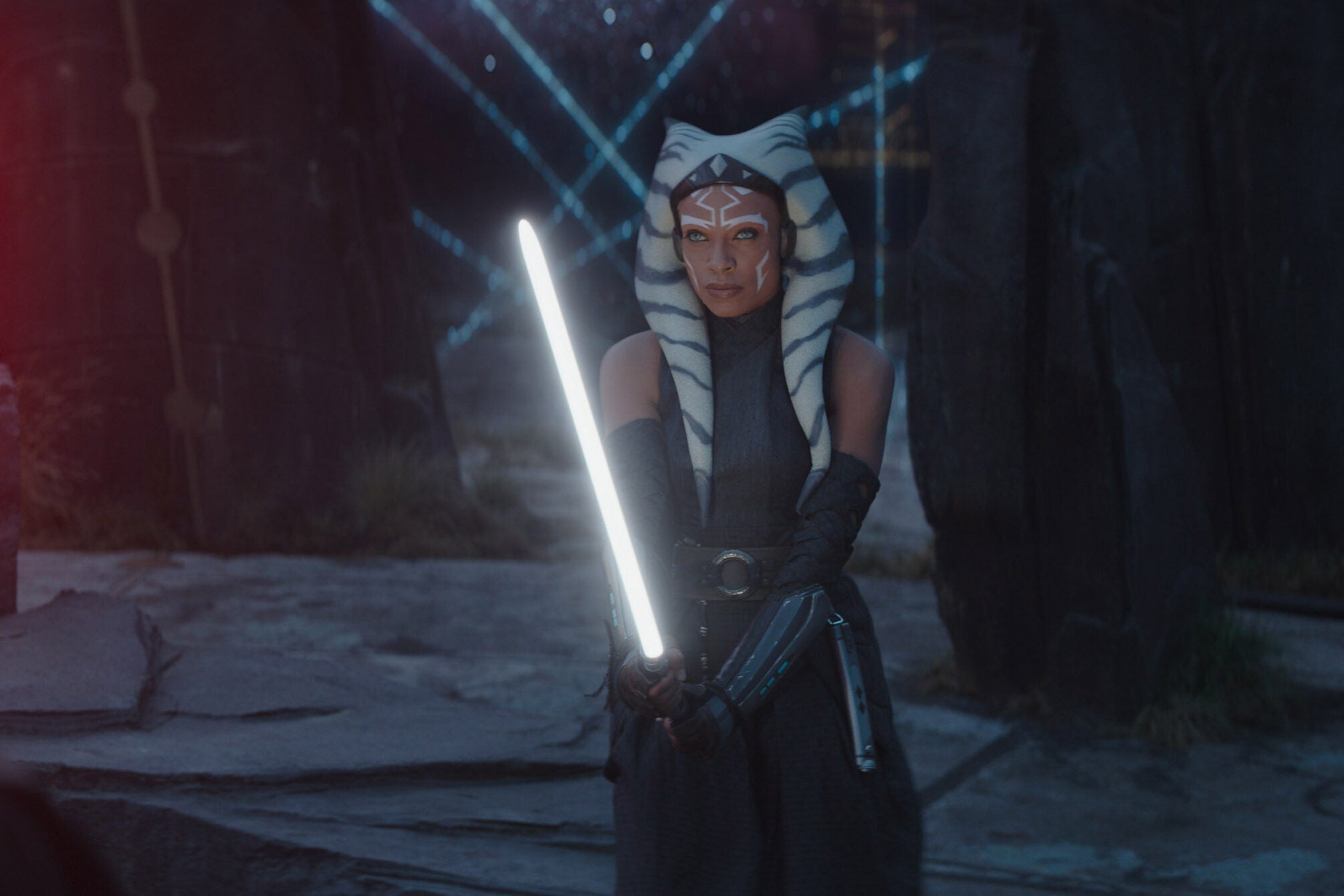 "Ahsoka"
Non-viewers of the "Clone Wars" film and series — which have been around for almost 20 years now — may have a bit of backstory to digest. But creator Dave Filoni does a capable job of balancing exposition with lightsaber fights, of which there are plenty. The show's main character, a skilled Jedi named Ahsoka, is played with steely reserve by Rosario Dawson, who also played the character in "The Mandalorian" and "The Book of Boba Fett." Set after the fall of the Empire in "Return of the Jedi," Ahsoka looks to reunite with some of her "Star Wars: Rebels" crew while also hunting a ruthless imperial leader, Thrawn (Lars Mikkelsen) who could be key in fueling the rise of the First Order.
Watch "Ahsoka" streaming on Disney+
"Andor"
Tony Gilroy's series might be the most entertaining piece of the "Star Wars" universe since the original trilogy. There's nary a lightsaber to be found, with the focus instead on the everyday people of the galaxy impacted by the sprawling surveillance state created by the Empire. "Andor" still has daring recon missions and white-knuckle outer space dogfights, but the most exciting moments occur in the sterile confines of bureaucracy. "Andor" is a taut political thriller that makes you think about colonization, prisoner abolition, and class privilege without once slowing down the action. Lucasfilm should do everything in its power to emulate the "Andor" model going forward, giving marquee directors like Gilroy the space to tell a story in their own corner of the galaxy.
Watch "Andor" streaming on Disney+
"The Muppets Mayhem"
Almost 50 years since they first showed up as part of Jim Henson's stable of Muppets, Doctor Teeth and the Electric Mayhem have been part of the gang, providing music and levity to countless movies, shows, and specials. But as the new series on Disney Plus dedicated to the group amusingly makes clear, they're kind of a one-hit wonder, mostly playing covers or backing instrumentals after the success of "Can You Picture That?" from 1979's "The Muppet Movie." Nevertheless, an up-and-coming producer (Lilly Singh) sees an opportunity, and brings the group in to produce their first full-length album. Like most Muppets fare, there's a fun blend of meta jokes about showbiz and genuine heart.
Watch "The Muppets Mayhem" streaming on Disney+
---
Streaming on Amazon / Prime Video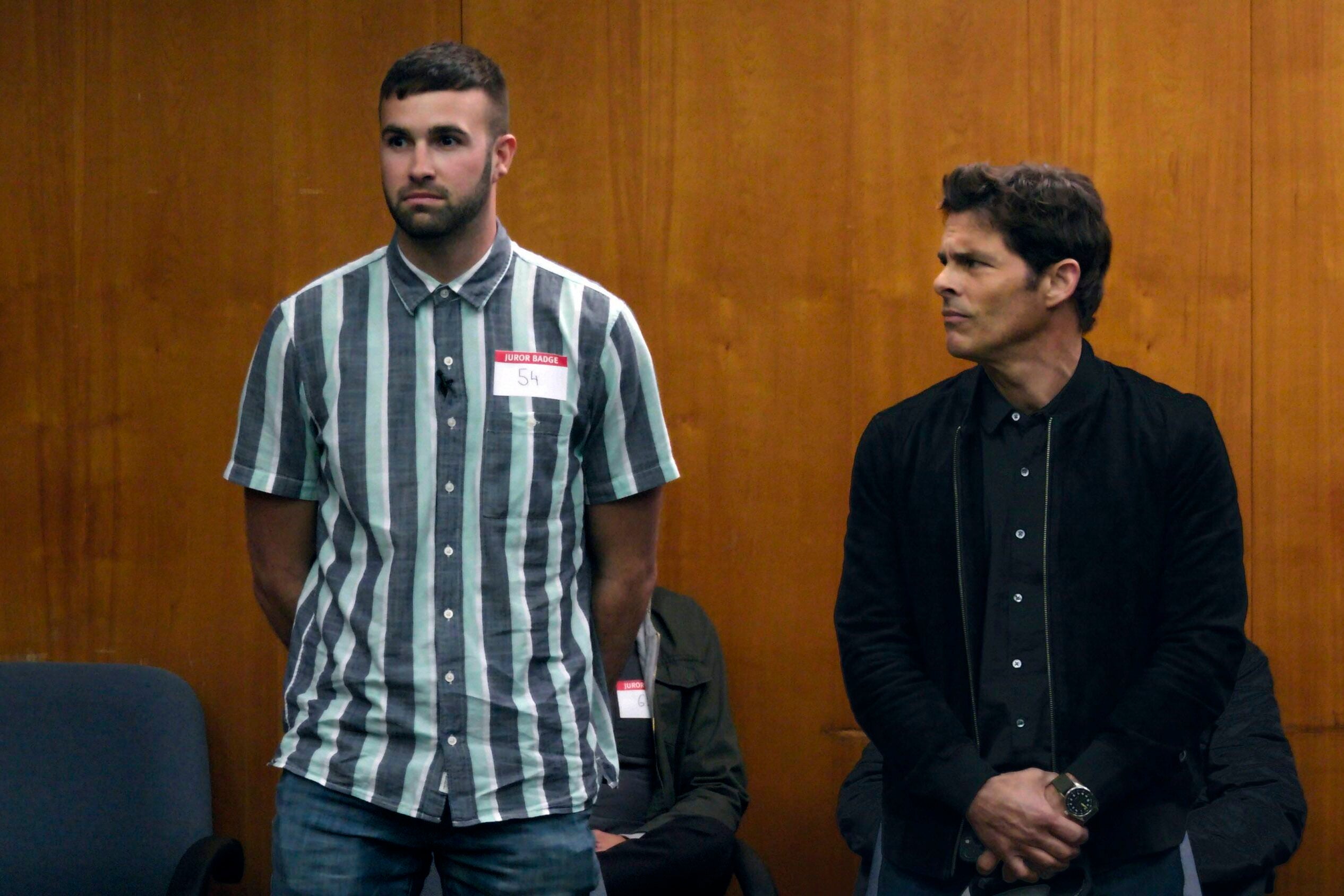 "Harlan Coben's Shelter"
Mystery author Harlan Coben is known for his twisty, page-turning plots, and his work has been adapted for screen numerous times already. The "Shelter" book series caters to a younger audience than some of his other work, but the thrills remain intact. Mickey (Jaden Michael) is the new kid in town, sent to live with his aunt following his father's death. When a girl Mickey likes mysteriously disappears, he teams up with new friends to dig into what might happened to her, and why the adults at school don't seem to care. Reminiscent of other coming-of-age adventures like "The Goonies," "Harlan Coben's Shelter" is binge-worthy fun for preteens and open-minded adults alike.
Watch "Harlan Coben's Shelter" streaming on Prime Video
"The Horror of Dolores Roach"
Between Showtime's hit drama "Yellowjackets" and Luca Guadagnino's "Bones and All," cannibalism is weirdly having a moment right now. Add Prime Video's "The Horror of Dolores Roach" to that list, which tells a first-generation immigrant version of "Sweeney Todd" that takes "eat the rich" quite literally. Dolores (Justina Machado) is beset on all sides by landlords and other greedy capitalists who view her as nothing more than an asset to exploit. When she unintentionally kills one (and then another, and another), she taps into the entrepreneurial girl-boss spirit and begins serving up the bodies in empanadas to unwitting customers. "Dolores Roach" sometimes struggles to balance its horror and comedy elements, but the fact that you'll find yourself rooting for a serial killer who feeds her victims to the public has to count for something.
Watch "The Horror of Dolores Roach" streaming on Prime Video
"Jury Duty"
If you're a fan of Nathan Fielder's "The Rehearsal," you'll love "Jury Duty," which takes the hidden-camera prank show genre to ambitious new heights. Co-created by "The Office" producers Gene Stupnitsky and Needham native Lee Eisenberg, "Jury Duty" makes a solar tech named Ronald Gladden the unwitting star of his own reality show. Gladden is summoned for jury duty, and has no idea that he's the only person involved in the case — from the judge to the defendant to his fellow jurors — who isn't an actor. Gladden does know that there's at least one actor, though: James Marsden, who, despite telling everyone about all the movies he's been in ("The Notebook!" "Sonic The Hedgehog!" "X-Men!"), can't convince the judge to excuse him from his civic duty. Gladden never comes off as anything less than a genuinely nice guy who is trying not to show how bewildered he is by the behavior of basically everyone around him.
Watch "Jury Duty" streaming on Amazon Freevee
"Primo"
Writer Shea Serrano has had a meteoric rise over the last decade, going from a struggling Texas teacher freelance writing to pay the bills to creating his own show alongside Mike Schur ("Parks and Recreation," Brooklyn Nine-Nine"). "Primo" is a semi-autobiographical show for Serrano, about a Texas high schooler (Ignacio Diaz-Silverio) being raised with the help of his five wisecracking uncles. "Primo" is a feel-good comedy, and best of all for cost-conscious cord-cutters, it is streaming on the free (with advertisements) service Amazon Freevee.
Watch "Primo" streaming on Amazon Freevee
"Swarm"
Donald Glover's fantastic FX series "Atlanta" ended after four seasons in 2022, but its spirit is alive and well in "Swarm," a new series co-created by Glover and fellow "Atlanta" writer Janine Nabers. "Swarm" centers around Dre, a young woman whose entire existence is devoted to Ni'Jah, a Beyonce-like pop star whom Dre (Dominique Fishback) worships as a goddess. Rather than settle scores against Ni'Jah's Twitter haters online, Dre locates them in real life and then kills them. There are some big ideas at play in "Swarm" that don't always pan out, but much like "Atlanta," it's hard to take your eyes off the surreal, horror-tinged reality Glover and Co. have created.
Watch "Swarm" streaming on Prime Video
---
Streaming on Apple TV+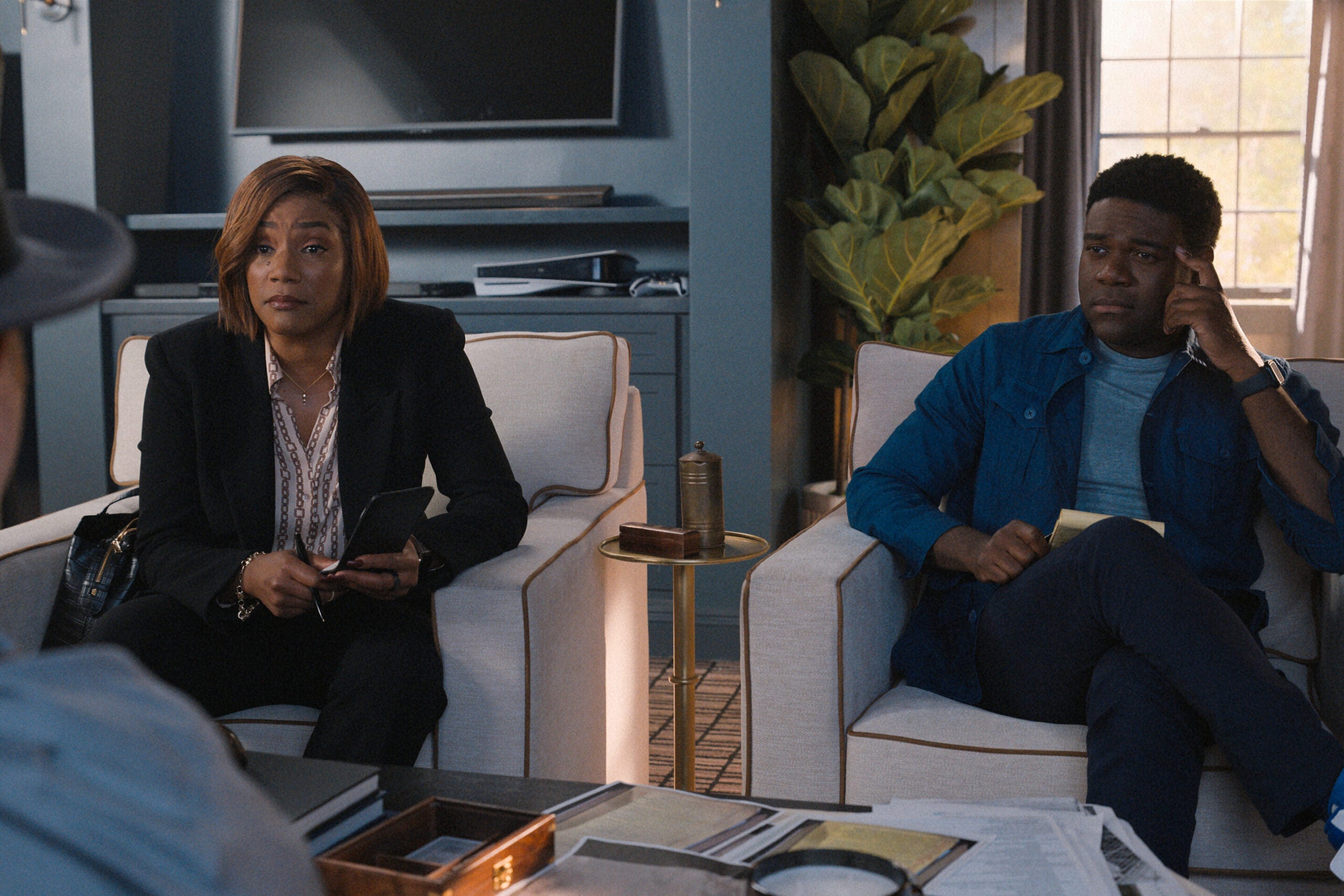 "The Afterparty"
Apple had a hit on its hands in early 2022 with "The Afterparty," which takes a simple concept — a murder mystery whodunnit — and turns it on his head, with each episode told from a different point of view and unfolding as a style parody of a different genre of show or movie. Sam Richardson ("Veep") and Tiffany Haddish ("Girls Trip") are back in sleuth mode, with a new cast of suspects seeking to figure out who killed a crypto wunderkind (Zach Woods, "The Office") following his wedding. There are moments when the show struggles to balance its central murder mystery and extended riffs on the likes of Jane Austen, Wes Anderson, and 1930s noir, but the talented ensemble cast makes "The Afterparty" worth sticking around to solve.
Watch "The Afterparty" streaming on Apple TV+
"The Changeling"
LaKeith Stanfield stars in and executive produces "The Changeling," an eight-part fantasy series on Apple TV+ Based on the novel of the same name by Victor LaValle, Stanfield plays a rare book dealer named Apollo whose life with his wife becomes a waking nightmare upon the birth of their son. To say more would spoil what's to come, but "The Changeling" provides plenty of traditional scary moments while also exploring how past trauma and parenthood can create a deadly cocktail.
Watch "The Changeling streaming on Apple TV+
"Foundation"
Loosely based on the sci-fi series of the same name by Isaac Asimov, "Foundation" concerns a group of rebels (The Foundation) who use the power of a sort of scientific prophesy known as 'psychohistory' to take down the Galactic Empire. Confused yet? Just know that "Foundation" follows in the tradition of shows like "The Expanse" and "Battlestar Galactica" in telling a dense, lore-intensive sci-fi story buoyed by great individual performances by actors like Jared Harris ("Mad Men"), Lee Pace ("Pushing Daisies"), and Leah Harvey ("Tuesday").
"Hijack"
Remember the hype around the first season of "24," the Fox drama starring Kiefer Sutherland that was told in real-time over the course of a full season? Well, time tends to forgive all sins, and that first season of "24," while generally a lot of fun, also featured a lot of silly, time-wasting plot threads in order to adequately fill out its 24-hour season. Apple's new real-time series "Hijack," on the other hand, is only seven episodes long, which gives professional negotiator Sam (Idris Elba, "The Wire") much less time to save a hijacked plane full of passengers traveling from Dubai to London. "Hijack" runs into turbulence when it checks in on subplots that aren't in the sky. But when the focus is on Elba and his fellow passengers, the series is a total thrill.
Watch "Hijack" streaming on Apple TV+
Watch "Foundation" streaming on Apple TV+
"Shrinking"
After singlehandedly driving countless Apple TV+ subscriptions with "Ted Lasso," showrunner Bill Lawrence ("Scrubs") gets a big enough budget to hire both Jason Segel and Harrison Ford for his latest comedy-drama. Segel plays Jimmy, a therapist who is going through a crisis following the death of his wife. When he begins treating clients with radical candor instead of simply asking, "How does that make you feel?" ad nauseam, it begins to change both Jimmy's life and those around him, including Ford, who is brilliant as a fellow psychiatrist dealing with a recent Parkinson's diagnosis. You get the feeling that "Shrinking" is letting Jimmy off the hook a bit too much for his destructive impulses, but knowing Lawrence, he and everyone else on the show will likely delve into deeper and darker crevices of the psyche when "Shrinking" returns for an almost-inevitable Season 2.
Watch "Shrinking" streaming on Apple TV+
"Strange Planet"
Based on Nathan Pyle's popular webcomic of the same name, "Strange Planet" is — wait for it — strange. Indistinct blue humanoid (but definitely not human) characters populate its world, speaking in a highly elliptical language about the banalities of everyday existence. (Parents are "life givers," coffee is "jitter liquid," etc.) It's no surprise that Dan Harmon, creator of "Community," is involved in the show, as the observations of its creatures sound like something Danny Pudi's neurodivergent character from "Community" Abed might say. Indeed, Pudi is part of a voice cast that also includes musician Tunde Adebimpe, "Orange Is the New Black" alum Lori Tan Chinn, and comedian Demi Adejuyigbe. Here's hoping "Strange Planet" builds on its warm idiosyncrasies and begins to build a larger narrative world for its guileless creatures.
Watch "Strange Planet" streaming on Apple TV+.
---
Streaming on Peacock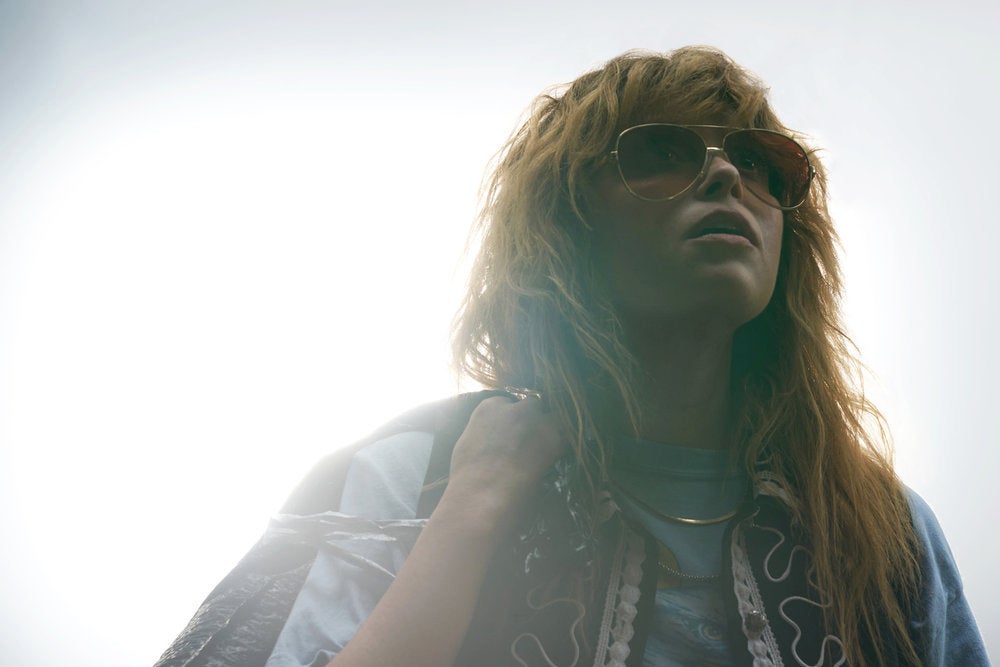 "Based On A True Story"
Peacock joined the murder podcast craze with "Based On A True Story," which debuted all eight episodes of its freshman season in June. A married couple played by Kaley Cuoco ("The Big Bang Theory") and Chris Messina ("Air") are stuck in a rut, and facing money troubles with a baby on the way. A series of events we won't spoil here lead them to create a hit true crime podcast in which they are dangerously close to the subject matter. Like a lot of true crime, "Based On A True Story" ropes you in with an irresistible premise, spins its wheels for a few hours, but provides an explosive payoff in its final chapter.
Watch "Based On A True Story" streaming on Peacock
"Mrs. Davis"
"Mrs. Davis" is one of the most chaotic, jam-packed shows in recent memory. It's concerned with the nature of humanity, the structure of entertainment, clichés, and God. And that's just in the first episode. Co-created by Damon Lindelof ("Lost") and Tara Hernandez ("The Big Bang Theory"), "Mrs. Davis" is about a world controlled by an omnipotent AI of the same name. There is no war, everyone who wants a job has one, and everyone is mostly content. But there's a small faction (eventually led by a nun played by "Glow" star Betty Gilpin) that is working to overthrow it by doing the opposite of what it wants. Know that you will almost certainly be deeply confused after the first episode, but if you stick around for all eight episodes, "Mrs. Davis" pulls off a pretty fantastic and memorable season of TV.
Watch "Mrs. Davis" streaming on Peacock
"Paul T. Goldman"
Feeling overrun by the sameness of Netflix true crime documentaries? Head over to Peacock to experience "Paul T. Goldman," a deconstruction of the genre that blends fiction and reality thanks to the deft work of director Jason Woliner ("Borat Subsequent Moviefilm"). A decade ago, Woliner was approached by a man named Paul T. Goldman (not his real name), who had written a story about being conned by his ex-wife. Certain that his memoirs were a ticket to Hollywood, Goldman and Woliner moved forward with producing a show on his life, with Goldman playing himself. Watching the story within a story unfold is a helpful reminder that all those slick, easily digestible true crime podcasts and shows may not be as cut-and-dry as one might think.
Watch "Paul T. Goldman" streaming on Peacock
"Poker Face"
Rian Johnson almost singlehandedly kicked off a mystery movie boom with 2019's "Knives Out," and kept the fun going with 2022's "Glass Onion: A Knives Out Mystery." For his new series on Peacock, Daniel Craig is replaced by Natasha Lyonne ("Orange is the New Black"), a quirky casino worker turned amateur detective whose ability to read people's voices makes her a human lie detector. "Poker Face" feels like a throwback to the days of "Columbo," where a mystery of the week didn't have to involve grisly deaths, and half the fun was watching Peter Falk chew scenery on his way to unraveling the case. Each episode brings a new group of star cameos — Chloe Sevigny, Joseph Gordon-Levitt, and Lil Rel Howery are just a few of the many familiar faces who show up — and Lyonne anchors it all with her guileless performance.
Watch "Poker Face" streaming on Peacock
---
Streaming on Paramount+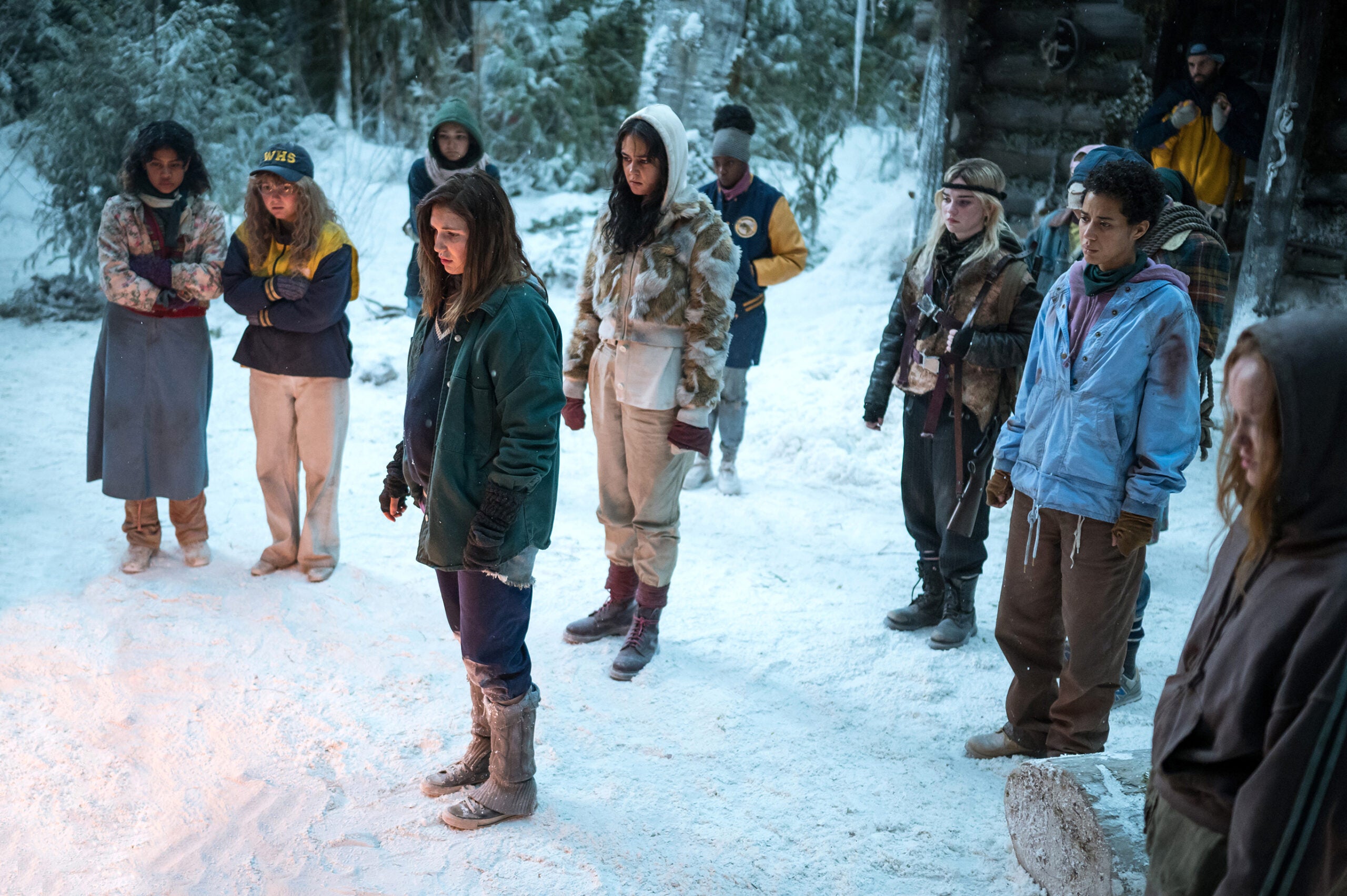 "Frasier" (also on Hulu)
In case you didn't hear the news, Kelsey Grammer is shipping up to Boston for the upcoming "Frasier" reboot on Paramount+, with psychologist Frasier Crane returning to his "Cheers" roots after more than three decades. With all the bad weather forecasted for this weekend, why not settle in on the couch with TV's fussiest doctor for an episode or two… hundred? All 11 seasons of the NBC sitcom are available, which means many of you will be able to answer when those tossed salads and scrambled eggs begin calling you again this weekend.
Watch "Frasier" streaming on Paramount+
"Freaks and Geeks" (also on Hulu and Prime Video)
In what remains one of the most mystifying, frustrating, boneheaded TV executive decisions this century, Paul Feig and Judd Apatow's absolutely phenomenal "Freaks and Geeks" was cancelled by NBC after only one season in 2000. Set at a suburban Detroit high school during the 1980-81 school year, the show delicately explored the angst of the Weir siblings, Lindsay (Linda Cardellini) and Sam (John Francis Daley), who are each trying to step into a new identity to start the school year. Brainy, responsible Lindsay tries to hang with the "freaks" (James Franco, Seth Rogen, Jason Segel, Busy Phillips) while Sam works overtime to transcend the label of "geek" (shared by BFFs played by Samm Levine and Martin Starr). "Freaks and Geeks" had an unbelievable pre-stardom cast, and left you totally invested in every minor setback or triumph for its winsome protagonists.
Watch "Freaks and Geeks" streaming on Paramount+
"Rabbit Hole"
Kiefer Sutherland, channeling an aged Jack Bauer, is back in a spy thriller of his own with Paramount+'s "Rabbit Hole." John Weir (Sutherland) is a ruthless corporate "fixer," ruining the reputations of companies or public figures for his wealthy clients. (For a real-life example, read this recent New Yorker profile.) Given his line of work, it's no surprise that John ends up in the crosshairs of a mysterious cabal who frames him for the murder of a treasury department agent. Watching Sutherland growl and grimace as he races against the clock — though not a literal, visible clock like in "24" — remains a guilty pleasure.
Watch "Rabbit Hole" streaming on Paramount+
"Yellowjackets"
"Yellowjackets" was a bonafide pandemic smash for Showtime, earning seven Emmy nominations and renewals for a second and third season following its November 2021 debut. The show follows two timelines: In 1996, a high school soccer team's plane crashes in the Canadian wilderness leading to a 19-month "Lord of the Flies" survival of the fittest situation; and in 2021, when the survivors of that ordeal attempt to move on with their adult lives while forgetting the horrible things they did. Season 2 offered more of the same that made its freshman season a smash hit: Stellar performances from the likes of Melanie Lynskey, Christina Ricci, and Juliette Lewis; and a genuinely shocking plot that veers between darkly funny and deeply disturbing.
Watch "Yellowjackets" streaming on Paramount+
Newsletter Signup
Stay up to date on all the latest news from Boston.com