Streaming
5 must-watch movies & TV shows streaming right now
The best of what's new streaming on Netflix, Hulu, HBO Max, Disney Plus, and more.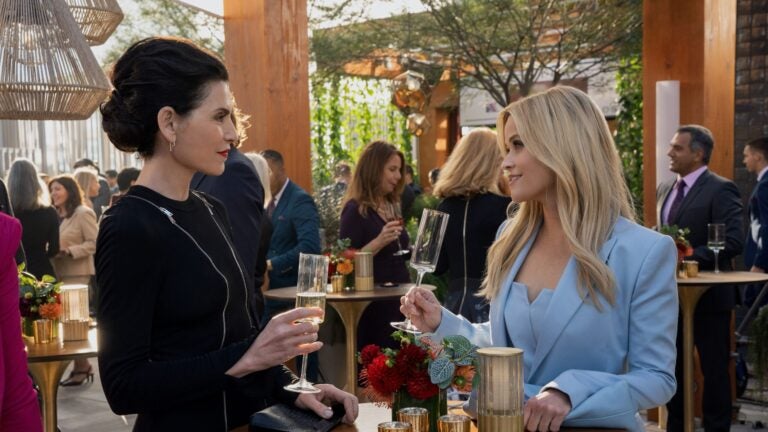 Welcome to Boston.com's weekly streaming guide. Each week, we recommend five must-watch movies and TV shows available on streaming platforms like Netflix, Hulu, Amazon Prime, Disney+, HBO Max, Peacock, Paramount+, and more.
Many recommendations are for new shows, while others are for under-the-radar releases you might have missed or classics that are about to depart a streaming service at the end of the month.
Have a new favorite movie or show you think we should know about? Let us know in the comments, or email [email protected]. Looking for even more great streaming options? Check out previous editions of our must-watch list here.
Movies
"Elemental"
"Elemental" probably falls into the lower tier of Pixar movies — which, to be clear, would make it one of the better movies from a lesser animation studio. The film takes place in Element City, where anthropomorphized versions of the four elemental forces of nature (fire, water, air, earth) coexist in relative comfort — though fire citizens tend to stick to their own neighborhood. The world isn't built to accommodate them, a lesson fire elemental Ember (Leah Lewis) struggles to learn as she looks to take over her father's store. When Ember meets water elemental Wade (Mamoudou Athie), assumptions about how and why elements can't mix are challenged by their burning (and flowing) passions. Peter Sohn's film feels like an extended version of one of the dialogue-free shorts that typically run before Pixar films, a high concept that occasionally struggles to justify its feature length. But there are fundamental truths at the heart of "Elemental" that are worth exploring, and the world of Element City is a fun one to hang out in for 90 minutes.
How to watch: "Elemental" is streaming on Disney+.
"Theater Camp"
If no one else has said it, I would like to officially declare summer 2023 as the summer of Ayo Edebiri. The Dorchester native has been everywhere, killing it on Season 2 of "The Bear," providing fun voice work on the new "Teenage Mutant Ninja Turtles" film, and wrestling with hormones (and women) in "Bottoms." Edebiri only has a few scenes in "Theater Camp," the comedy from debut directors Molly Gordon and Nick Lieberman, but as one of the counselors at the fictional performing arts camp AdirondACTS might tell you, there are no small parts. After camp director Joan Rubinsky (Amy Sedaris) falls into a coma, AdirondACTS is in danger of shutting down, thanks in no part to the lack of business acumen of her son (Jimmy Tatro). In classic after-school-special fashion, it's up to longtime counselors played by Gordon and Ben Platt to put on a big show that will save the camp. Even if you don't have an artistic bone in your body, "Theater Camp" is a hilarious tribute to the theater kids of the world, and a fantastic showcase for the next generation of rising comedic talents.
How to watch: "Theater Camp" is streaming on Hulu.
TV
"The Morning Show"
Apple TV+'s "The Morning Show" heightens its soapiness with each episode, but if you're already on board, that's not necessarily a bad thing. Alex (Jennifer Aniston) and Bradley (Reese Witherspoon) have played the game well, rising to almost untouchable positions of power at the fictional UBA network. But the company's finances are in peril, and UBA's CEO (Billy Crudup) has been talking to tech billionaire Paul Marks (Jon Hamm) about an acquisition. So much has happened since the show's 2019 debut that even the most ludicrous plot twists barely raise an eyebrow in Season 3. But "The Morning Show" remains an addictive guilty pleasure, especially with its propensity to add incredibly talented and charismatic actors like Hamm at will.
How to watch: "The Morning Show" Season 3 is streaming on Apple TV+, with new episodes debuting Wednesdays.
"Welcome to Wrexham"
With their purchase of struggling Welsh soccer club Wrexham A.F.C. in 2020, Ryan Reynolds and "It's Always Sunny in Philadelphia" star Rob McElhenney have created a perpetual triumphant sports moment machine. The club's meteoric rise from the lowest rungs of the English football hierarchy has turned more Americans on to soccer than ever thanks to "Welcome to Wrexham," the FX documentary series chronicling the duo's takeover of the club and the long-suffering residents of the tiny UK town that have supported the footballers through thick and thin. Close followers of English football will know exactly what happens on the pitch during Season 2. But the behind-the-scenes drama and the heartfelt stories of Wrexham's residents will make "Welcome to Wrexham" a worthwhile watch for fans and non-fans alike.
How to watch: "Welcome to Wrexham" Season 2 is streaming on Hulu, with new episodes airing Tuesdays on FX.
"Wilderness"
Maybe it's because "The Morning Show" has me in the mood for high-gloss pulp, but I was surprised by how much I enjoyed "Wilderness," a story of sex and revenge and sexy revenge. A British couple who have moved to New York, Liv (Jenna Coleman) is left unmoored when she finds out her husband Will's (Oliver Jackson-Cohen) affair with his coworker, Cara (Ashley Benson). On a road trip through the Southwest, Liv begins fantasizing about enacting the ultimate revenge on Will, with her negative thoughts only growing when they run into Cara and her unsuspecting boyfriend Garth (Eric Balfour) on the trail. "Wilderness" makes laughable attempts to give Liv's character depth, which should be ignored if at all possible. The real joy of the show is trying to guess how these beautiful people will be horrible to each other next. At only six episodes, "Wilderness" is the perfect junk food viewing for a rainy afternoon.
How to watch: "Wilderness" is streaming on Prime Video.
Need weekend plans?
The best things to do around the city, delivered to your inbox.