Streaming
5 must-watch movies & TV shows streaming right now
The best of what's new streaming on Netflix, Hulu, HBO Max, Disney Plus, and more.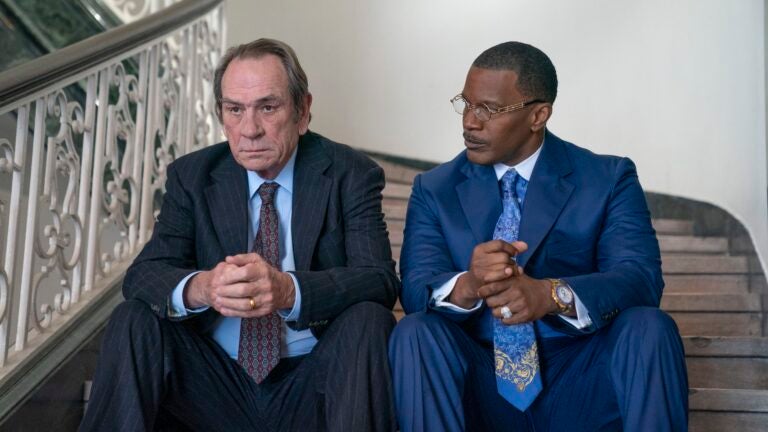 Welcome to Boston.com's weekly streaming guide. Each week, we recommend five must-watch movies and TV shows available on streaming platforms like Netflix, Hulu, Amazon Prime, Disney+, HBO Max, Peacock, Paramount+, and more.
Many recommendations are for new shows, while others are for under-the-radar releases you might have missed or classics that are about to depart a streaming service at the end of the month.
Have a new favorite movie or show you think we should know about? Let us know in the comments, or email [email protected]. Looking for even more great streaming options? Check out previous editions of our must-watch list here.
Movies
"The Burial"
The type of uplifting courtroom drama you used to find in theaters nearly every weekend, "The Burial" is a showcase for its two leading men, hotshot lawyer Willie Gary (Jamie Foxx) and family man mortician Jeremiah O'Keefe (Tommy Lee Jones). Based on a true story, Willie helps Jeremiah file a lawsuit against the funeral-home megacorporation that is ripping him off for millions. Foxx brings more laugh lines to the proceedings than expected, commanding the Mississippi courtroom with ease. Sometimes, all you need for a movie to succeed is two leads with undeniable chemistry. With Foxx and Jones, director Maggie Betts is cooking with gas.
How to watch: "The Burial" is streaming on Prime Video.
"Reptile"
First-time director Grant Singer, best known for making music videos for The Weeknd and Taylor Swift, appears to be following in the footsteps of David Fincher ("Se7en," "Gone Girl"), who shot videos for Madonna before moving into features. His "Reptile" is a film that, while flawed, has a lot of interesting ideas, and is buoyed by the perfect casting of Benicio Del Toro as a small-town New England detective. Del Toro is tasked with solving the grisly murder of a realtor, with initial signs pointing toward her husband (Justin Timberlake) as the prime suspect. Del Toro is the master of the thousand-mile stare, his seemingly impassive face subtly reacting to every detail and machination he encounters.
How to watch: "Reptile" is streaming on Netflix.
"Totally Killer"
Ever since transcending the confines of child stardom as Sally Draper in "Mad Men," Kiernan Shipka has been ticketed for bigger things. Here, she gets her first leading role in a feature film with "Totally Killer," a horror/comedy that winks at predecessors like "Back to the Future," "Halloween," and "Scream" without ever descending into total self-parody. Jamie (Shipka) is the daughter of overprotective parents (Julie Bowen and Lochlyn Munro), who escaped from a Michael Myers-type serial killer in 1987. When the killer returns, Jamie accidentally travels back in time and meets her parents in the days leading up to the killer's initial spree. Shipka remains a star in the making, and "Totally Killer" is a great showcase for comedic timing we only saw glimpses of on "Mad Men."
How to watch: "Totally Killer" is streaming on Prime Video.
TV
"Frasier"
In the opening moments of Paramount+'s "Frasier" reboot, Dr. Frasier Crane (Kelsey Grammer) walks onto a soundstage masquerading as Logan Airport and contemplates a poster on the wall that reads, "Boston's calling … Are you listening?" It's a question studio executives hope will be answered resoundingly — with your viewership and subscription dollars. As far as reboots go, 2023's "Frasier" is half-decent. Grammer remains keyed into the essence of Frasier, a pretentious psychiatrist whose interpersonal relationships suggest he could use a bit of therapy himself. Placed in a new city with a new supporting cast, Grammer and the writing staff conjure up moments of the show's original magic on a line-by-line (or scene-by-scene) basis. That said, the absence of the original supporting cast — specifically brother Niles (David Hyde Pierce), father Martin (the late John Mahoney), and housekeeper Daphne (Jane Leeves) — is noticeable. (Read my full review of the "Frasier" reboot here.)
How to watch: "Frasier" is streaming on Paramount+. CBS will also air the first two episodes on Tuesday, October 17.
"Our Flag Means Death"
HBO Max (now just Max) took a worryingly long time to greenlight a second season of "Our Flag Means Death," the pirate comedy turned stealthy love story. So, if you're a fan of the show, don't wait too long before streaming Season 2, lest David Zaslav and co. make this talented cast walk the plank. In Season 1, we saw wealthy aristocrat turned ship captain Stede Bonnet (Rhys Darby, "Flight of the Conchords") go from total sailing novice to romancing fearsome pirate Blackbeard (Taika Waititi, "Thor: Ragnarok"). In Season 2, their relationship is frayed, but could easily rekindle if the pair can cross the emotional (and literal) ocean that separates them. Complicating matters is Spanish Jackie (Leslie Jones), who puts most of Stede's crew in her employ and takes The Swede (Boston native Nat Faxon) as her 20th husband.
How to watch: "Our Flag Means Death" Season 2 is streaming on Max.
Newsletter Signup
Stay up to date on all the latest news from Boston.com