Streaming
5 must-watch movies & TV shows streaming right now
The best of what's new streaming on Netflix, Hulu, HBO Max, Disney Plus, and more.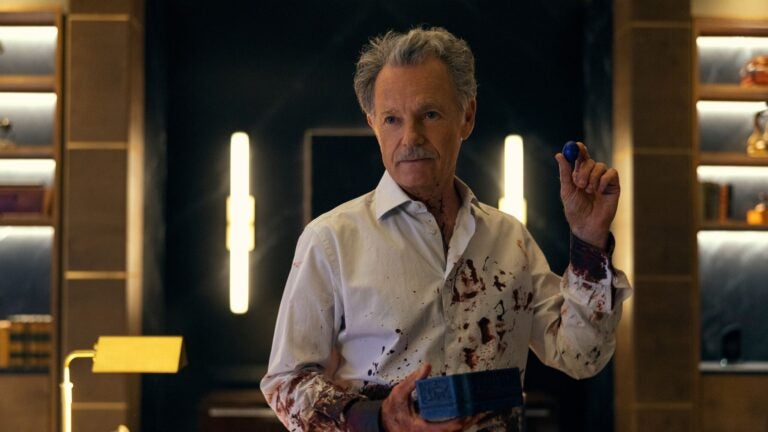 Welcome to Boston.com's weekly streaming guide. Each week, we recommend five must-watch movies and TV shows available on streaming platforms like Netflix, Hulu, Amazon Prime, Disney+, HBO Max, Peacock, Paramount+, and more.
Many recommendations are for new shows, while others are for under-the-radar releases you might have missed or classics that are about to depart a streaming service at the end of the month.
Have a new favorite movie or show you think we should know about? Let us know in the comments, or email [email protected]. Looking for even more great streaming options? Check out previous editions of our must-watch list here.
Movies
"Fair Play"
Netflix is billing this Wall Street drama from director Chloe Domont ("Ballers") as an erotic thriller. There's certainly sexual chemistry between Emily (Phoebe Dynevor) and Luke (Alden Ehrenreich), two rising associates at a hedge fund, but "Basic Instinct" this ain't. When Emily lands the promotion Luke has been dying to get, their relationship sours, with the gender politics of their situation front and center. "Fair Play" doesn't let viewers off the hook, painting both protagonists with shades of gray and letting them both commit ugly, unforgivable acts as they fight to preserve their respective identities.
How to watch: "Fair Play" is streaming on Netflix.
"The Last Waltz"
Before you read any further, take a moment and buy tickets to Martin Scorsese's newest film, "Killers of the Flower Moon." It's a searing indictment of the American way, a stomach-churning drama that features a career-best performance from Leonardo DiCaprio — which is saying a lot. Among the many pitch-perfect parts of "Killers" is the score, a chugging, insistent blues riff by guitarist Robbie Robertson, who served as the lead guitarist for Bob Dylan during his heyday and whose compositions with The Band are widely considered the blueprint of the Americana genre. Robertson began a long career of writing music for Scorsese's films with this 1978 concert documentary, which showcased the build-up to The Band's final performance. (Some members reunited years later, but not in this configuration.) Decades before Peter Jackson re-assembled old Beatles footage for "Get Back," you can see a rock band at the height of their talents beginning to tire of the daily grind, and to a lesser extent, of each other.
How to watch: "The Last Waltz" is streaming on Pluto TV.
"The Shining"
"The Shining" may fit better as a winter movie, but watching the best Stephen King movie adaptation of all time as a lead-in to Halloween makes perfect sense, too. It's hard, at first glance, to understand why King hates the film adaptation of his novel so much. But if you read King's work, you can see why he might not love what Stanley Kubrick did with his haunting, psychologically taxing take on the material. King wrote protagonist Jack Torrance as a worse version of himself, an author struggling with writer's block who heads to a remote Colorado hotel for inspiration (all of which King did, in 1974). But where the book Torrance is a complex, albeit emotionally maladjusted figure, Kubrick's Torrance (Jack Nicholson) is a sociopath from the jump, barely acknowledging the humanity of his wife and son even before he loses his mind. Basically, Kubrick took Torrance (a nightmare version of King) and made him 100 times worse, a decision that audiences have been thankful for since 1980.
How to watch: "The Shining" is streaming on Max.
TV
"The Fall of the House of Usher"
In the past decade, Salem native Mike Flanagan has become one of the most exciting and talented horror directors in Hollywood, helming some of the best Stephen King movie adaptations in recent memory ("Gerald's Game," "Doctor Sleep") as well as several fantastic shows for Netflix ("The Haunting," "Midnight Mass"). Flanagan has struck gold again with "The Fall of the House of Usher," which loosely takes its subject matter from the works of Edgar Allen Poe. Roderick Usher (Bruce Greenwood) shares his name with the character in Poe's original short story, but little else. As the CEO of a shady pharmaceutical company, he and his family are a blight on society, and no one sheds a tear when a mysterious stranger (Carla Gugino) begins to pick off the Ushers one by one. "The Fall of the House of Usher" is a strange beast, a gorefest set in a universe straight out of "Succession." If you're into that sort of thing, it's a ton of fun.
How to watch: "The Fall of the House of Usher" is streaming on Netflix.
"Goosebumps"
Thanks to the prodigal output of R.L. Stine, there are now multiple generations of kids who have grown up on his "Goosebumps" books, which managed to terrify young readers while still remaining age-appropriate for the preteen set. It makes sense, then, that Disney couldn't decide whether to put this 10-episode streaming show on kid-friendly Disney+ or the more adult Hulu — instead settling on both. "Goosebumps" is a bit different than the '90s TV show, which tended to adapt Stine's stories individually in a Show of the Week format. Instead, the series sprinkles in nods to Stine's iconic characters in service of a larger narrative featuring a likable group of young actors. If you've been feeling deprived by the long gaps between seasons of "Stranger Things," "Goosebumps" should whet your appetite.
How to watch: "Goosebumps" is streaming on Disney+ and Hulu.
Newsletter Signup
Stay up to date on all the latest news from Boston.com