Streaming
5 must-watch movies & TV shows streaming right now
The best of what's new streaming on Netflix, Hulu, HBO Max, Disney Plus, and more.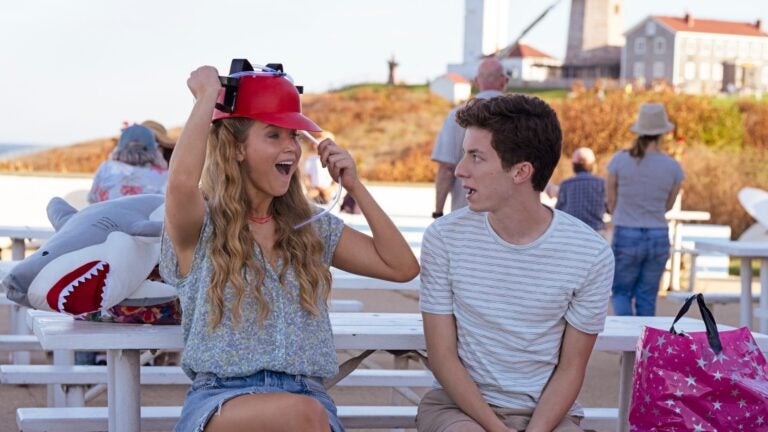 Welcome to Boston.com's weekly streaming guide. Each week, we recommend five must-watch movies and TV shows available on streaming platforms like Netflix, Hulu, Amazon Prime, Disney+, HBO Max, Peacock, Paramount+, and more.
Many recommendations are for new shows, while others are for under-the-radar releases you might have missed or classics that are about to depart a streaming service at the end of the month.
Have a new favorite movie or show you think we should know about? Let us know in the comments, or email [email protected]. Looking for even more great streaming options? Check out previous editions of our must-watch list here.
Movies
"It" (2017)
The notion of clowns, bringers of cheer and merriment, being secretly terrifying has been around for centuries. But few have taken it to the level Stephen King did with his 1986 novel "It," in which Pennywise the Clown (really a demonic entity taking the form of a clown) preys on the children of Derry, Maine. The 1990 TV miniseries starring Tim Curry was already a worthy adaptation, but in 2017 director Andy Muschietti ("Mama") found mainstream success with his big-screen version, which split the novel into two films. The first outing is the stronger of the two, as the chemistry of the child actors in the Losers Club (the Derry kids who vow to take down Pennywise) feels like a throwback to movies like "The Goonies" and "Stand By Me."
How to watch: "It" (2017) is streaming on Max.
"Lady Bird"
Two of the biggest streaming movies releasing this week — Peacock's horror video game adaptation "Five Nights at Freddy's" and "Pain Hustlers," Netflix's pharmaceutical satire starring Chris Evans and Emily Blunt — are unfortunately total duds. Until I start writing "5 must-watch movies and TV shows and 2 you should skip," that's the last you'll hear of them in this column.
Instead, I'll highlight the fact that Netflix has recently added a bunch of movies from A24, the studio responsible for basically all of the best mid-budget films of the last decade. While we patiently wait for Greta Gerwig's "Barbie" to begin streaming on Max, it's worth revisiting her breakthrough, "Lady Bird," which recently resurfaced on Netflix. Lady Bird (Saoirse Ronan) yearns to escape her drab Sacramento life — though, as her mother (Laurie Metcalf) matter-of-factly tells her, she's not smart enough for the East Coast schools she yearns for. You've seen some of Lady Bird's misadventures in other films before, but this is the high thread count version of a coming-of-age drama, thanks to Gerwig's fantastic script and early-career performances from Beanie Feldstein ("Booksmart"), Timothee Chalamet ("Dune") and Lucas Hedges ("Manchester by the Sea").
How to watch: "Lady Bird" is streaming on Netflix.
"No Hard Feelings"
Given the sudden disappearance of the comedy movie from theaters over the last decade, seeing one given a wide release in theaters in 2023 is a cause for celebration. That's what we got earlier this year with "No Hard Feelings," a raunchy throwback starring Jennifer Lawrence as a broke Long Island woman who answers a Craigslist ad to date an introverted high schooler (Andrew Barth Feldman) for cash. The film isn't as raunchy or provocative as the ad campaign suggests, though it seemingly has Gen Z up in arms for daring to feature nudity and treat sex as a topic of amusement. Lawrence has had an interesting career path since winning a Best Actress Oscar at 22, and she fully commits to playing a vain, conniving, and frankly hilarious character for director Gene Stupnitsky.
How to watch: "No Hard Feelings" is streaming on Netflix.
TV
"Bodies"
Up front, I should admit that "Bodies" checks off a lot of boxes for me: It's a murder mystery, it involves time travel (or at least simultaneous timelines), and it is British. The show begins in 2023, when police find a body after a far-right political rally with no ID and no apparent cause of death. As it turns out, the same body has been found in the same place on the same day in 1890, 1941, 2023 and — as the trailer and the show's second episode reveals — 2053. The detectives from each era bring their own energy to "Bodies," but it's the mystery of it all that had me burning through this eight-episode series in record time.
How to watch: "Bodies" is streaming on Netflix.
"Lessons in Chemistry"
Brie Larson was a revelation in 2013's "Short Term 12" and 2015's "Room," for which she won an Oscar. But soon afterward, her career was completely subsumed by franchises, thanks to Larson joining the Marvel Cinematic Universe as Ms. Marvel and popping up in the Fast and Furious series. With "Lessons in Chemistry," Apple TV+'s adaptation of Bonnie Garmus' 2022 best-selling novel, Larson finally has a chance to shed the spandex and play a real character again. The show follows the life and career of Elizabeth Zott (Larson), who leaves her scientist job behind to bring her chemical know-how to the kitchen as the star of her own cooking show. The show occasionally leans too hard on Elizabeth's trauma as a storytelling device, but given that she's a woman living in the 1950s, perhaps that's to be expected. Nevertheless, Larson is delightfully down-to-earth, and her chemistry with Lewis Pullman ("Top Gun: Maverick") is as strong as any she whips up in the kitchen.
How to watch: "Lessons in Chemistry" is streaming on Apple TV+, with new episodes debuting Fridays.
Newsletter Signup
Stay up to date on all the latest news from Boston.com