Streaming
5 must-watch movies & TV shows streaming right now
The best of what's new streaming on Netflix, Hulu, HBO Max, Disney Plus, and more.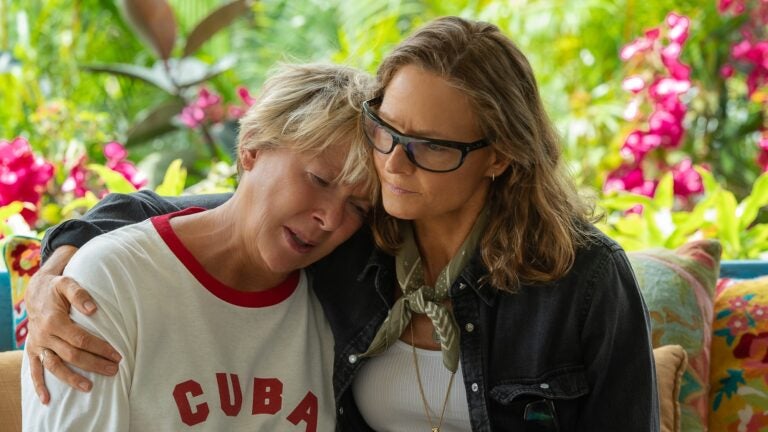 Welcome to Boston.com's weekly streaming guide. Each week, we recommend five must-watch movies and TV shows available on streaming platforms like Netflix, Hulu, Amazon Prime, Disney+, HBO Max, Peacock, Paramount+, and more.
Many recommendations are for new shows, while others are for under-the-radar releases you might have missed or classics that are about to depart a streaming service at the end of the month.
Have a new favorite movie or show you think we should know about? Let us know in the comments, or email [email protected]. Looking for even more great streaming options? Check out previous editions of our must-watch list here.
Movies
"Nyad"
On its face, "Nyad" is a straightforward inspirational biopic, the tale of Diana Nyad (Annette Bening, "American Beauty"), a woman who became the first person to make the 110-mile swim from Havana, Cuba, to Key West, Florida, without a shark cage. But even a biopic that swims in a straight line will float above the rest when Bening and Jodie Foster ("The Silence of the Lambs"), playing Nyad's coach and longtime friend, are at the center of it. Co-directors Elizabeth Chai Vasarhelyi and Jimmy Chin don't let their protagonist off too easily, emphasizing Nyad's character defects — narcissism and self-mythologizing — necessary for her to pull off such a feat almost 40 years after she first attempted it at age 28. The Best Actress field might be too crowded for Bening this year, but Foster seems like a good bet in the Supporting Actress category, serving as the film's (and Nyad's) emotional support system.
How to watch: "Nyad" is streaming on Netflix.
"Quiz Lady"
As a daily "Jeopardy" viewer, the concept behind "Quiz Lady" speaks to me. Two sisters, Anne (Awkwafina) and Jenny (Sandra Oh), head on a cross-country roadtrip so that book-smart Anne can compete on a quiz show to win money and pay off their mother's gambling debt to gangsters who have kidnapped Anne's dog. (Hey, it could happen to anyone!) By this point, Awkwafina's comic talents are unquestionable, and she shines in the buttoned-up role. Known mostly for her dramatic work, Oh is a revelation as the zany wildcard of the pair.
How to watch: "Quiz Lady" is streaming on Hulu.
"The Social Network"
David Fincher's newest movie, "The Killer," is currently enjoying a brief theatrical run before heading to Netflix Nov. 10. (Spoiler alert: It's great, and you can expect to read more about it in this column next week.) For now, catch up with one of Fincher's most enduring films, which was added to Netflix earlier this week. Written by Aaron Sorkin ("The West Wing"), "The Social Network" tells the (lightly fictionalized) story of how nebbish Harvard undergrad Mark Zuckerberg (Jesse Eisenberg) created Facebook in his dorm room and alienated friends and business partners along the way. So many aspects of the film remain influential today, from the haunting first trailer to the foreboding, Oscar-winning score by Trent Reznor and Atticus Ross. It also launched the careers of Eisenberg, Andrew Garfield, and Armie Hammer, and laid the template for a new type of biopic that was seen everywhere in 2023 — including most recently in "Dumb Money," which, like "The Social Network," is based off a book by Boston author Ben Mezrich.
How to watch: "The Social Network" is streaming on Netflix.
TV
"The Gilded Age"
If you're a fan of "Downton Abbey," you've hopefully already hopped on board to "The Gilded Age," which comes from the same showrunner (Julian Fellowes) and tells a similar aristocratic tale set in the cushy confines of 1880s New York City high society. Season 2 of the HBO series adds the slightest bit of historical context to the haughty, soapy proceedings, but the core of the show is still petty drama among New Yorkers of varying levels of wealth and status. The beating heart of the show is Bertha Russell (Carrie Coon), the wife of a new money robber baron who is determined to break into high society at any cost. A major plot line this season, for example, stems from Berta being rejected for an opera box at the Academy of Music, which leads her to pit it against the upstart Metropolitan Opera House. It's a whole lot of frivolous fun featuring incredible costumes and a supporting cast (Christine Baranski, Cynthia Nixon, Nathan Lane) that excels at snide put-downs and withering comebacks.
How to watch: "The Gilded Age" Season 2 is streaming on Max.
"Invincible"
With Marvel's iron grip on the superhero genre (and the film industry writ large) starting to loosen, fans are beginning to look elsewhere for something new and refreshing in their caped entertainment. The surprising winner at the moment is Prime Video, which has drawn critical plaudits and big viewership numbers for its superhero satire "The Boys" and its adult-oriented animated series "Invincible," which returns for a second season this week. (If you haven't watched Season 1 yet, check out this trailer instead of the embedded one above, which has some spoilers.) "Invincible" stars Steven Yeun ("Nope") as Mark Grayson, the son of the world's most powerful superhero, Omni-Man (J.K. Simmons, "Whiplash"). Season 1 is all about Mark finding his own identity when he begins to gain powers of his own, while Season 2 finds him in a more confident and vital role after the shocking events of the Season 1 finale. Also featuring Sandra Oh ("Grey's Anatomy"), Gillian Jacobs ("Community"), and Walton Goggins ("Justified"), "Invincible" doesn't follow the Marvel playbook, and isn't afraid to get dark when the plot calls for it.
How to watch: "Invincible" Season 2 is streaming on Prime Video.
Newsletter Signup
Stay up to date on all the latest news from Boston.com