Streaming
5 must-watch movies & TV shows streaming right now
The best of what's new streaming on Netflix, Hulu, HBO Max, Disney Plus, and more.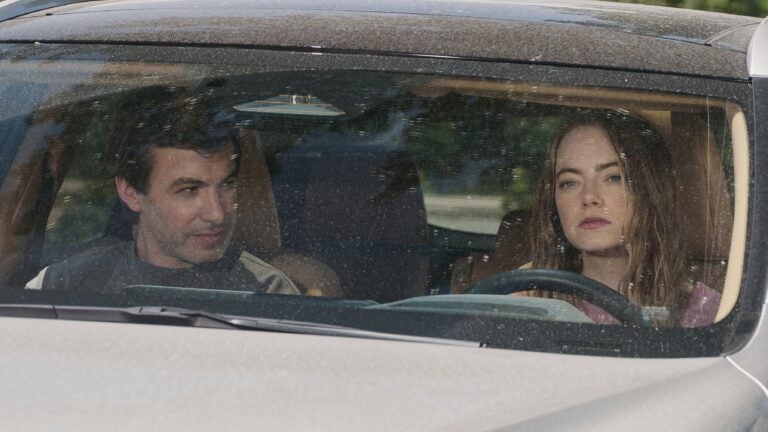 Welcome to Boston.com's weekly streaming guide. Each week, we recommend five must-watch movies and TV shows available on streaming platforms like Netflix, Hulu, Amazon Prime, Disney+, HBO Max, Peacock, Paramount+, and more.
Many recommendations are for new shows, while others are for under-the-radar releases you might have missed or classics that are about to depart a streaming service at the end of the month.
Have a new favorite movie or show you think we should know about? Let us know in the comments, or email [email protected]. Looking for even more great streaming options? Check out previous editions of our must-watch list here.
Movies
"A Haunting in Venice"
Kenneth Branagh's 2022 Agatha Christie adaptation, "Death On the Nile," was a step back for the director thanks to horrendous CGI, lengthy COVID delays, and way too much Armie Hammer. Branagh and famed detective Hercules Poirot are thankfully back in form with "A Haunting in Venice," which combines the usual twist-filled mystery narrative with some genuine jump-scares. Poirot is pulled out of retirement by a novelist pal (Tina Fey), who brings him to a seance run by a seer (Michelle Yeoh) who Poirot suspects is a fake. But when someone is gruesomely killed, everyone at the seance, including his old pal, is a suspect.
How to watch: A Haunting in Venice" is streaming on Hulu.
"The Killer"
Given that almost every film David Fincher ("Gone Girl," "Se7en," "The Social Network") has directed was in conversation for Oscar nominations at some point, you might expect his newest film, "The Killer," to have a certain weightiness. But "The Killer" is simply Fincher's best version of a genre film, in which a cold, calculating hitman (Michael Fassbender) must go on the run after making a rare mistake on the job. I hope "The Killer" at least lands some technical awards, because every facet of Fincher's film — from the framing to the sound to Fassbender's voiceover dialogue — is note-perfect as always.
How to watch: "The Killer" is streaming on Netflix.
"Spider-Man: Across the Spider-Verse"
Watching "Across the Spider-verse" in theaters earlier this year, I was left with a feeling reminiscent of the one I got 20+ years ago when I saw Sam Raimi's "Spider-Man" as a little kid in 2002. The animated sequel finds Miles Morales (Shameik Moore) increasingly struggling with the isolation of being the only Spider-Man in his universe after meeting so many Spider-verse compatriots he could relate to in the 2018 original. When he has a chance to join a multiverse Spider-person task force, he leaps at the opportunity. The "Spider-verse" art style is gorgeous, the script from Phil Lord and Chris Miller ("The Lego Movie") is clever without being arch, and the opening 15 minutes will leave you positively giddy. (Note: This is the middle film in a trilogy, so don't be upset when Spidey leaves you hanging by a thread.)
How to watch: "Spider-Man: Across the Spider-Verse" is streaming on Netflix.
TV
"The Curse"
If you're a fan of the cringe comedy of Nathan Fielder ("The Rehearsal") and the panic-inducing filmmaking of the Safdie Brothers ("Uncut Gems"), you're probably already 100 percent on board for "The Curse,'" a new series from Showtime that satirizes HGTV, gentrification, consumer culture, and a good deal of other things over its 10-episode run. Asher (Fielder) and Whitney Siegel (Emma Stone) are a budding reality TV couple who move to a remote New Mexico town in order to bless the poor residents by building eco-friendly homes, saving them money and helping the environment. But when a local girl places a curse on Asher after filming a scene for their show, things start to go horribly wrong. It's fun to laugh at the Siegels and their misfortune, but be prepared to involuntarily reflect on your own behavior and lifestyle as well.
How to watch: "The Curse" is streaming on Paramount Plus, with new episodes debuting Sundays and airing on Showtime.
"For All Mankind"
When Apple TV+ debuted back in November 2019, it did so with two high-budget new shows: "The Morning Show," the soapy cable news drama starring Jennifer Aniston and Reese Witherspoon, and "For All Mankind," a sci-fi drama that imagined a revisionist history in which the Soviet Union beat America to the moon. While "Morning Show" has grabbed all the headlines, "For All Mankind" has been a consistently better watch. The fourth season, which finds a mix of old new faces continuing to grow the country's burgeoning Mars colony, is a big step up from Season 3. We won't delve much into the plot, especially given the shocking Season 3 finale, but rest assured, "For All Mankind" is worth a watch.
How to watch: "For All Mankind" Season 4 is streaming on Apple TV+.
Newsletter Signup
Stay up to date on all the latest news from Boston.com