Super Bowl LI
The Atlanta brewery that lost a bet to Sam Adams released its Patriots Pale Ale
And they were not happy about it.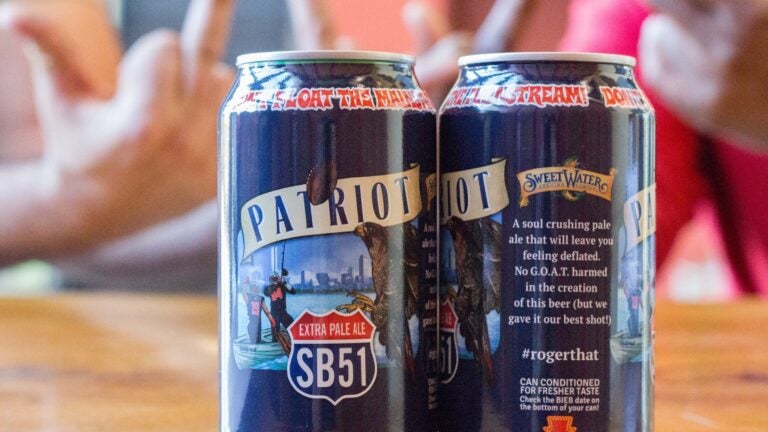 Back in January, Atlanta craft beer maker Sweetwater Brewing challenged the makers of Sam Adams to a Super Bowl bet: the losing brewery would have to brew a beer named after the winning team, with Sam Adams potentially producing Dirty Bird Lager and Sweetwater brewing Patriots Pale Ale.
On Wednesday, Sweetwater posted a photo of the New England cans on social media, and they were none too happy about it.
"It's the bet that keeps coming back to bite us in the a** with @SamuelAdamsBeer," the brewery wrote on Instagram. "We have 100 of these god awful cans at brewery tours for souvenir beer. Hopefully today only."
The beer's label tells the sad tale of Falcons fans left downtrodden by the Super Bowl 51 result.
"A soul crushing pale ale that will leave you feeling deflated," the label reads. "No G.O.A.T. harmed in the making of this beer (but we gave it our best shot!)"
Sweetwater and Sam Adams weren't the only Super Bowl-related bets between the two cities. Kane's Donuts made a similar wager with an Atlanta doughnut shop, while Massachusetts Gov. Charlie Baker should be receiving stew, apple pie, and chocolate-covered blueberries from Georgia Gov. Nathan Deal.
If any Patriots fans were hoping to ask an Atlanta friend to pick up a few cans of Patriots Pale Ale, they're out of luck.
"Cans are all gone," Sweetwater wrote on its Facebook page Wednesday. "Thankfully."