Super Bowl
7 expert picks for drinking wine like a pro on Super Bowl Sunday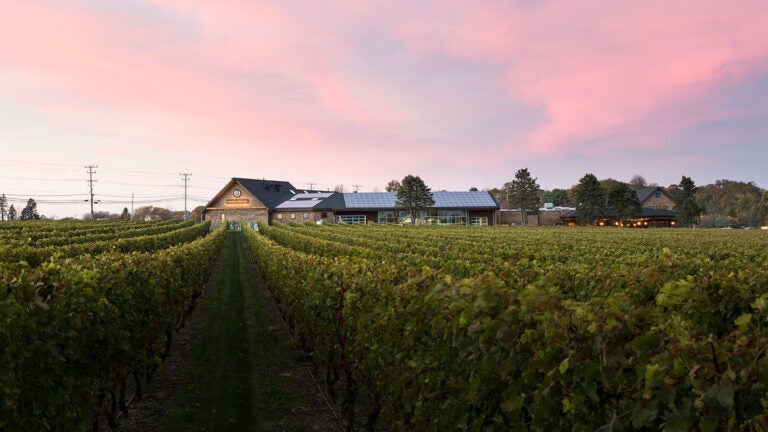 There's a reason why beer goes so well with football foods like chicken wings, nachos, and pizza. The bubbles act as a palate cleanser, which helps balance out rich, carb-, and fat-laden dishes. But surprisingly, according to a 2016 Nielsen survey, there's another alcoholic beverage you may want for your Super Bowl table: wine.
Although beer is still No. 1 for the big game, 20 percent of respondents said they'd be drinking wine instead of beer for the Super Bowl. Wine is especially popular with millennials, who drank 160 million cases of vino in 2015—nearly half of all wine consumption in the U.S. Plus, with a food spread filled with cheese, carbs, more cheese, and more carbs, even a deep red can feel lighter than a pale ale.
We asked two local wine experts, Nicholas Daddona, wine director and sommelier at the Boston Harbor Hotel and Meritage restaurant, and Joe Ferraro, assistant wine buyer at Social Wines in South Boston, for their Super Bowl selections.
Less than $20 a bottle
1. Sparkling: Bohigas Cava, $15
Ferraro recommends a sparkling wine because it works well with fatty and salty foods. "Bubbles and a light body counteract and balance fatty, rich foods, like just beer does," he said.
2. White: Les Deux Moulins Sauvignon Blanc $11
Try to stick with wines that have a lighter body to balance against the richness of typical football food. "This Sauvignon Blanc is crisp and dry and will give you the textural balance you are looking for when eating things like nachos and wings," Ferraro said.
3. White: Thirsty Owl Riesling, $14
Ferraro suggests going the sweet route if your Super Bowl menu has bold flavors. "With spicier foods, particularly Buffalo chicken wings, a sweet Riesling is the perfect counterpoint to the heat," he said.
4. Red: Bacchus Pinot Noir, $16
"Wine doesn't have to be geeky or expensive, and it shouldn't feel like you need to take a class to enjoy the grapes," Ferraro said. "This red from California is very popular and light, and has a juiciness that pairs well with salty and carb-heavy foods."
New England wines
5. Sparkling: 2007 Westport Rivers Brut RJR, $30
Daddona said that this Westport, Mass.-based winery produces "one of the best sparkling wines in the U.S.," and it's a palate cleanser in between bites of cheesy goodness.
6. White: Turtle Creek Chardonnay, $20
For the lighter, pre-game spread (read: crudités and dip), Daddona recommends this Lincoln, Mass.-based Chardonnay for its light body and texture. "It's from one of my favorite wineries, and the perfect aperitif for the Super Bowl," he said.
7. Red: Newport Vineyards Cabernet Franc, $29
Rhode Island's cool climate makes this New England winery's Cabernet Franc brighter and higher in acidity than your traditional California red, Daddona said. "Similar to bubbles, acidity is great for refreshing the palate," he said. "It's also a great winter wine."