Travel
11 notable Bostonians share their favorite winter vacation spots in New England
Cold-weather fun isn't far away.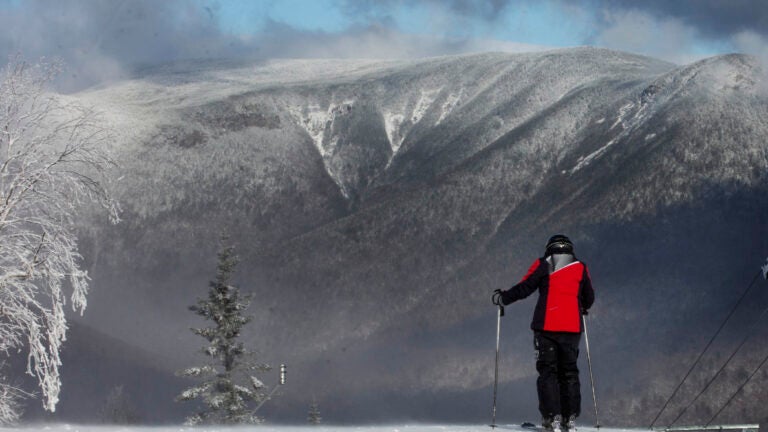 Need winter travel inspiration? We asked chefs, authors, TV anchors, and other local personalities to share their favorite cold-weather vacation spots across New England.
Anthony Everett, co-anchor of WCVB's "Chronicle"
"The best way to survive a New England winter is to embrace it, so I head to the mountains. I enjoy skiing at Loon Mountain in New Hampshire and Sugarbush in Vermont. And après ski, you'll find me by the fire at The Common Man in Lincoln, New Hampshire or in Castlerock Pub at the base of Sugarbush."
John Andress, director/curator of performing arts at the Institute of Contemporary Art
"I always take a trip up to Portland in the winter. It's great year-round, but walking along the cobblestone streets in the Old Port on a snowy afternoon with a cup of coffee is a reason to live in New England. Culturally, the city is thriving. I make a point to stop by SPACE Gallery and the [Institute of Contemporary Art at the Maine College of Art] to satisfy my cultural cravings. And an afternoon at the Portland Museum of Art is always time well spent. The culinary scene is among the best in the country, and with good reason. I've had gobsmackingly delicious meals at Little Giant, Piccolo, and Hugo's, and I hope to try Drifters Wife on my next trip — if I can get a reservation. My tip: Leave the car at home and take the train from North Station. The views along the way are stunning."
Adrienne Wright, executive chef of Boston Urban Hospitality (Boston Chops, dbar, Deuxave) and contestant on the new season of Bravo's "Top Chef"
"Stowe, Vermont is where I go for some of the best snowboarding on the East Coast. While there, I also love to check out the delicious baked goods produced by Maurizio Odermatt at the Trapp Family Lodge Kaffeehaus Bakery. It is a great winter getaway in New England."
Jason Santos, chef/owner of Abby Lane, Buttermilk and Bourbon, and Citrus and Salt
"My wife, Thuy, and I love to get away to North Conway for a little skiing and outlet shopping during the winter. We stay at the New England Inn, which is in Intervale, N.H., right next to North Conway, and they have individual log cabins with fireplaces in them. There is also a pub called the Tuckerman's Restaurant that is part of it, which has great New England food and drinks. It is a great place to go after being on Cranmore Mountain skiing all day. We spend a couple days skiing and a couple days shopping in the outlets while we are there."
Alex Leichter, member of the USA Curling Team
"When I am able to find a free weekend during the curling season, I try to head up to Vermont to go skiing. I grew up skiing in Stowe and still love the impressive range of terrain on the mountain. The beauty of Vermont is pretty hard to top in any season."
Jenna Blum, author of "The Lost Family" and the New York Times best-selling "Those Who Save Us"
"I love to go to the Cape beaches in the winter to see the frozen waves scribbled on the sand. My black lab, Woodrow, loves it too — he plunges like a polar bear into the water no matter what the temperature."
Shayna Seymour, co-anchor of WCVB's "Chronicle"
"Covered bridges, red barns, mountains, freshly fallen snow, charming villages, shopping, fresh food, and après ski — there's no place I'd rather visit in New England during the winter months than Vermont. My favorite holiday/winter getaway spots are Woodstock for its lodging and shopping, Stowe for its skiing and dining,  and Waitsfield for its beauty and down-to-earth vibe. While in Vermont, I love to put on a warm and cozy sweater and sit by a fire."
Chef Daniel Bruce, Boston Wine Festival founder and chef at the Boston Harbor Hotel and Meritage
"My wife and I love going to Jackson, New Hampshire for a winter getaway. I start doing the Boston Wine Festival in January, so we try to get up there before my busy season starts. We both love to cross-country ski, and it is beautiful up there. My friend Ellie Koeppel owns The Wentworth Inn up there, so we stay there and visit with her. It is a great getaway."
Mikko Nissinen, artistic director of the Boston Ballet
"Kennebunkport is a fabulous place to visit for its variety of restaurants, including The White Barn Restaurant and On the Marsh Bistro [both in nearby Kennebunk], their glorious beaches, even in winter; and their welcoming fishing community."
James Geary, deputy curator at Harvard University's Nieman Foundation for Journalism and author of "Wit's End: What Wit Is, How It Works, and Why We Need It"
"I would have to say Deer Isle, Maine, because that's a place that I just think is gorgeous all year-round. There's something about the Maine coast that is severe and embracing and intense all year-round. Also, because my favorite painter, John Marin, he painted there a lot and I love his paintings."
Will Willis, co-founder of Bully Boy Distillers
"Escaping winter around here is futile so I'd rather embrace it by heading to New Hampshire to ski at Waterville Valley. I love everything about skiing, and you can learn a lot about a person when freezing together on a chairlift."
Responses have been edited for clarity and grammar.