TV
IFC's 'Bullet in the Face': Over-the-top spoofery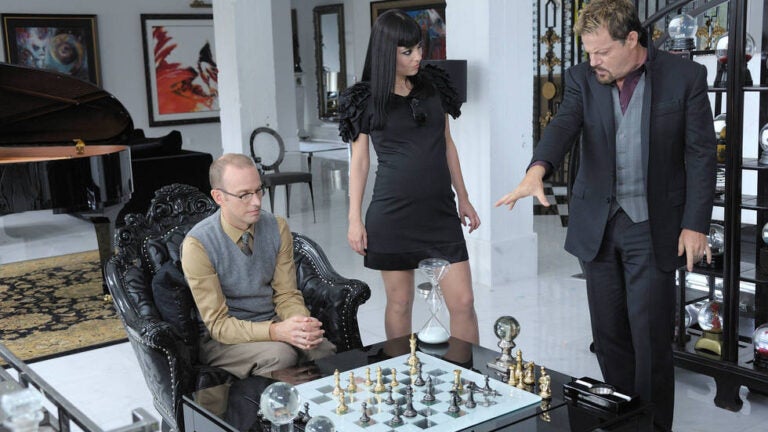 If FX's animated "Archer'' were a live-action series, it might look something like "Bullet in the Face.'' This happily deranged new IFC series is an over-the-top spoof of a TV crime drama, with a cast of characters who are human cartoons of TV's usual suspects. Za villains shpeak vis really really bad German accents, kind of like Boris and Natasha from "The Rocky and Bullwinkle Show'' by way of Deutschland.
What you need to know right away is that the six-episode comedy, starting tonight at 10, was created by Alan Spencer, the man responsible for the cult sitcom "Sledge Hammer!'' In the mid-1980s, "Sledge Hammer!'' was a punchy, subversive cop-show parody that actually made it onto network TV — ABC. It was a few big leaps beyond "Get Smart!,'' with a violence-loving lead detective who slept and showered with his cherished gun.
Now, with "Bullet in the Face,'' Spencer conjures up the same cult sensibility of "Sledge Hammer!'' and ushers it into the more politically incorrect and graphic world of 2010s America and cable TV. The violence on the show is particularly po-mo, as the bodies fall like candlepins and you hear the slo-motion blood spatter hitting the wall. This is a show that wouldn't have been made before Quentin Tarantino infused screen violence with wit. It fits beside the other violent movie fare IFC is airing this week, its "Bullet Vision'' week, including the Tarantino-penned "From Dusk Till Dawn.'' But there's as much zany Mel Brooks in "Bullet in the Face'' as there is Tarantino.
The show begins with a psychopathic assassin for the mob, Gunther Vogler (Max Williams), getting shot in the face. He wakes up in the hospital with a new face, that of a dead police officer. The cops, led by Commissioner Eva Braden (Jessica Steen) and Lieutenant Karl Hagerman (Neil Napier), want to use him now to bring down the mob, led by Tannhauser (Eddie Izzard). Mayhem ensues, none of which much matters. The show is all about the dumb one-liners, the jokey violence, and the hammy acting. Yes, Izzard and hammy acting, a natural-born duo. Izzard is perfect as the idiot boss who believes that leprechauns really exist. Eric Roberts, another ham-loving actor, is also on hand as a mysterious crime boss who goes through mob soldiers like pistachio nuts.
I'd say "Bullet in the Face'' is hit or miss, but in a comedy series like this one, the hits are meant to be misses. The jokes are so bad they are funny, if you have a twisted sense of humor, which I do ("Strangers With Candy,'' still miss you). I do think that IFC is doing the show a disservice by airing the first three episodes back-to-back Thursday, and the final three Friday night. That approach suits the network's "Bullet Vision'' theme of the week, but not necessarily the show. Each half-hour is so exaggerated and crazy, you need a break between them in order to brush the stupid off your brain.