TV
For real celebrity talk, time to turn to the ear-o-sphere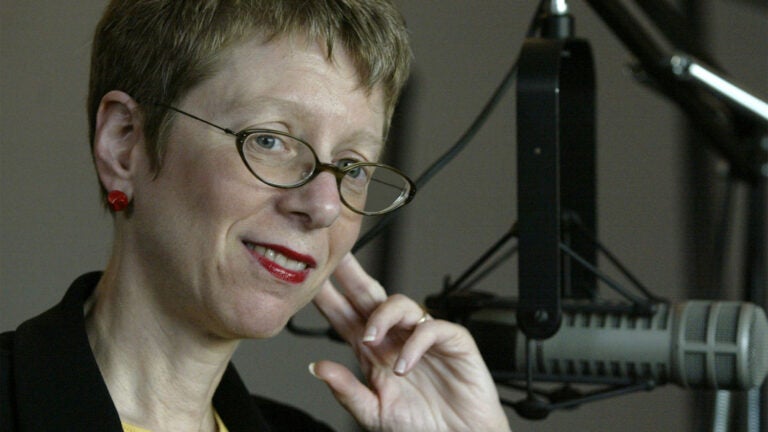 I love Lisa Kudrow. She has better than survived "Friends'' by creating and starring in the pioneering TV comedies "Web Therapy'' and "The Comeback.'' The former began as a Web series before going to Showtime, the latter, a fake reality show, failed on HBO and became a cult legend. She seems like an interesting person.
Having seen her on "The Tonight Show With Jay Leno'' last week, I still know nothing about her, beyond the little I already knew — that she's funny-spacey, that she delivers lines with uniquely halting timing, that she wants us to watch "Web Therapy.'' Kudrow delivered a loosely scripted performance on Leno, with predetermined shtick about her in-laws, and my curiosity about her imagination and her career journey remains unsatisfied.
That's just the way it is — or isn't — on TV talk shows, except, perhaps, "Charlie Rose.'' If you want to hear something real, unrehearsed, and largely nonpromotional from a star, you aren't going to find it on "Anderson'' or "Conan'' or "Late Show With Dave Letterman.'' All you'll find will be prefabricated nonsense — devised, in advance of filming, between the guest and the host's producer and punctuated by the setting up of a clip. These shows are the inoffensive, airbrushed Hollywood façade in action. The host doesn't listen and follow up so much as sit poised to make the next joke; the guest is his or her opportunity.
The fact that a wave of new babble fests is upon us certainly won't change the nature of the beast. Oh, Katie Couric and Ricki Lake and Jeff Probst and Steve Harvey — who all have talk shows premiering within a week — will guarantee more substance, more sincerity; they're like politicians campaigning for your attention and will promise you the world. But I'm betting these hopefuls continue to protect Hollywood like some kind of Jabber Mafia preserving an unspoken code: a jovial and artificial tone makes audiences more receptive, more passive, more ad-friendly. Like Jimmy Fallon and Jimmy Kimmel and Ellen DeGeneres, they will deliver an hour of sweetness, light, sales, and marketing. And that's OK, if you're not expecting more. Sometimes pabulum is just what the stress doctor ordered.
But is candor dead? Are slips and accidents, with their tabloid consequences, the only times that honesty and spontaneity can burst forth in entertainment?
No, not at all. For inquisitive audiences, there is plenty of frankness out there, in the world of podcasts and radio. If you want to hear more from the people who are providing us with movies, TV shows, comedy acts, and music, you'll find it in the ear-o-sphere. I know, I know; they're only celebrities, not world-changers like politicians and genetic scientists. Who cares what they think and who they are? But in fact we spend untold hours with the products of these creatives, watching, listening, and reading their work. They are our cultural signposts, and as such their stories can be worth knowing.
And so, along with millions of others, I'm finding plenty of substance in podcasts — both original podcasts such as "WTF With Marc Maron'' and radio shows available as podcasts, such as "Fresh Air'' featuring Terry Gross. Podcasts, for those who don't know, are radio shows and radio-style shows (made solely for podcasting) that are available on demand, mostly for free. You can listen to podcasts online, or load them onto your device and consume them — and fast-forward and rewind them — whenever you like. Just as you can DVR a TV show, you can podcast aural entertainment.
For many of the guests on podcasts — and they can range from Anthony Bourdain, Fiona Apple, and Joan Rivers to J.J. Abrams, Amy Poehler, and David Cross — there is something liberating about not being seen. It's as if, without having to undergo the makeup chair, they forget to put on their masks. Often, their guard isn't up, or if it's up, at least it's not as impenetrable as it might be with a camera in their face. At an NPR studio, guests may have a small but palpable sense that what they're saying will register on an audience, but at Maron's "Cat Ranch'' studio, which is in his garage in Los Angeles, guests can feel as if they're talking to a tiny underground, or just to Maron himself. Each Maron episode is downloaded a few hundred thousand times — that's as many people as watch CNN on a given night — but the guests don't sense that kind of popular scrutiny.
At the same time, the guests experience a different and better kind of pressure that comes with being unseen. Without the visual distractions of TV talk shows, the guests are more driven to deliver engaging conversation. What they say, not what they look like, is the focus. And they can't rely on semi-scripted banter; podcasts are long (often more than an hour) and generally uninterrupted, so the talk inevitably expands into unforeseen territory.
I've heard some really revealing talk on "WTF'' and on "The Nerdist,'' another podcast-only show hosted by Chris Hardwick (with Jonah Ray and local boy Matt Mira). I've also heard moving, funny, and candid stories on Stephen Tobolowsky's "The Tobolowsky Files,'' his narratives about being a journeyman actor. Molly Shannon was on "WTF'' earlier this year, and it was lovely. She talked about losing her mother, younger sister, and cousin in a car accident, when her alcoholic father was driving. She was in the car too, 4½ years old, and she recalled the aftermath with a riveting clarity.
"The Nerdist'' spoke with Connie Britton in January, and, while she recalled no shocking incidents, she told long, relaxed stories. I felt as if I had spent easy, quality time with an actress whose work I've admired for years. J.J. Abrams talked to the "Nerdist'' guys last year about the shortcomings and isolating nature of technology, which shed some unexpected light on the themes of his movies and TV shows. Interestingly, when a guest appears on a podcast and doesn't relax — I'm thinking of Jason Sudeikis, who was stubbornly politic and nice on "WTF,'' or Mindy Kaling, who felt that veteran stand-up Maron would judge and pigeonhole her — it's illuminating in its own way. And when a guest is super comfortable and playful — check out the "Nerdist'' hour with Bryan Cranston — it's a joy.
Howard Stern has long been famous for digging in and pulling out honest answers, and deservedly so; but there is too much self-reference and sideshow material burying the good stuff. Plus, he is no longer free. Maron has a way of prying out truth from the likes of Robin Williams without any obvious, Stern-esque baiting. When Maron's interviews get real, as they have with writer-actor Todd Hanson of "The Onion,'' who talked about his suicide attempt, and Norm Macdonald, who talked about his gambling issues and religion, they can be transporting.
I can't say a TV talk show has ever been quite so compelling for me, much as I can sit vegging out like everyone else, watching Lisa Kudrow dressed in eye-popping blue joking predictably about her teenage son. Podcasts — and there are many other good ones to be found, beyond the ones I've mentioned — have so much more potential to fascinate. Conan and Jay and Jimmy and Dave can fight over late night, and Katie and Ellen can fight over daytime as loudly as they want. I'll have my headphones on.