TV
'Modern Family,' 'Homeland' dominate the Emmys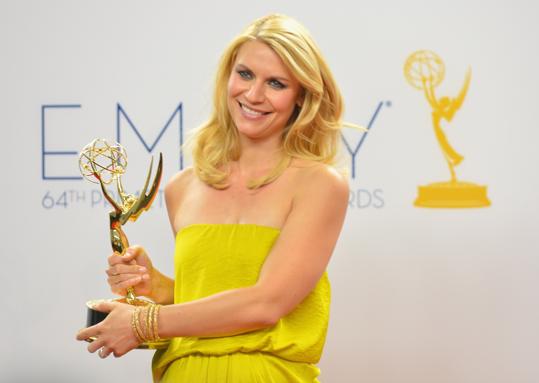 Oh, Emmy, Emmy, Emmy. What are we going to do with you? For every lovely gift you give — a "Homeland'' sweep in the top drama categories, a best comedy actress statue to Julia Louis-Dreyfus for "Veep,'' lots of love for "Game Change'' — you kick us in the knees a few times.
Jon Cryer as best comedy actor? Julie Bowen and Eric Stonestreet once again for "Modern Family,'' which predictably took a third statue for best comedy? A ninth award as best reality show for "The Amazing Race''? Kevin Costner over Benedict Cumberbatch as best movie-miniseries actor? Really? Bah.
But that's just the way the weather is in Emmy country — samey, with a chance of change. Or, as Jon Stewart put it after winning his 10th best variety show prize last night, post-apocalyptic aliens will find his box of statues in the future and "they will find out just how predictable these [expletive] things can be.'' Stewart got bleeped, probably with extra-special glee by the Emmy producers.
The "Homeland'' sweep came as the night's best surprise; many assumed Bryan Cranston would leave with his fourth Emmy for "Breaking Bad.'' The show, Showtime's first-ever win for best drama, is a thinking-man's "24'' driven by its two spectacular lead performances. Damian Lewis, as a POW who might or might not have been a terrorist, played the role with precise ambiguity, but he accepted his best-actor statue last night with unambiguous grace: "I'm one of those pesky Brits,'' he began. And Claire Danes, who showed just how formidable she is on "Homeland,'' accepted her best actress prize exuberantly, and very pregnantly, with lots of love for costar Mandy Patinkin.
The "Homeland'' wins kept "Mad Men'' from breaking the best-drama record by winning its fourth statue. It also made sure "Mad Men'' continued to lose every acting award it has ever been nominated for.
On the comedy side, the Academy of Television Arts and Sciences voters offered little surprise by going big for "Modern Family,'' culminating in a third best-comedy win and second supporting wins for Bowen and Stonestreet. None of the drama prizes went to major networks, but many comedy nods did.
Some wondered if Lena Dunham might steal best actress for her fresh, self-mocking turn on "Girls,'' or take home a writing statue for the show. But it was not to be.
Louis C.K., who won two writing Emmys, also failed to upset in the comedy actor category as many predicted. Instead, the voters went for Cryer for "Two and a Half Men.'' They might also have been recognizing Cryer for getting through the Charlie Sheen mess, and taking over the series, without a loss of dignity. Cryer was in shock as he accepted his award, and so, no doubt, were many viewers.
Jimmy Kimmel hosted the Emmy cast from the Nokia Theatre like he hosts his late-night show — calmly, modestly, with solid-enough material, including a joke about how "Downton Abbey'' has provided us with a look at "what it was like to grow up in Mitt Romney's house.'' He noted how few Republicans are in Hollywood — and that was before "Game Change'' nearly swept the movie categories.
Kimmel captured the night's mood, which was easy-going and casual. The winners joked, and the losers joked, including Amy Poehler, who had a cute routine about thank-you notes with Louis-Dreyfus while Louis-Dreyfus accepted her statue. The pace, as far as these Hollywood self-love-fests go, was brisk.
And Kimmel and the show were helped along by quickie videos that added variety to the telecast. We saw Kimmel getting the Botox smacked out of him in a ladies' room by a bunch of actresses, including Kathy Bates, Martha Plimpton, and Louis-Dreyfus, topped off by a nod to The New: Dunham naked in a stall eating cake.
A look at how "Breaking Bad'' might have looked on network TV brought us "The Breaking Bad Show,'' modeled after the "Andy Griffith Show'' opening with Walt and Jesse going fishing as Andy and Opie. We saw Steven Levitan of "Modern Family'' coaching Dustin Hoffman through a line reading of "Mrs. Robinson you're trying to seduce me,'' and little Lily from "Modern Family'' terrorizing the cast.
A few notes: Jessica Lange, winner as supporting actress in a miniseries for "American Horror Story,'' can make an acceptance speech into one-act drama. Julianne Moore's smile was as bright as her yellow dress, as she exclaimed upon winning best actress for "Game Change,'' "I feel so validated because Sarah Palin gave me a big thumbs down.'' At this point, Palin has been a bit of a godsend for actresses, including Tina Fey.
The red carpet was swelteringly hot during the preshows, which is dangerous. Celebrities melt faster than normal people. But it also gave reporters an ultra-smooth segue, as in "Speaking of hot, how 'bout that "Breaking Bad''?
E! introduced a new gimmick, the Mani-cam, created to complement its exclusive Stiletto-cam and Glam-cam 360. The Mani-cam is a little box with a little red carpet that celebrity fingers can walk along while we study the magic of their manicurists. It was thrilling to see Julianne Hough and Kerry Washington's cuticles up close. So carefully trimmed, so neat.
Heidi Klum was proud of the slits in her sea-foam colored dress, and she pulled a few Angelina Jolie knee moves as she made the rounds. Standing next to her, Ryan Seacrest looked particularly short and troll-like, a visual joke he made the most of. He's a Social Sally, that guy, and he greets everyone with warmth and the promise of free publicity. He didn't mention January Jones's raccoon eyes, and he sent "a lot of good vibes'' to Danes in her bump-friendly yellow gown. He didn't even sweat. "I think he's a Stepford Wife,'' Ricky Gervais said as he walked away.