TV
Fantasy gets real on 'Game of Thrones'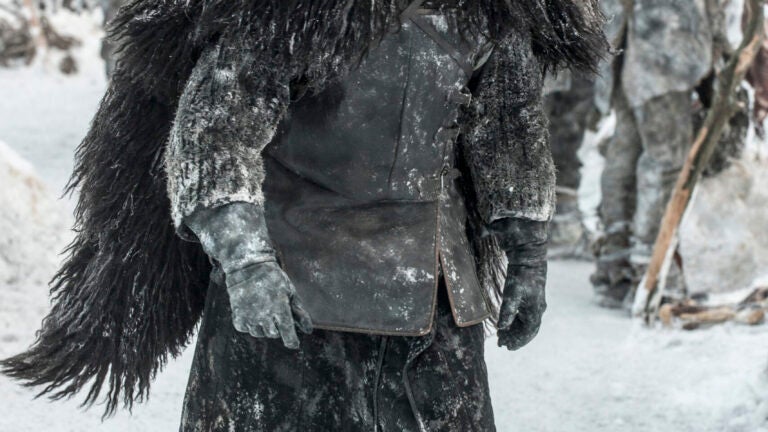 Since its premiere in 2011, HBO's "Game of Thrones'' has become one of TV's richest, most celebrated, and most unlikely hits. The brutal, political, intimate, and visually absorbing epic has managed to succeed equally with lovers of the lengthy novels by George R.R. Martin, with new initiates, and with fantasy-phobic viewers like me, who never imagined themselves falling madly in love with any saga containing fire-breathing dragons and dark priestesses who give birth to smoke-monster assassins.
That's quite an accomplishment for a TV series, to simultaneously meet the picky standards of diehards, clearly introduce a labyrinthine universe to newcomers, and seduce those who generally run screaming from the fantasy genre. And based on the first four episodes of season 3, the show will only continue to win loyalty from all quarters of its audience. "Game of Thrones'' returns on Sunday at 9 in excellent form, ready to deliver the first half or so of Martin's "A Storm of Swords'' with deepening story lines, transporting images of cold blue landscapes, and, if you listen closely to Peter Dinklage as Tyrion Lannister, wry vaudevillian shtick.
One of the best things about the series — what has helped to attract me and other fantasy-averse viewers — is the moral complexity. Yes, it's a cliché at this point: All cable series require morally complex characters or else they can't be "quality TV.'' But in a genre so often split simplistically into good versus bad, angels versus monsters, light versus dark, it is particularly refreshing to enter a magic-filled world that has roots deep in the ambiguities of our own. "Game of Thrones'' is a twisted story in which heroes behead and are beheaded and triumph is always compromised and temporary. I have no idea where the "Game'' will end, but I'm betting there won't be a ton of sunny happily-ever-afters there.
Because "Game of Thrones'' is so colored with realism, it can even feel inaccurate to label it as fantasy. There are dragons and an occasional glimpse behind the wall at the White Walkers, who reanimate the dead. But, amid the struggles for the Iron Throne in the kingdoms of Westeros, "Game of Thrones'' seems most of all like a medieval historical drama, one whose portrait of political aspiration, corruption, decadence, and self-destruction is timeless, despite all the savagery. There's as much if not more of "Vikings'' and "The Tudors'' here than "The Lord of the Rings.'' Just as HBO blew open the western genre with "Deadwood'' and the crime drama with "The Wire,'' the channel, with Martin and executive producers David Benioff and D.B. Weiss, expands the potential of fantasy with "Game of Thrones.''
The season picks up where last season left off. Jon Snow (Kit Harington) falls in with the Wildlings, which means we get to watch the commanding Ciaran Hinds as Wildling leader Mance Rayder. In the anarchic world beyond the wall, Rayder tells Snow, "We don't kneel for anyone.'' Hinds, who was Caesar in season 1 of "Rome,'' is always a welcome addition (excluding his miscast turn in "Political Animals''), as is Diana Rigg, who plays the shrewd Lady Olenna, known as the Queen of Thorns.
The endlessly entertaining Lannisters remain in the seat of power in King's Landing, with bratty King Joffrey (Jack Gleeson) and Margaery Tyrell (Natalie Dormer) on course to marry. Tyrion is enmeshed in conflict with his diminished sister, Cersei (Lena Headey), as well as with his irrational and cruel father, Tywin (Charles Dance), who yells at him, "The next whore I catch in your bed I'll hang.'' The scenes involving the Khaleesi, Daenerys Targaryen (Emilia Clarke), are, for me, the most mesmerizing, as she gathers an army to pursue her claim to the throne. At one point, she watches a soldier trained to be machine-like stand and ceremoniously let his nipple be cut off. Clarke doesn't have a lot of emotional variety to work with as Daenerys, aside from fierce determination, and yet she is riveting.
Who else is here? It would be impossible to sketch it all out, as we catch up with Bran, Arya, and Sansa Stark, as well as Samwell Tarly of the Night's Watch. "Game of Thrones'' is packed with many, many characters and story lines, and Benioff and Weiss delineate and juggle them all effectively given the time restraints. There are moments when the narrative seems about to fracture into shards of disconnected storyline, especially if you haven't read the book series; and then it all inevitably comes together grandly.
Throughout the series, the troubled continent of Westeros subtly and indirectly resonates with our own global situations, as we watch the movements of a collection of factions who all believe they deserve some shred of power or land or royalty. The show beautifully depicts a massive game of musical chairs, a world at war with doom ever present just across the border.