TV
An 'awkward conversation' with comedian W. Kamau Bell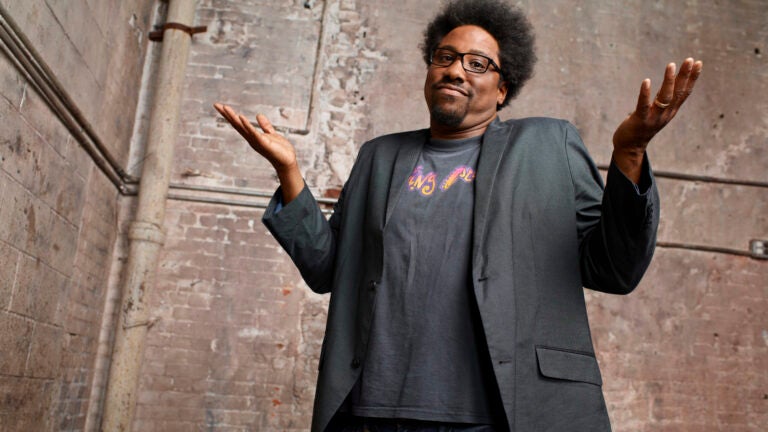 When it comes to the world of stand-up comedy, the line between a joke being funny or offensive can be razor thin at times.
Comedian W. Kamau Bell, who performs at the Sinclair Wednesday night, doesn't mind walking this tight rope with his act, as long as he's offending the right people.
"I certainly have jokes that offend people,'' Bell recently told Boston.com. "But in general, I think those jokes are offending people I don't want in the audience in the first place.''
While the former host of FXX's late-night show "Totally Biased'' isn't afraid to let his opinions be known, he doesn't crack jokes at the expense of just anybody. In fact, Bell prefers to use his platform as a comic to further positive yet "awkward'' discussions about race, gender, and a slew of other important societal topics that don't often come up in casual, water cooler conversations.
When the comic does decide to call someone out, it's usually for a specific reason.
"As a comedian, I love playing with the sharp knives in the drawer,'' Bell said. "But I also want to make sure that if somebody gets cut, it's somebody I wasn't worried about anyway.''
"I can't just randomly throw knives, I got to sort of throw knives at the targets I want to hit.''
Earlier in his career, the San Francisco-based comedian learned the hard way about "painting in broad strokes'' with his stand-up routine, after a trusted friend took issue with the way he handled topics surrounding women and sexism.
"The more she talked, the more I realized that if I shut up and listened, I can probably get this to a better place,'' Bell said. "And, ultimately, I think I did. Now when I write, I try to be careful.''
While Bell now approaches his work with the utmost thought and care, that doesn't mean he's afraid to express his honest opinions on stage. In fact, the comedian wants to use his platform to generate even more "awkward conversations'' among audience members, like the one he had with his friend all those years ago.
Bell's progressive approach to performing doesn't mean he looks down on the work other comics are doing. At the end of the day, his goal is the same as theirs: to make people laugh.
"That doesn't make me better than any other comedian,'' Bell said. "I'm trying to get the same healthy, gut laughs like every comic – I just set a list of rules for myself.''