TV
Recap: 'Mad Men' Season 7, Episode 4 'The Monolith'
'Mad Men' Recap: Unhappy Don Gets Back to Work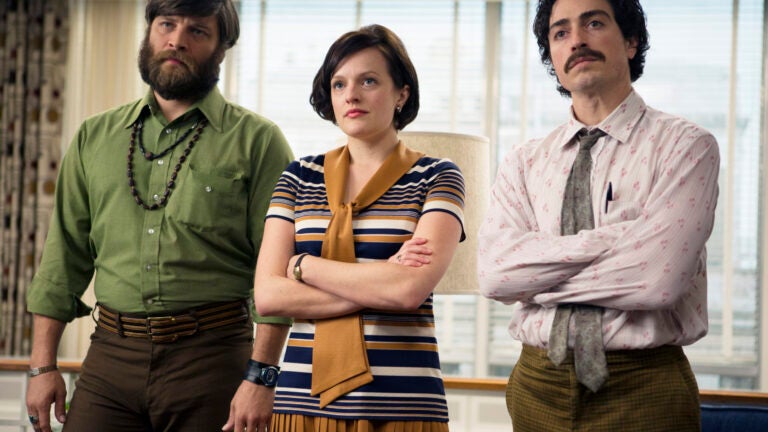 Sunday's episode of "Mad Men'' saw Don Draper finally back at work in the office, however, the returning creative director is — as expected — not too happy with the new restrictions the other partners have placed on him.
Now forced to work out of the late Lane Pryce's old office, Don has been effectively demoted to a glorified copywriter with little say in the company's affairs. If his tenure at Sterling Cooper & Partners wasn't already looking bleak, the agency purchases a state of the art computer that further diminishes creative's role within the company.
The new technology, acquired after Harry Crane's nagging in the previous episode, is put on full display in the office as Jim Cutler thought it best to replace the creative team's lounge with the enormous computer servers. The move is a bold statement by the agency, which basically says that the golden age of creative in the world of advertising has come to an end.
While Michael Ginsberg and others express their displeasures with the purchase and loss of their lounge, Don tries to reel in one of the computer company's representatives who is on site during the installation.
After an amicable conversation, Don goes to Burt Cooper with the proposition, but the founding company member quickly shoots the idea down and chastises him for talking to a potential client without another partner present, a breach of his new restrictions. Burt also reminds a frustrated Don that the company was doing fine while he was gone, and that his status as a partner doesn't mean he's relevant.
The last straw for Don comes when his replacement, Lou Avery, and the partners decide to place him under Peggy Olson on a campaign for Burger Chef, a new client brought in by Pete Campbell. When Peggy calls Don and another copywriter into her office to assign them work, he ignores the assignment.
Like a rowdy teenager who has been suspended from school, Don continues to neglect his restrictions by sneaking a bottle out of Roger Sterling's office, getting wasted, and skipping out of work early to go to a Mets game with Freddy Rumsen.
There are a few interesting choices by the show's creators in this sequence.
First, the motif of the Mets, which show up earlier in the episode when Don finds Lane's old banner, may be indicative of the creative director's struggle with the company. The team was the laughing stock of the MLB for most of the '60s, but finally got it together in 1969 (the year "Mad Men'' season 7 takes place) when they won the franchise's first World Series. The rock bottom to top of the mountain theme goes perfectly in line with Don's attempt at a comeback.
Also, pairing a sober Freddy (who was hilariously impaired in earlier seasons) with a down and out Don is also a nice touch by the writers. The reversal of roles really highlights the dark spiral Don has descended, and Freddy is, oddly enough, the guardian angel trying to slap him back to reality.
As he lays face down on his couch after a lengthy bender, Don may not like hearing Freddy preach sobriety, but in his head, he knows that he's right. The only way to get back to his former glory is to get back on the grind and do the work.
While most of the episode was a rocky road for Don, the final scene seems to show him taking the right path as he even gives Peggy some respect by telling her that he'll finish the assignment she wanted him to do. As he sits at his typewriter, banging out taglines, Don looks to his window, likely pondering what may be a long and hard road back to the top.
Roger's family problems go off the reservation
While Don is trying to scrap his way back up the ladder at SC & P, fellow partner Roger Sterling is fighting a completely different battle on the home front.
Mona comes to the office to inform Roger that his daughter, Margaret, has abandoned her husband and child and joined a hippie commune. The parents drive out to retrieve her, but Margaret, who now calls herself Marigold, has no interest in staying in a loveless marriage like her mother.
While Mona is infuriated, Roger understands his daughter's thirst for freedom and interest in psychedelic culture. For once, we see him act like an interested parent as Roger stays the night on the commune to try and empathize with his little girl.
Initially, he's convinced that she's found some sense of enlightenment, a feeling of contentment that Roger has struggled to find the entire series. However, he awakens in the barn in the middle of the night to the sound of Margaret sneaking out to make love to one of the commune's residents.
Now, Roger, a noted lothario, knows how sex can warp a person's mind about the realities of a situation, and he doesn't want to see his daughter make the same mistake. He tries to physically take her away, but they slip in some mud, symbolic of how they both have dirty consciences. After Margaret pretty much calls out Roger's absence as a father and equivocates it to her decision to leave her family, he relents and knows that he can't change her mind.
Peggy stumbles up the ladder
If Don was the bad kid in class, Peggy was the frazzled teacher left to clean up the mess.
The partners' decision to put Peggy in charge on Burger Chef and place Don under her did not go well with the returning creative director, especially when she tasked him and a young copyrighter to come up with 25 taglines each.
Don really acted like a snot-nosed teenager in detention who decided to skip out on Peggy's follow-up meeting in order to play solitaire at his desk.
Feeling completely disrespected and frazzled since she can't really fire Don, Peggy gets a consolation prize when Lou surprises her with a big raise.
The kind gesture and new power over her old boss should empower Peggy, but Don's disrespect coupled with the purchase of the computer (and not to mention her continued longing for Ted Chaough) are keeping her from putting her best foot forward.
By the episode's end, Don tries to make amends with her by saying he'll have the taglines to her by lunch. He finally shows Peggy some respect in their new dynamic and, hopefully, she will show some more confidence now that she has more power in the agency.
Other Thoughts:
Pete's looking sunny: He's finally brought in some new business that he hopes Bob Benson won't touch. Plus, things seem to be going well with his new fling.
Nice guy Lou?: Lou was actually nice to Peggy for once and gave her a big raise. Not sure if he's genuinely being kind or just using it to dig at Don some more.
Guardian angel Freddy: No more pants wetting for this guy. Helping Don through his struggle with alcohol was a perfect touch to the episode.