TV
Bryan Cranston on More 'Breaking Bad': 'Never Say Never'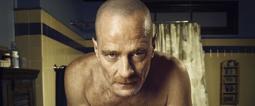 What Bryan Cranston said to Ashleigh Banfield during a CNN interview on May 29 could either be the greatest hint drop of all time, or the world's biggest tease.
[Spoiler alert: Don't read this if you didn't finish watching the entire series of "Breaking Bad'' yet.]
Cranston was the focus of a CNN segment with Banfield called "The Many Faces of Bryan Cranston,'' and during the interview, Banfield brought up the finale of the show (and his character Walter White), which earned him a Golden Globe this year.
Banfield: "I wasn't so sure that you died. I wasn't. Your eyes were open and I thought, 'What if the police just take him into custody, he gets better, breaks out and just goes nuts?'''
Cranston: "Hey, you never saw bags zip up or anything.''
Banfield: "Is he dead?''
Cranston: "I don't know.''
Banfield: "No movie? No nothing? No Walter White ever again?''
Cranston: "I don't… Never say never.''
Dun dun dun.
Now that you've picked your jaw up off the floor, we want to know what you think.
[fragment number=0]
"Breaking Bad'' wasn't the only revival discussed during the segment. Banfield asked if he would be reuniting with Mulder and Scully from "The X-Files,'' a show which he appeared on for a Vince Gilligan-produced episode (Gilligan produced "Breaking Bad'') and he said, "I sure hope so.''
"If it weren't for that opportunity to do that one episode on "X-Files'' I would not be sitting here,'' Cranston added. "I wouldn't have had the chance to do 'Breaking Bad.'''