TV
They May Not Have Won Golden Globes, But These Are TV's Top 10 Characters of 2014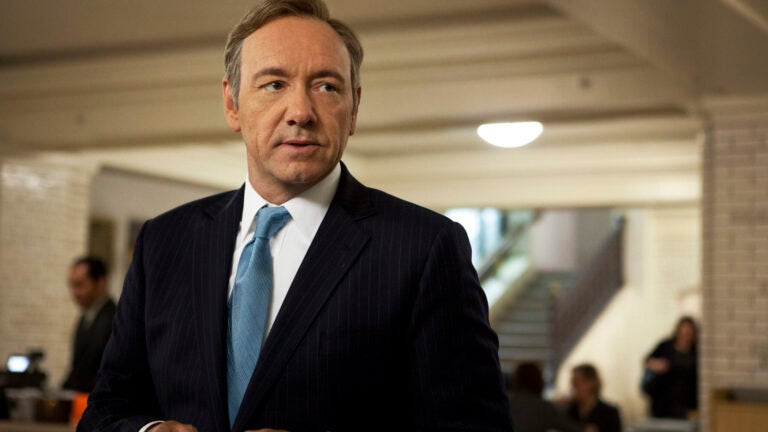 It wasn't easy putting together a top 10 list of 2014's best characters in television. Just thinking of the personalities I had to leave off pains me.
The flashy, optically-challenged Prince Oberyn Martell on Game of Thrones. Selena Meyer of Veep. Representatives from Mad Men, The Americans, Sons of Anarchy, Girls, Masters of Sex, The Missing…the list could go on forever. It's a testament to just how powerful and deep television has become in this new Golden Era for the medium.
Since the Golden Globes surprised everyone last night by dubbing "The Affair'' best TV drama, I felt it was necessary to share my 10 best characters from 2014 (including best TV comedy Transparent's Maura (formerly Mort) Pfefferman):
10. Tommy Shelby (Cillian Murphy), Peaky Blinders (Netflix/BBC)
Peaky Blinders is every inch the show Boardwalk Empire should have been, and it's Murphy's steely-eyed, tormented World War I tunnel-rat veteran turned Birmingham gangster (the title of the show refers to the razor blade-equipped caps his gang wears for slashing purposes) is the heart of its pulpy core. It's hard to beat Murphy's scenes with his growling Batman-bad guy counterpart Tom Hardy, playing the bearded boss of London's Jewish mafia. This show hasn't gotten the social traction it should; at six episodes per season, it's the perfect holiday vacation-time watch.
9. Peter Gregory (Christopher Evan Welch), Silicon Valley (HBO)
This is a sad one, as Welch — arguably, the breakout performer in HBO's fantastic new series — unfortunately passed awayjust before Silicon Valley premiered. At least we'll have his hysterically quirky role as eccentric strange-o billionaire Peter Gregory to remember him by. Just watch his wild-eyed reaction to the suggestion of a college education, or his in-person encounter with rival mogul Gavin Belson. Silicon Valley will continue, and it will in all likelihood still be great, but it aches to think of how much it — and we — lost with Welch's death.
8. Suzanne "Crazy Eyes'' Warren (Uzo Aduba), Orange is the New Black (Netflix)
Just about every member of the Orange is the New Black cast could make this list thanks to a brilliant sophomore campaign, but it was Crazy Eyes' arc (played flawlessly by Boston-area native Uzo Aduba) that sticks. Her manipulation by power-hungry Vee Parker (Lorraine Toussaint) was heartbreaking, and her surprising, groundwork-laying backstory episode was one of the most affecting of all of the OITNB flashbacks.
7. Fiona Gallagher (Emmy Rossum), Shameless (Showtime)
"Shameless'' has been the overlooked great drama/comedy of the last five years. It's an uncompromisingly grimy and brutally funny slice of lower-class Chicago life, and Emmy Rossum's astonishing performance as the slowly fraying eldest daughter, Fiona, is its brightest light. Her self-destructive descent into drug addiction and incarceration was train-wreck, must-watch television.
6. Maura Pfefferman (Jeffrey Tambor), Transparent (Amazon)
How often does one actor create three unforgettable television characters? The man who's already given us two classics — befuddled sidekick Hank Kingsley in The Larry Sanders Show and corrupt, hilarious patriarch George Bluth on Arrested Development — adds a third in Transparent. This is his most remarkable creation yet, a transgendered male-to-female named Maura (formerly Mort) Pfefferman, head of a uniquely dysfunctional family (his children and ex-wife, played by Amy Landecker, Jay Duplass, Gaby Hoffmann and Judith Light, respectively, are also fantastic). It's clear Tambor will go down as having perhaps the most uniquely accomplished career in the medium's history.
5. Forrest McNeill (Andy Daly), Review (Comedy Central)
The first season of Review was the Fred Lynn rookie season for comedy programs. It took a relatively simple premise — staid TV host Forrest McNeill, played perfectly by the always-great Daly, commits himself to reviewing any activity his viewers request him to do — and went down a multitude of deep, dark, hilarious paths. Take the third episode, for example, where Daly's McNeill follows up a gut-busting request to "Eat 15 Pancakes'' with the cringe-worthy challenge to divorce from his much-adored wife of 14 years. It's brilliant, edge-pushing television, and Daly deserves an Emmy for his always-upbeat performance.
4. Molly Solverson (Allison Tolman), Fargo (FX)
Fargo was an event series that shouldn't have worked. Taking the themes from one of America's greatest movies, transferring it to the small screen with a completely new cast and a new story? What are the odds that anyone could pull that off? Yet, somehow, it worked thanks to an impeccable cast. Billy Bob Thornton's malicious Lorne Malvo and Martin Freeman's meek Lester Nygaard were terrific, but it was breakout star Allison Tolman's turn as the genial, overlooked, and ultimately brilliant small-town cop Molly Solverson that was the show's brightest spot. Solverson — the spiritual descendant to Frances McDormand's Marge Gunderson in the original movie — was warmly endearing as the determined but overlooked small-town police officer. She's the breakout freshman sensation of 2014.
3. Carol Peletier (Melissa McBride), The Walking Dead (AMC)
In its fifth season, The Walking Dead finally reached a quality level that matched its ratings. Melissa McBride's astonishing transformation of once-meek Carol into the cold-bloodedly decisive woman of action (her sniper rifle assault was James Cameron-level fantastic) helped get it there. For those who thought that nothing could top the Game of ThronesRed Wedding for mind-zapping, knee-rattling television shock and awe, "Just look at the flowers, Lizzie'' — that scene still shakes us to the core.
2. Frank Underwood (Kevin Spacey), House of Cards (Netflix)
In the age of the grim and relatively humorless male antihero (Don Draper, Jax Teller, Ray Donovan) its refreshing to see a lead take delight in being the bad guy. Spacey clearly loves playing the terrifyingly ruthless Underwood, and he devours the role like a great white shark chomping on a hapless swimmer. His pairing with the similarly icy Robin Wright Penn — just as enjoyable as Underwood's equally Machiavellian wife, Claire — makes for one of the most captivating couples in the history of television. It'll be a dark joy to watch and see what Underwood can do to the highest office in all the land for season three.
1. Arya Stark (Maisie Williams), Game of Thrones (HBO)
You think it could be anyone else? We laugh at you. Of all the remarkable characters throughout all the worlds on this phenomenon of a show, it's Maisie Williams' (talented eons beyond her 17 years) Arya Stark with more steel in her heart than she wields with Needle that stands out the most. Her trek through Westeros with The Hound — at turns hysterically funny and shockingly violent — eventually produced one of the most wrenching TV moments of the year, and she got the goosebump-inducing hammer to season four, sailing off to Braavos as the music swelled. She's the pick for 2014's best character on television. We can't wait to see what she'll do across the Narrow Sea in season 5.
So, there's my list. Of course, I realize how polarizing modern television has become — it seems like fans now are as partisan and as passionate for their favorite television shows as they are for their sports teams. So make your arguments, please. I want to hear your opinions on the characters I should have included or shouldn't have included. Go ahead, yell at me. That's what the comments are for, after all!