TV
Stephen Colbert is feeling the Bern
Bernie Sanders will be a guest during the second week of Colbert's run on 'The Late Show.'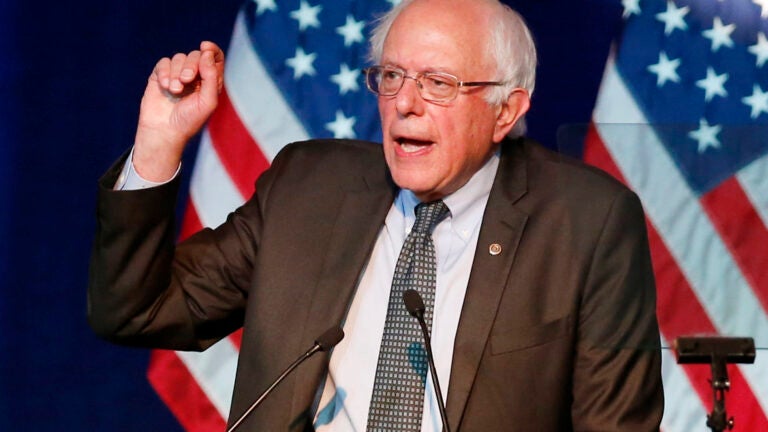 Berniemania is coming to The Late Show.
Democratic presidential hopeful Bernie Sanders is set join Stephen Colbert during his second week as host of the CBS late night show. The episode airs on Friday, September 18 and will also feature an appearance by actress Lupita Nyong'o.
The Vermont senator previously hung out with the comedian during his run on The Colbert Report back in 2014.
[fragment number=0]
Colbert has a stacked lineup of interviews and performances set for his first two weeks behind the desk on The Late Show:
-September 8: George Clooney and Jeb Bush, musical performance by Jon Batiste and Stay Human
-September 9: Scarlett Johansson, Elon Musk, and Kendrick Lamar
-September 10: Uber CEO Travis Kalanick, musical performance by Toby Keith
-September 11: Amy Schumer, Stephen King, and Troubled Waters
-September 14: Emily Blunt and Justice Stephen Breyer, musical performance by The Dead Weather
-September 15: Jake Gyllenhaal, musical performance by Run The Jewels with TV On The Radio
-September 16: Kevin Spacey, Carol Burnett, Abbi Jacobson, Ilana Glazer, and Willie Nelson
-September 17: Naomi Watts and United Nations Secretary-General Ban Ki-Moo
-September 18: Lupita Nyong'o, Senator Bernie Sanders, and the stars of An American in Paris
2016 presidential candidates
[bdc-gallery id="140212″]