Ben Affleck
'Project Greenlight' is back, and it's finally a reality series
Ben Affleck and Matt Damon are also richer and better-looking.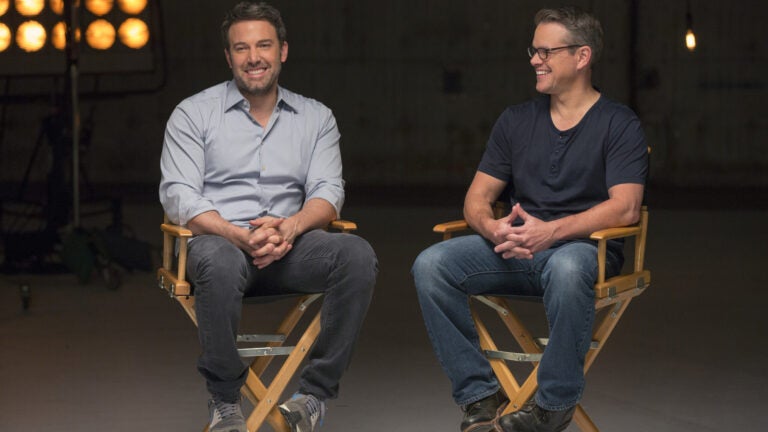 HBO launched Project Greenlight in 2001, as producers Matt Damon and Ben Affleck were still riding the wunderkind high of Good Will Hunting, vetting amateur filmmakers as they made their first full-length motion pictures.
The show followed the '90s influential indie film boom, but perhaps moved too slowly on the upkeep to reap its success. Its three projects flopped once they hit the box office.
However, after nearly a decade hiatus, the fourth season's premiere aired Sunday with a focus on New York director Jason Mann. Despite its ernest roots, Project Greenlight has found its inner reality diva.
Handpicked from a pool of 13 Facebook finalists, Mann will benefit from the esteemed mentorship of the Farrelly Brothers, as well as a new and improved budget of $3 million. And we benefit from watching Batman encounter his latest foe — a tiny-budget director with a major ego.
Spoiler alert: We know the rest — thanks to the Internet. Mann strongarmed his short film, The Leisure Class starring The Mindy Project's Ed Weeks, into production.
Mann opted to forego the Farrelly Brothers' proposed script Not Another Pretty Woman, a female-led comedy about the ins and outs of prostitution. In promos for the season, Affleck deemed it "the riskiest season [they've] ever done,'' interspliced with plenty of high-drama soundbytes from Mann, who has not shrunk away from interviews damning the experience.
The fundamental series has evolved as well, no longer putting the high-pressure stakes of a box office debut on its director. Instead, The Leisure Class will have an HBO Films premiere, and the series' storyline falls on Mann's battles as he attempts to preserve his own creative vision from the studio (and an exasperated Damon-Affleck) with as many hissy fits and brooding glares as an episode's editor will allow.
This is good reality TV. But will it make a good movie?
According to Mann, "This movie could taint my career for the next 40 years.''
But isn't all of this bad? Not neccessarily. The series could benefit from a jolt from the modern day World Wide Web, as could Mann's movie. Producer Chris Moore told Vulture that when the series originally started out, they "weren't 100 percent sure discovering screenplays off the Internet was really leading toward massively successful movies.'' Not to mention, "people are a little wary about submitting stuff on the Internet.''
Especially when the Internet looked like this:
[fragment number=0]
Project Greenlight airs Sundays on HBO at 10 p.m.
What to tune into this September
[bdc-gallery id="113498″]