TV
The dudes from the 'Sea Monstah' video were the most Boston people ever on Jimmy Kimmel
"Jimmayyyyy, what's up, kehd?''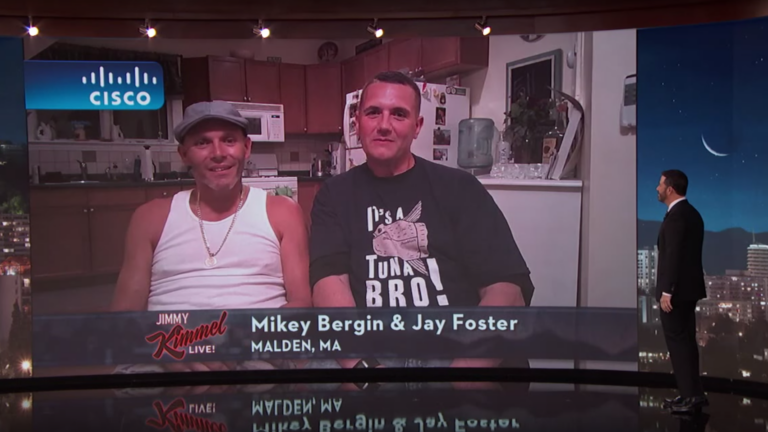 Malden's Michael Bergin and Jay Foster—otherwise known as Mikey and Jay from your favorite viral 'sea monstah' sunfish video—appeared on Jimmy Kimmel Live! Tuesday night. And they didn't fail to show America that they are still the most Boston people ever.
"Jimmayyy, what's up, kehd?'' Mikey said when he video-chatted in from what appeared to be one of their kitchens.
The rest of the interview proceeded exactly as you would expect.
Kimmel asked Mikey and Jay what else they thought the sunfish was ("I was hopin' it was a tuna, kehd, imagine the money we woulda got?''), how long it took to reel the fish in ("Aw, we didn't reel it in, we just kept pullin' around it with the boat.''), and, most importantly, their opinions on Deflategate.
Kimmel asked, "What are your thoughts on Tom this season?''
Mikey and Jay:
[fragment number=0]
[fragment number=1]And then Kimmel asked, "What do you think about the commissioner of the NFL?''
Mikey and Jay:
[fragment number=2]
[fragment number=3]"I'm just gonna say right now, I'm in love with the both of you,'' Kimmel said.
"And we love you, dude!'' Mikey said.
Mikey and Jay from Malden: one step closer to becoming Boston's new Matt and Ben. Just don't go all Hollywood on us, guys, OK?
[fragment number=4]
Boston's biggest bros:
[bdc-gallery id="463135″]