TV
Stephen Colbert to Ben & Jerry: Make 'Caramel Fiorina' and 'Martin O'Mallomar'
He suggested flavors for candidates besides Bernie on his show Wednesday.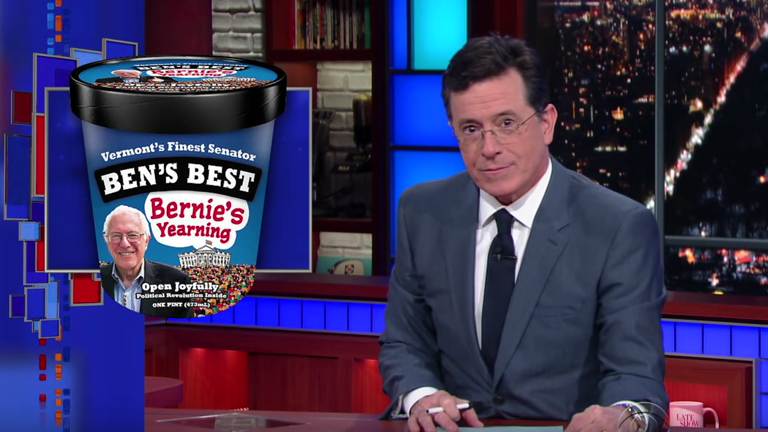 On Wednesday's episode of The Late Show, Stephen Colbert critiqued "Bernie's Yearning,'' the limited-edition Bernie Sanders-themed Ben & Jerry's flavor, for violating the "well-known ice cream equal time law.''
"Legally, Ben [of Ben & Jerry's] has to give equal churn time to all the candidates by making a flavor for each of them,'' Colbert said. "We already have 'Bernie's Yearning,' why not 'Caramel Fiorina?'''
Ben Cohen of the Ben & Jerry's duo thought of the Bernie's flavor all on his own, making pints in his own kitchen. The flavor is essentially mint chocolate chip but features a thick disc of solid chocolate on top of plain mint ice cream as a symbol for Sanders's message about economic inequality.
"It's a clever idea, but I've got some news for Ben,'' Colbert said on his show. "In reality, that top 1 percent generally doesn't have a lot of chocolate in it.''
Colbert continued to suggest candidate-themed flavors:
– "Martin O'Mallomar'' – "Mike Huckabee's Life Begins at Confection'' – "Hillary's Whatever Flavor You Want This to Be''
[fragment number=0]