TV
Bernie Sanders (briefly) hosted The Late Show with Stephen Colbert last night
Including helping introduce the guests.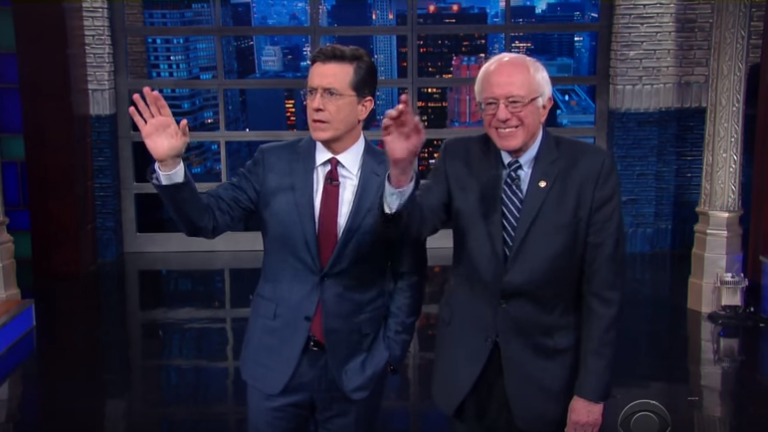 Democratic presidential candidate Bernie Sanders brought his brand of politics to late-night TV Wednesday when he helped Stephen Colbert open The Late Show.
As he hit the stage, Colbert told the audience that he couldn't wait to get to his desk to talk about the "unprecedented clustermunch'' that the New Hampshire primary was, he said, but that he had to follow the late-night protocol of standing up for an intro monologue. Then Sanders appeared to shake things up.
"Senator, these shows are supposed to start with the host standing up talking to a camera,'' Colbert said onstage.
"Stephen, that's what the elites want you to think,'' Sanders responded. "You've gotta follow your heart. Go your own way. The revolution is possible. You are the revolution.''
The candidate then helped Colbert announce the episode's guest, which included his own name.
"How did you get him?'' Sanders said when Colbert said he'd be sitting down to interview the senator. "He's electrifying!''
Before the show's opening credits ran, Sanders had one last announcement: "Last night, Bernie Sanders won the New Hampshire primary by 22 points, no joke!
Check out Colbert's interview with Sanders here.