TV
Watch Kasich and Colbert debate what should happen with the empty Supreme Court seat
The Republican presidential candidate appeared on The Late Show Wednesday night.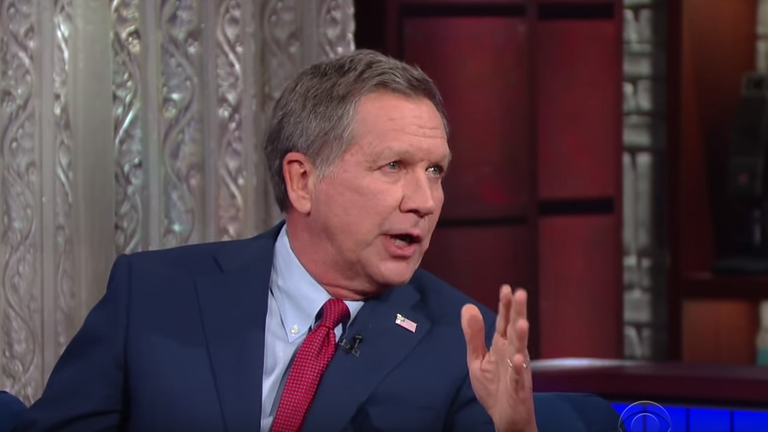 Republican presidential candidate John Kasich appeared on The Late Show with Stephen Colbert Wednesday night, where he discussed debates and the issue of nominating a Supreme Court justice.
Kasich, who placed second after Trump in the recent New Hampshire primary, talked about all the fighting in politics and told Colbert that he's campaigning on positivity and non-partisanship. He also expanded on his belief that debates have become "demolition derbies.''
"Debates are the dumbest thing going,'' Kasich replied.
The Ohio governor and Colbert then debated the issue of whether or not President Obama should nominate a Supreme Court justice following Justice Antonin Scalia's death.
Kasich said that there's so much fighting in Washington right now that whomever the President nominated wouldn't be supported by the majority.
"We're not even gonna get that with the president,'' Colbert replied, to which the crowd agreed with applause.
"You're gonna have an election now in, before we know it, the blink of an eye,'' Kasich responded. "And then that person who's elected president will have the confirmation to be able to appoint who they want, and I think it will be a more orderly, less political fight than it is now.''
The Late Show audience didn't seem to agree, booing Kasich after that comment.
Kasich ended his appearance by telling Colbert and the audience that he's "tired of all the fighting down there.''
"I want to have respect between the parties again,'' he continued. "I want them to stop demonizing one another, and I want to have everybody remember that we have to pull together, in my opinion, with conservative programs to raise the country. I did it when I was budget chairman, I've done it in Ohio, and I want to go back and unify the country and do it as president.''