TV
Here's how fans reacted to last night's Game of Thrones premiere
Spoilers ahead.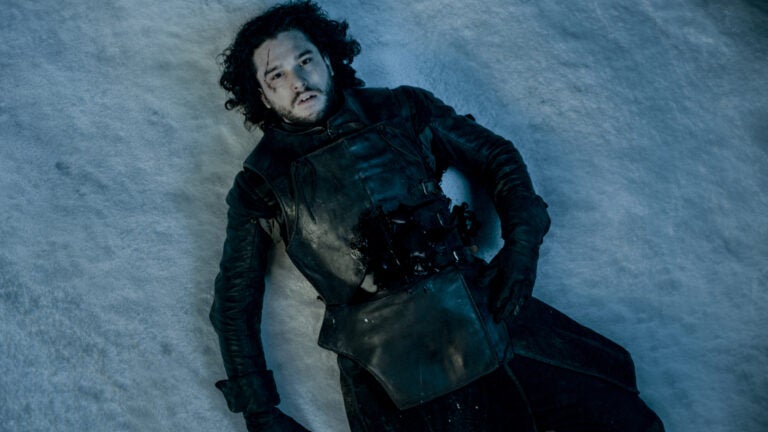 This post contains spoilers for major plot points in Game of Thrones.
Heading into the show's sixth season, one of GoT's major questions involved the fate of Jon Snow. Was he really dead? And if so, would he stay dead? Resurrection is possible in the Game of Thrones universe, and many wondered if the Lord Commander of the Night's Watch was a candidate.
Viewers spent the offseason speculating—like most GoT plot points, there were troves of fan theories around Jon Snow's season five fate—and many hoped that Sunday would bring some answers.
So, is Jon Snow still dead?
Your spoiler-heavy answer is—as of last night's episode—yes.
Here's what some people had to say about it:
Sad Jon Snow is dead but real talk he has never looked better laying on that table. Is that a McQueen jacket? Loving it all. #gameofthrones

— Michelle Collins (@michcoll) April 25, 2016
I care more about Jon Snow being alive than 98% of things going on in my real life right now. #GameofThrones

— Kristina (@kemangz) April 25, 2016
season 5 episode 10 aka the day Jon Snow died and the worst day of my life pic.twitter.com/OdvOYuH31z

— Brienne of Tarth (@nesswilliamsx) April 25, 2016
Me while watching #GameofThrones I'm still not giving up hope✨ pic.twitter.com/wEwOEnzpSM

— Megan (@meganperryy) April 25, 2016
Back to the good ol' Sunday night ritual of sitting quietly for an hour and then suddenly yelling out "NOOOOOOOO" #GameofThrones

— Alex Lauer (@alexlauer) April 25, 2016
There was another development on Sunday's episode, involving Melisandre (aka The Red Woman). At the end of the episode, she revealed that she's been keeping her youthful appearance intact using some sort of magic necklace. She's actually very, very, very old.
So Melisandre is gonna give that choker jawn to Jon right?

— Vann R. Newkirk II (@fivefifths) April 25, 2016
#Melisandre when she takes off her makeup or necklace #GameofThrones pic.twitter.com/EyMKshd51O

— Andrés Díaz (@newandrewayne) April 25, 2016
Melisandre has been using a really strong Instagram filter #GameofThrones

— Dani Fernandez (@msdanifernandez) April 25, 2016
Melisandre be like #GameofThrones pic.twitter.com/ZJzL3sMuSk

— Ira Madison III (@ira) April 25, 2016
the red woman has no master, the red woman is a free elf #GameofThrones pic.twitter.com/ckZphqUdW0

— søfía (@allofpurpose) April 25, 2016
In the end, there were few answers to the Jon Snow question. The internet waits with bated breath.
https://twitter.com/Az0r_Ahai/status/724419247510831104