TV
End of an era: Conan O'Brien airs his last hour-long show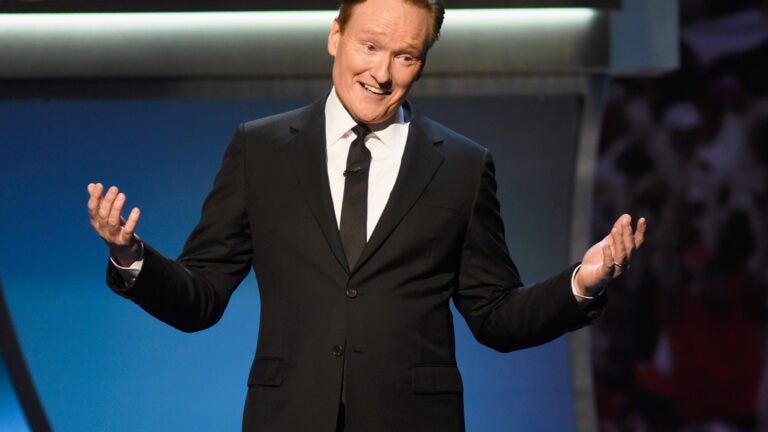 After 25 years on late-night TV, Conan O'Brien hosted his final hour-long show on Thursday night.
Don't worry – O'Brien isn't really going anywhere. In January, "Conan" will return to TBS with a new 30-minute format. The network unveiled this plan in May, though on Thursday, O'Brien revealed the show will take a three-month hiatus.
While a seemingly small change to some, it's the end of an era – O'Brien is the longest-reigning late-night host, on the air since he started at NBC's "Late Night" in 1993. When the shift was first announced, O'Brien said his show would get rid of the "traditional" format. It's not entirely clear what that means, though given how much TV viewing habits have changed, he and his producers felt like it was time to shake things up.
"I'm going to a half-hour so I can spend more time on the things I really love. I'm not talking about my wife and children – that ship sailed a long time ago," he joked to his studio audience Thursday. "No, I'm talking about travel shows around the world; silly remote pieces; interviewing brilliant, distinct people. Really just focusing on the stuff that we love the most."
Plus, it will be a busy few months until the new format premieres: O'Brien is embarking on an 18-city tour, kicking off in Washington on Nov. 2, which will feature his favorite stand-up comedians. He's launching a podcast called "Conan O'Brien Needs a Friend." And on Nov. 28, TBS will air his latest travel show, featuring his recent adventures in Japan.
He will also expand his online presence: O'Brien announced a new website in the works called "Conan 25," with thousands of digitally remastered episodes of "Late Night" from 1993 until now.
"If you saw a sketch from our old 'Late Night' show while eating ramen in your dorm room in 1995, a sketch that either delighted or enraged you, now you can relive that moment anytime you want," O'Brien said.
Though O'Brien said he's excited by all the changes ("By the sound of your response to this applause sign, I can tell you are, too"), he did get emotional. Toward the end of the hour, he explained that Jimmy Vivino and the Basic Cable Band will not be joining the show in January.
"Since we began this journey 25 years ago, my band has been a daily source of joy in my life. These remarkable musicians have given their talent, energy, enthusiasm and incredible showmanship for over 4,000 hours," he said. "They have been with me through all of the incredible highs and lows of 'Late Night,' 'The Tonight Show' and these past eight years at TBS."
He got choked up as he talked about their loyalty when he lost "The Tonight Show" in 2010 and wasn't sure what would happen next.
"In the most perilous moment of my career, when I was suddenly without a show and feeling pretty alone, this band came with me on a nationwide tour that to this day is one of the highlights of my professional life," O'Brien said. "I've been graced with the most versatile, loyal and joyously effervescent band in the history of television … gentlemen, I want to thank you for a quarter-century of friendship, laughter and the best music I will know in this life."
With that, they played for the final time. (Farewell, LaBamba!) And O'Brien, on guitar, joined them for one last song.