TV
Alec Baldwin mocks national emergency, Donald Trump on 'Saturday Night Live'
"Folks, we need wall."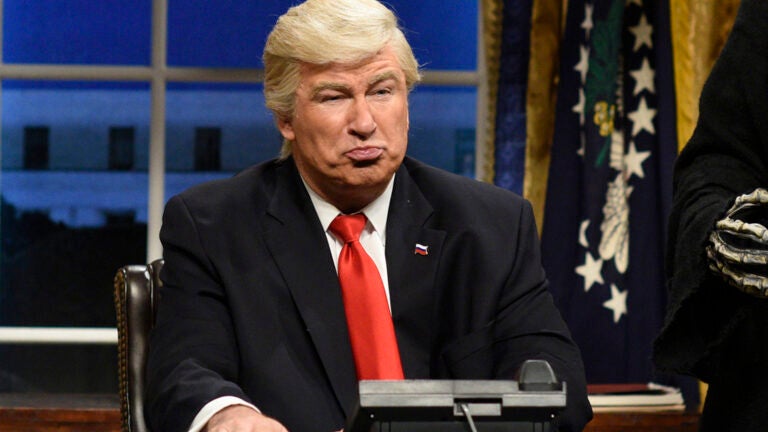 Alec Baldwin again skewered President Trump on "Saturday Night Live,'' returning for the Feb. 16 cold open to address recent White House developments ranging from Trump's declaration of a national emergency over border security to the results of his latest physical.
"Folks, we need wall,'' Baldwin's Trump said, stressing each word as he stood behind a podium in the Rose Garden. "Wall works, wall makes safe. You don't have to be smart to understand that; in fact, it's even easier to understand if you're not that smart.''
He justified declaring a national emergency in an effort to secure funding for a southern border wall. "You can all see why I have to fake this national emergency,'' Baldwin's Trump said. "I have to because I want to.''
Parodying the president's actual predictions he'd be sued in response to the move, Baldwin's Trump adopted a sing-song voice as he outlined what he believes will happen, slipping in a joke at the end about the actor's long-time role impersonating the president for "SNL.''
"I will immediately be sued, and the ruling will not go in my favor, and it will end up in the Supreme Court, and I'll call my buddy Kavanaugh, and I'll say it's time to repay the Donny, and he will say, 'new phone, who dis,''' he said. "And then the Mueller report will be released, crumbling my house of cards and I can plead insanity and do a few months in the puzzle factory, and my personal hell of playing president will finally be over.''
Elsewhere, the actor got in some digs at Trump's health. "I just had a great health exam,'' said Baldwin's Trump, bragging that he stands at "six foot seven'' and is 185 pounds, "shredded.'' (According to medical results released by the White House on Thursday, Trump's weight is 243 pounds, and his height is 6 feet, 3 inches; that makes his body-mass index 30.4, qualifying him as obese.)
You can view the whole cold open below.
[fragment number=0]