TV
PBS revealed that a beloved 'Arthur' character is gay
The long-running show out of WGBH-TV in Boston featured a gay wedding in its 22nd season.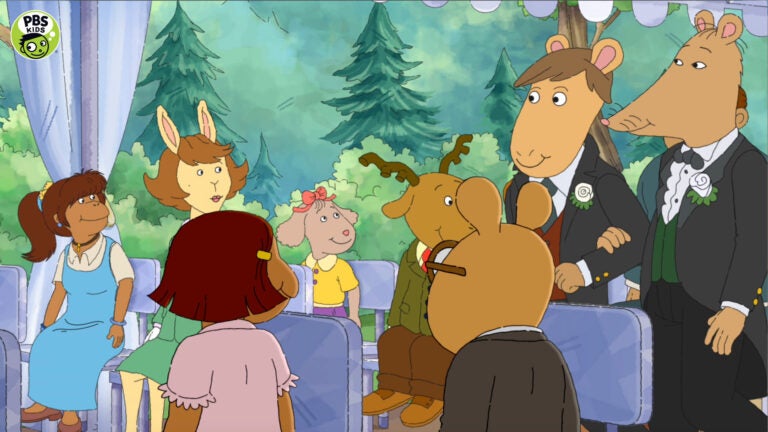 "Arthur" is breaking boundaries in its 22nd season.
Monday's episode of the long-running PBS Kids show, produced by Boston public television station WGBH-TV, revealed that Arthur's teacher, Mr. Ratburn, is gay.
In the first half of the episode, titled "Mr. Ratburn and the Special Someone," Arthur and his classmates are invited to Mr. Ratburn's wedding. Arthur and his friends Buster, Francine, and Muffy think Mr. Ratburn will be marrying a stern woman named Patty (special guest star Jane Lynch, "Glee"), and try to stop the wedding, worried that their teacher will become even stricter. At the ceremony, Patty is revealed to be Mr. Ratburn's sister, and Mr. Ratburn walks down the aisle with Patrick, the owner of a chocolate shop seen earlier in the episode.
In a statement to Boston.com, PBS said that "PBS KIDS programs are designed to reflect the diversity of communities across the nation. We believe it is important to represent the wide array of adults in the lives of children who look to PBS KIDS every day."
Based on the series of books by author Marc Brown, "Arthur" is TV's longest-running children's animated series. WGBH-TV first began production on the show in 1994, with the series premiering on PBS stations nationwide on Oct. 7, 1996.
On Tuesday, the station's official Twitter account tweeted out congratulations to the fictional teacher and his new husband on their nuptials.
"WISHING YOU A LIFETIME OF LOVE AND HAPPINESS, MR. RATBURN & PATRICK!!!" the station wrote.
https://twitter.com/wgbh/status/1128276167537111041